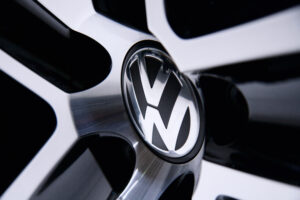 The Volkswagen Group Canada (VGCA) and CWB Group have announced a collaboration to open a VW and Audi collision repair training center in Milton, Ontario.
The facility will "showcase an OEM training environment utilizing the latest equipment and developing technician skills in repairing modern vehicles according to factory standards," according to a joint news release.
CWB Group spokesperson Rhea Gill told Repairer Driven News the more than 6,000-square-foot Canadian Collision Repair Academy (CCRA) will open in November. Technicians from Audi and VW-certified repair facilities will complete their welding certification along with structural repair techniques following factory guidelines, Gill said.
The center will also focus on helping the industry through several initiatives to "improve the competency of repair technicians, including welding certification; organize events with Skills Canada to attract youth to the trade; support Women's Industry Network to attract women to the collision repair industry, and conduct industry education sessions on safe and proper repair for insurance companies, repairers, and government officials."
"We are proud to partner with Volkswagen Group Canada to provide continuous education to their Automotive Repair Technicians to enhance their skills and remain competitive in the global automotive sector," said Bill Gwynne, CWB Group industry solutions vice president.
CWB Group Business Development and Sales Manager John Vieth told RDN the COVID-19 pandemic was the main factor that led to the idea for the CCRA.
"[E]arly when COVID shut down the border that would not allow Canadian OEMs to go south to the U.S. to receive their training and certification testing," he said. "As a result, many technicians were left without certification leading to building the CCRA. This will now allow access from within Canada at any time if there would ever be another border closing."
Vieth said similar training to what will be offered at CCRA has been taken by Canadian technicians at VW facilities in Rochester Hills, Michigan, and in California. Audi training has been offered to Canadian technicians at their Ashburn, Virginia (soon to relocate to Rochester Hills) and  Eastvale, California facilities, according to Audi of America Collision, Equipment & EV After Sales Service Manager Mark Allen.
The partnership between VGCA and CWB Group is "a long-term commitment by both parties and will be evident for years to come," according to Vieth.
"Not only through the technicians that will be coming to the Canadian Collision Repair Academy for training but also the many vendors and manufacturers that have stepped up to support this initiative," he said.
He noted that the CCRA "will see expansion in the coming years" but couldn't yet share what that would entail. Gill also shared that, in the near future, one or two other OEMs will join the CCRA to provide training.
"The creation of the Canadian Collision Repair Academy is a significant milestone for our market as it represents the first body repair training centre of its kind for any OEMs in Canada," said Scott Wideman, VGCA Collision Program manager, in the release. "The facility will allow Volkswagen and Audi to deliver body repair training to support safe and proper repair techniques according to factory guidelines.
"…The opportunities and the potential for the Canadian Collision Repair Academy are tremendous, and I look forward to furthering the training and advancement of the body repair industry, especially as vehicle technology evolves."
The CCRA was also made possible through support by equipment suppliers and distributors including Celette, Diversitech, Equipment Solutions, Filco Inc., Flatline SSI, Fronius Canada, Pro Spot International, Spanesi Americas, Titanium Tools, and Wielander & Schill.
IMAGES
Featured image credit: ASKA/iStock
Share This: