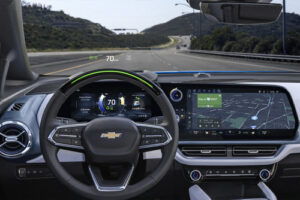 GM touts millions of miles driven with Super Cruise & Trimble
By on
Technology
General Motors and Trimble recently reached a "significant" milestone in the hands-free driving world — more than 34 million miles driven with Super Cruise engaged on GM vehicles, a joint news release from the companies states.
The companies teamed up "to develop a reliable way to maintain in-lane positioning for hands-free driving, putting safety top-of-mind" using "Trimble's precise GPS technology." The companies tout the technology as being able to keep vehicles in their lane position in a variety of environments, including rain, snow, fog, and more.
GM calls Super Cruise the first true fully hands-free driver assistance system but cautions users to "always pay attention while driving and when using Super Cruise. Do not use a hand-held device." Super Cruise with Trimble RTX (Real-Time eXtended) technology was first introduced in 2017 on the model year 2018 Cadillac CT6.
"Trimble RTX has been in commercial use for more than 10 years and in 2018 was the first precise point positioning correction service to log miles in a commercial autonomous driving system," said Patricia Boothe, Trimble senior vice president of autonomy, in a statement. "It works with Super Cruise to help a vehicle maintain its lane position, bringing more consumers access to a more enjoyable and convenient driving experience."
Standard GPS signals can have a margin of error up to 25 feet, which is not suitable for vehicles that require precise absolute position information to maintain lane-level positioning but Trimble's RTX technology removes errors in GNSS satellite data broadcasts to improve location accuracy on our roadways, according to the release.
"Super Cruise is a life-changing technology, allowing customers to experience hands-free driving on compatible, mapped roads nationwide," said Mario Maiorana, GM chief engineer, Super Cruise, in a statement. "The technology is a collaborative effort internally and externally to bring this advanced driver assistance technology to life. Trimble Autonomy has been a valuable collaborator in bringing Super Cruise to our customers."
Unavailable for several months, according to GM Authority, Super Cruise is now available on several models of each of the OEM's brands and will be offered on 22 models by the end of 2023.
In a recent Insurance Insitute for Highway Safety (IIHS) survey about partial automated driving systems, 53% of Super Cruise users said that they were comfortable treating their vehicles as fully self-driving as did 42% of Tesla Autopilot users, and 12% of Nissan/Infiniti ProPILOT Assist users, which IIHS called "worrying."
Images
Featured image: GM Super Cruise in use. (Credit: General Motors)
More information
Super Cruise available to order again, will be offered on more models in 2023
Share This: