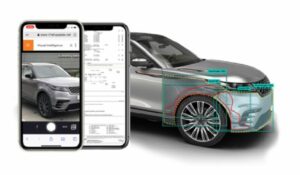 Solera has launched a virtual auto estimating solution that it says will help auto insurers reduce delays when faced with a high volume of claims, increased staff turnover and rising expense ratios.
Called XpertEstimate, the solution relies on artificial intelligence (AI) to detect damage, recommend repairs, and produce a preliminary estimate from a customer's photos, and human appraisers to review and finalize the estimate and handle all supplements.
Solera said the service would help carriers who are facing "[h]igher staff turnover rates and rising expense ratios" in dealing with claims. "This turn-key solution is highly scalable and built to meet insurers' needs," the Audatex parent company said.
The process "allows the insurer to leverage our Solera Qapter AI estimating solution and a very experienced appraiser to quickly complete a repair estimate from submitted photos," Bill Brower, VP Industry Relations, Solera, told Repairer Driven News.
Brower told RDN that the decision to use XpertEstimate will be up to both carriers and their customers. If the carrier chooses to use the service, the customer will then be sent an option to take photos using Solera's Guided Image Capture solution "to get the initial estimate completed quickly and conveniently, so they can proceed to repair."
He said Solera would not disclose its insurance clients, but added that the solution "is being used today with great success."
The process begins when a customer reports a claim to their insurer, which determines if the claim qualifies for a virtual estimate and confirms the customer's willingness to take and submit photos of the damage, Brower said.
The insurer then completes an assignment to Solera, either by a web-based user interface or system-to-system method. This triggers a text to the vehicle owner prompting them to use Solera's Guided Image Capture solution to take photos. The solution guides the customer in taking photos at the proper distance and angles.
The service is not applicable in states that require a personal inspection of vehicle damage, Brower said.
Once the customer submits the photos, Solera's Qapter AI software prepares a line-item estimate using advanced visual intelligence. The AI estimate and photos are immediately routed to a licensed auto damage appraiser to review the AI estimate against the photos and make any adjustments that may be needed. Once reviewed and finalized, the estimate and photos are sent electronically to the insurer for approval and payment.
Asked whether the service will inform a customer when a vehicle is not safe to drive, Brower replied, "Because XpertEstimate is a solution meant to help the insurance company adjusters establish the repair estimate, customer communications will typically come directly from the insurance company adjuster and repair shop. Most often the drivable / non-drive decision is made before the estimate and during the loss report as the customer describes the damages to the insurance company representative."
Solera's PartsNetwork provides real-time intelligent parts sourcing and procurement, selecting alternative parts "in accordance with insurer requirements," the company said.
Supplements will be handled directly by the human appraiser and the body shop. "The contact information for supplements is included on all estimates, so the shop knows who to contact if questions or supplements arise," Brower said. "The Solera appraiser will secure the agreed supplement change with the shop and quickly submit it to the insurer for review and payment."
He said XpertEstimate would benefit repairers by expediting the claims process. "Collision repair shops can receive both the finalized initial estimate and pictures quickly to enable them to order parts and schedule the repair without delay," he said.
XpertEstimate also meets a need expressed by customers in Solera's recent Innovation Index Customer Survey, he said. In that survey, 79% of insurance customers said they would trust automotive claims powered by AI, while 49% of customers prefer a fully digital self-service claims process, and 55% of customers with recent claims said they have taken vehicle photos and updated to insurer platforms.
Also in that survey, 70% of customers said they would switch insurers for a faster digital claims experience, an increase of 3% from the previous year.
It's a different picture among repairers, who reported facing scalability challenges (64%) and internal shareholder adoption challenges (51%) when implementing AI solutions. As a result, just 43% are are highly confident AI objectives will be met within the next 12 months, according to the survey.
Claims automation has value for insurers in the preparation of preliminary estimates and the identification of total loss vehicles, though complete automation is still an unrealized promise, Enlyte, Mitchell's parent company, said in a trends report published Monday.
"Although STP [straight-through processing] is a fundamental goal and certainly the long-term vision, it is just as important to realize that manual appraisals and human judgment remain key to the estimating process," the report says.
More information
Solera says photo estimating AI available for body shops, discusses repairer, insurer views on tech
Images
The XpertEstimate solution makes use of Solera's artificial intelligence photo estimating system, Qapter. (Provided by Solera)
Share This: