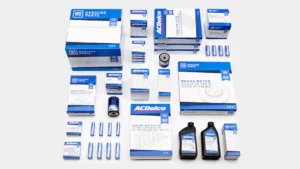 GM consolidates GM Genuine Parts, ACDelco parts websites
By on
Announcements
General Motors has launched a new, consolidated website for GM Genuine Parts and ACDelco parts information and resources, promising a "more convenient and smoother interface" for a better user experience.
The new site, GMParts.com, offers the same level of access to Service Information (Si), position statements and technical documents as the previous sites, gmgenuineparts.com and acdelco.com, Adam Dettloff, GM customer care and aftersales U.S. parts marketing manager, told Repairer Driven News.
"Our technical resources offering are consistent with our former brand site. The design is straightforward, with improved organization to help professionals find the information they are looking for quickly," Dettloff said.
"With streamlined navigation and improved information hierarchy, relevant information will be easier to access" for repairers, he said.
Si is a comprehensive collection of vehicle diagnostic and service repair manuals for GM vehicles, intended to help shops promote safe and proper repairs.
In its announcement, GM said the part pages have been reformatted, and that the site has been updated "to reflect some of our other online experiences. For trade professionals, the new site offers one source to find the latest offers and programs, as well as technical resources such as catalogs and diagnostics support links."
The former brand sites will be redirected to our new site, GM said.
GM launched its online store in January 2022.
Responding to a question, Dettloff told RDN that the new site does not provide inventory availability information.
More information
GM launches online store for mechanical, collision repair parts
Images
Featured image provided by GM.
Share This: