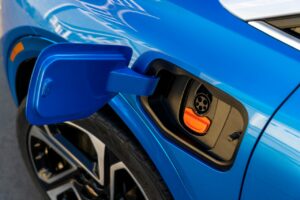 As electric vehicles (EVs) become a larger segment of the North American car parc, collision repair facilities and the auto insurance industry should be preparing for challenges that include the introduction of complex electronic systems, differences in vehicle construction, and impacts on safety, Mitchell parent company Enlyte says in its recent 2022 Annual Trends Report.
The report notes that in the first quarter of 2022, the sales volume of new model mild hybrids (MHEVs), plug-in hybrids (PHEVs) and full battery electric vehicles (BEVs) increased by nearly 75,000 units while, at the same time, the new vehicle market experienced a 15% decline.
The record pace continued in the second quarter, with almost 200,000 EVs sold, representing a year-over-year increase of 66%, the report says.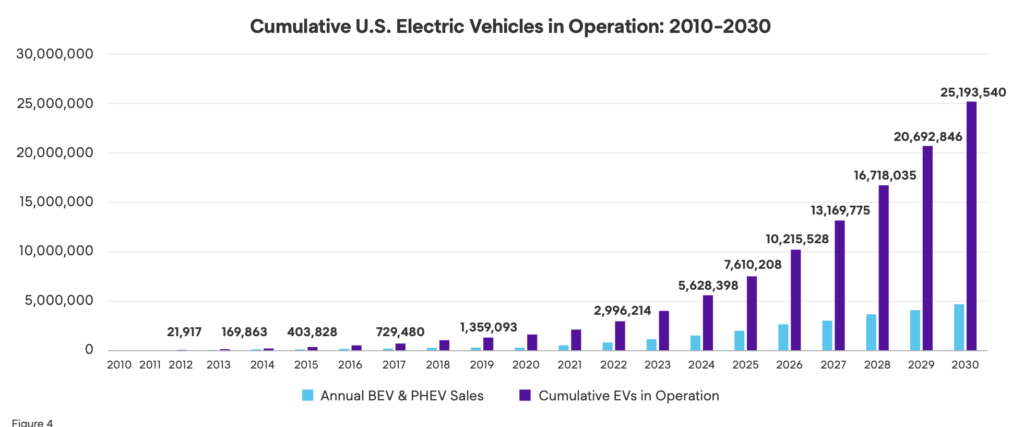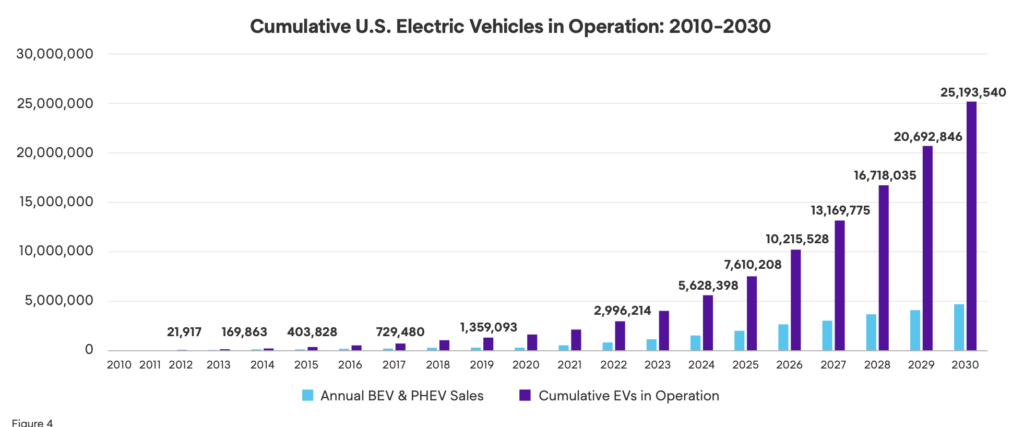 Enlyte notes that as EV sales have increased, their share of repairable claims has increased, too. Between pre-COVID 2019 and year-to-date 2022, repairable estimate frequency has nearly doubled, rising from 0.41% of all estimates written to 0.74%.
Mild hybrids (MHEVs) and plug-in hybrids (PHEVs) have also continued to increase, from a combined 2.29% in 2019 to 2.58% in 2022, based on Mitchell estimating data.
Relying on National Automobile Dealers Association (NADA) data, the report breaks down EV sales by region, finding that the Western United States continues to lead in both EV adoption and EVs as a percentage of repairable claim frequency.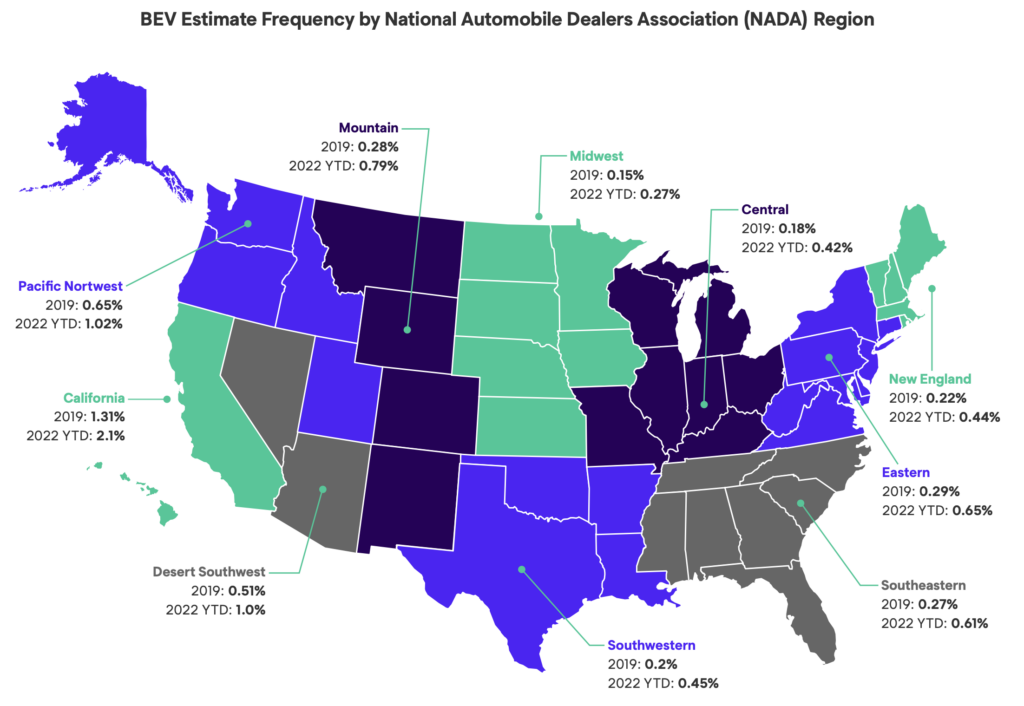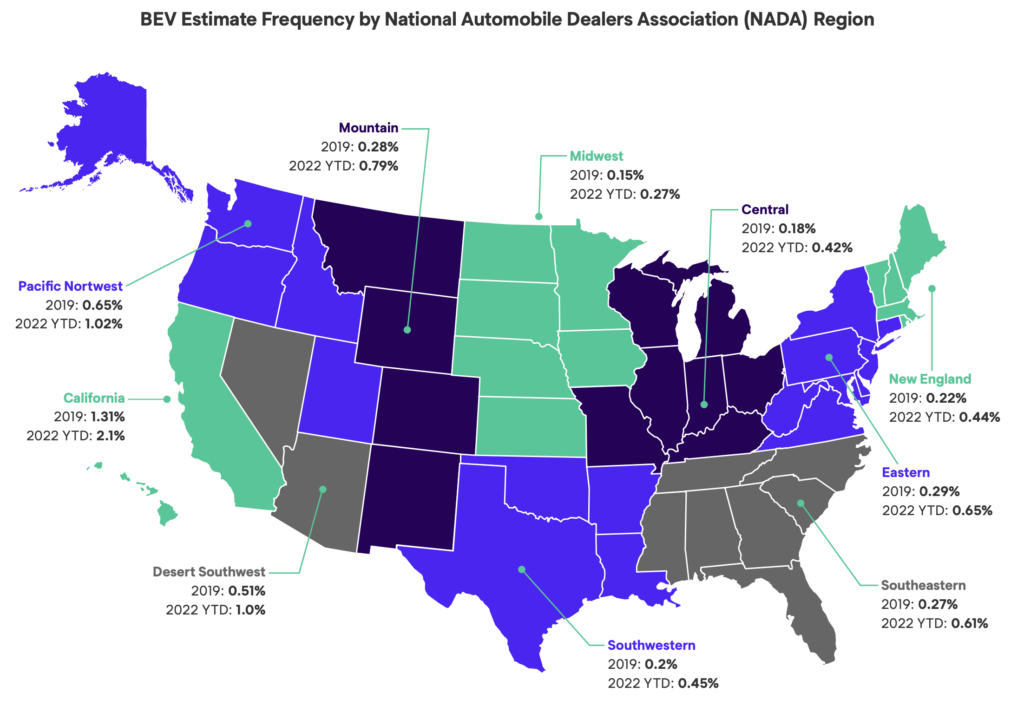 However, some areas, such as the Mountain and Eastern regions, are seeing a more rapid increase in BEV frequency. "This suggests that the trend is expanding across the country, especially as charging infrastructure becomes more prevalent," the report says.
In Canada, EV adoption has increased "tremendously," NADA figures show, with the province of Quebec experiencing both the highest frequency and fastest increase. There, EVs as a percentage of repairable claims rose from 0.93% in 2019 to 2.44% in 2022.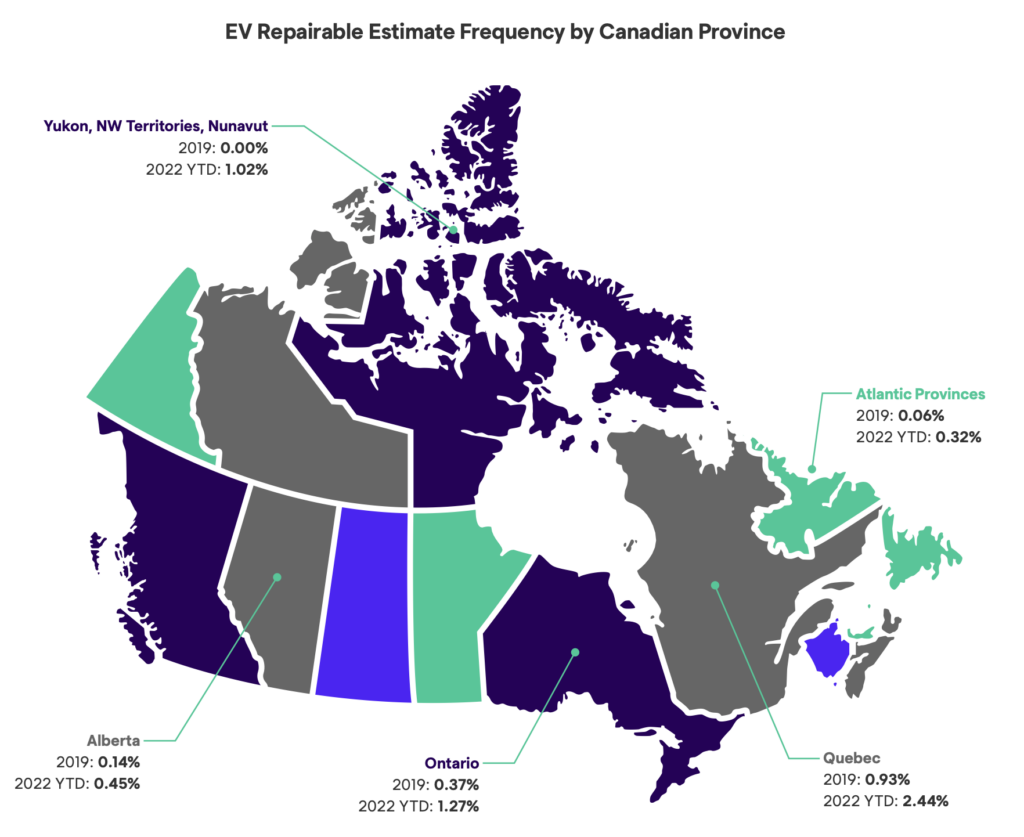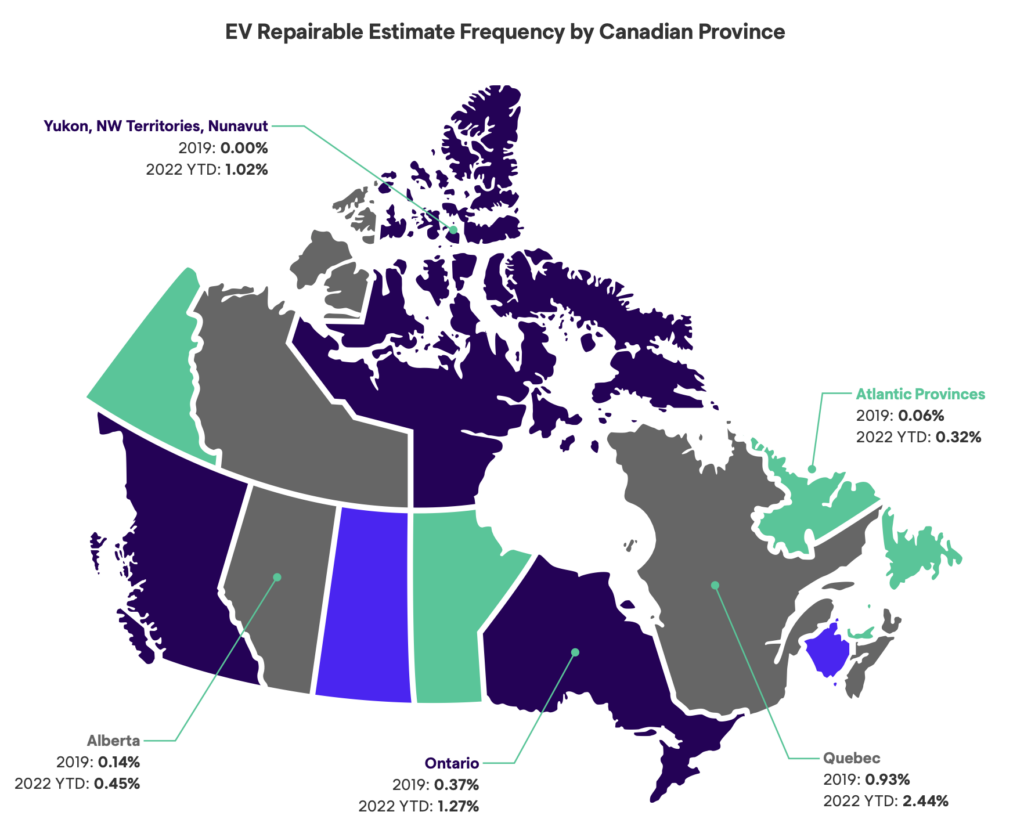 Driving EV adoption has been rising fuel costs, greater model and manufacturer selection, and the desire for environmentally friendly transportation options, the report says. State and federal initiatives are also playing a part, such as plans by California to ban gas-powered cars by 2035 (since followed by New York) and the U.S. government's investment in EV charging networks. In Canada, the report adds, the Zero Emission Vehicle Infrastructure Program (ZEVIP) is having a similar effect.
Bringing down the costs of lithium-ion battery production will help to push EVs to price parity with internal combustion engine (ICE) vehicles, Enlyte says. Even so, with global supply chain disruptions and Russia's invasion of Ukraine pushing up the cost of battery production for the first time in a decade, EV sales continue to accelerate, the report says.
The CEOs of both General Motors and Volvo have recently predicted that their EVs will reach price parity with ICE vehicles by 2025.
Enlyte notes that Bloomberg New Energy Finance and other sources are predicting that EVs will make up 3% of all vehicles on U.S. roads by 2025, and nearly 8% by 2030. For the sake of comparison, the report notes that Jeep vehicles represent about 3% of all repairable claims, and Honda vehicles about 8%, according to Mitchell's data.
Based on the Canadian government's projected sales targets, the report adds, Price Waterhouse Coopers predicts that the Canadian car parc will also be 3% electrified by 2025 and that the number will rise to "an astonishing 11%" by 2030.
Repair challenges
The report underscores Mitchell's previous findings that EVs are far more complex to repair than their ICE counterparts, and present new challenges to body shops and insurers.
One example is the relative lack of alternatives to OEM parts for EVs, which "results in greater reliance on automotive recyclers for alternative parts." Another is a greater reliance on lightweight materials in EV construction as manufacturers work to offset the weight of the high-voltage battery pack. Lightweight materials like aluminum, carbon fiber, and composites present fewer opportunities for repair than mild steel, the report says.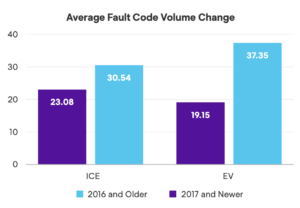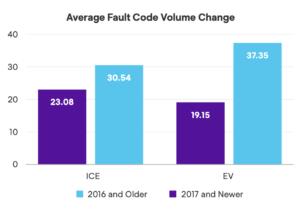 Vehicle complexity has an impact on safety, Enlyte says. Scanning results from Mitchell Diagnostics reveal nearly twice as many fault codes for BEVs as compared to ICE vehicles, as well as a jump in the number of fault codes per vehicle. According to the report, vehicles from model year 2017 and newer had a 95% increase in fault codes per scan, versus a 23% increase for all same model year vehicles.
EVs' high-voltage battery packs present a significant hazard to repairers, a major contributor to the 12 additional repair lines per estimate compared to ICE vehicles, Enlyte said.
The "caustic and potentially explosive high-voltage" battery pack must be properly managed during repair to protect workers, the report says, with specific precautions needed from the moment the vehicle arrives at the shop. It notes that I-CAR has devoted an entire section of its website to EV repair, and has made available a range of training materials and resources to support repair professionals.
Additionally, because many OEMs specify maximum temperatures for their vehicles' batteries, the pack often must be removed from the vehicle and safely isolated before the vehicle undergoes a paint booth bake cycle, the report says.
"As EV adoption continues to grow, auto insurers and collision repairers will need to prepare," the report advises. "That preparation should include having the right tools, training and understanding of how EVs impact claims processes and costs. It should also include an evaluation of the technology solutions used to support collision damage appraisals."
Powertrain and parts differences between EVs and ICE vehicles "can affect estimate accuracy, appraiser efficiency and even proper repair—especially when EV-specific parts and categories are substituted for ICE alternatives," the report says. "To account for these differences, appraisal solutions should be tailored to EVs with the addition of EV types, part categories, data organization and standard definitions for battery capacity and motor size. Having features like these can help streamline the appraisal process and return the growing number of EVs—and their owners—to the road safely and cost effectively following a collision."
Mitchell earlier this year announced that it will release enhancements to its Cloud Estimating platform that it says can simplify the collision damage appraisal process for EVs and account for the design differences between EVs and ICE vehicles.
Images
Featured image: The charge port on a 2024 Chevrolet Equinox EV 3LT. (Provided by Chevrolet)
Share This: