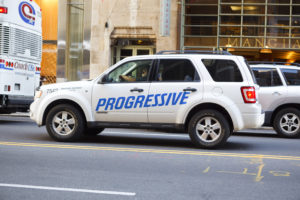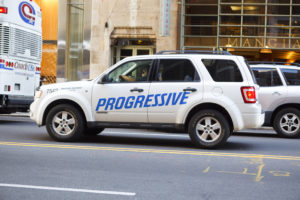 Progressive now largest U.S. auto insurance carrier above State Farm
By on
Insurance
State Farm is no longer the largest auto insurer in the U.S. as Progressive has moved into the No. 1 slot, according to GlobalData.
The company's growth was largely driven by its expanding for-hire transportation business, higher advertising campaigns, and its affiliation with a larger number of insurance agencies, the data and analytics company said earlier this week.
Progressive's auto insurance market share increased from 13.1% in 2020 to 14.0% in 2021 while State Farm's declined from 15.9% in 2017 to 13.9% in 2021. GlobalData expects the trend to continue in 2023.
Progressive's motor insurance direct written premiums grew by 14.1% in 2021 compared to State Farm's 3.5%, which was largely supported by growth in its commercial motor insurance business, GlobalData reports. The growth of Progressive's auto insurance business was driven by its commercial motor business, which grew by 50.2% while its personal motor business grew by 8.1%. According to Insurance Business America, Progressive saw good organic growth in 2021, increasing its policies in force by 6%, adding 1.3 million new personal lines policies.
"Progressive expanded its commercial motor business by acquiring Protective Insurance Corporation in 2021, which helped it to add a larger fleet and additional product lines," said GlobalData Senior Insurance Analyst Swarup Kumar Sahoo. "In terms of organic growth, the company's policies in force (PIF) increased 6% in 2021, adding 1.3 million new personal lines policies."
GlobalData also found that Progressive has better profitability compared to State Farm with its auto insurance loss ratio standing at 67.0% in 2021 compared to State Farm's at 72.2%.
"Progressive is expected to maintain its leading position in the US motor insurance market, which is expected to grow at a compound annual growth rate (CAGR) of 3.9% during 2021-26," Sahoo said. "However, profitability of the industry could be a challenge over the next couple of years due to the high inflation, global automobile chip shortage, and an ongoing recession."
Earlier this year, Fitch Ratings said personal auto insurance continues to move toward a "more concentrated" market with the 10 largest carriers controlling 76% of the market at the end of 2021. Fitch found that State Farm saw no growth in its premiums, paring its share of the market to 16.4% based on net written premiums, while both GEICO and Progressive "expanded revenues faster than the overall market" climbing to shares of 14.7% and 14.1%, respectively.
Images
Featured image credit: wdstock/iStock
More information
Allstate, State Farm continue to raise rates, citing inflation, crash severity
Share This: