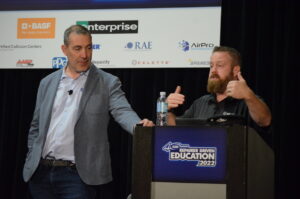 Glue pull repair (GPR) is becoming an increasingly attractive option for collision repairers, particularly as OEMs turn to using aluminum for body panels, representatives of a leading GPR tool manufacturer said during a Repairer Driven Education (RDE) session at the 2022 SEMA Show.
"We're already getting a number of OEMs that specify our system, really on all materials, but specifically with aluminum," Chris White, president of KECO Body Repair Products, told the audience. "We're seeing glue pull repair being something that's growing and on the list, I suppose, of the OEMs in the last year or so."
The growing numbers of electric vehicles (EVs) on the roads pose their own challenge, since may OEMs "are saying, you know, no welding at all," White said. "So that brings glue pull as really the primary and maybe exclusive [method] over time, I believe."
While White and Gene Fetty, a master GPR trainer with KECO, spoke about and demonstrated the use of their company's system during the session, titled "Aluminum Repair That Works: Glue Pull Repair," they emphasized that their comments applied to GPR in general.
White said there's a misconception that GPR is the same as paintless dent removal (PDR). Instead, he said, it's an independent process that can be applied to conventional collision repairs.
"I've said this till I'm blue in the face …that GPR is not PDR, and still we have people coming to our booth who think that we're going to teach them PDR, and they think that they don't have time to learn PDR," White said. "The fact is, that it is a separate process that can be used by PDR guys, [and] can be used by body guys as a method to be able to reduce the damage and to go to fill and paint."
In 99% of cases, "we're still painting with glue pull repair, but we're filling in smaller areas. So that's less filler, less sanding, less overall, right?"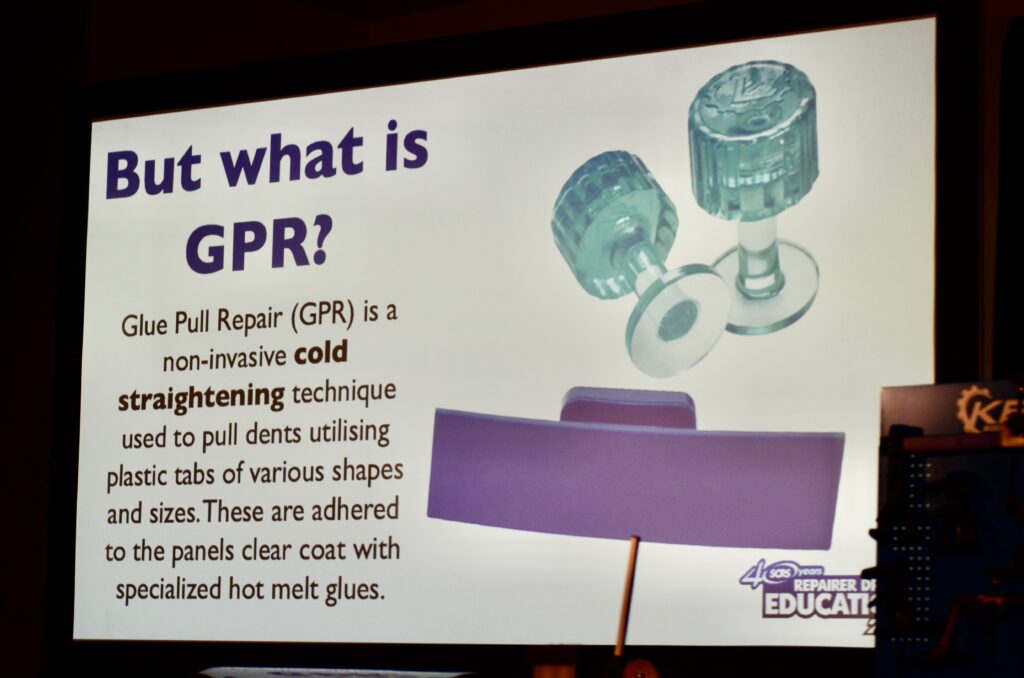 Unlike weld tab pulls, which require paint removal and welding, GPR is non-invasive. White ran down a list of advantages of the method:
It does not damage the panel's e-coat.
It causes less distortion of the metal.
It requires less paint and materials.
It emits less harmful dust, posing less risk to workers' health.
It reduces the requirement for replacement panels, an important consideration when dealing with supply chain issues.
White presented a "risk matrix," rating on a one to five scale the challenges to aluminum repair posed by the two process options. In every case, he said, GPR poses a lesser risk than welded tabs.
The need to keep tools used on aluminum and steel separate in order to prevent galvanic corrosion of exposed aluminum surfaces is minimized with GPR, White said, because the aluminum is not exposed. Additionally, GPR does not contribute to the brittleness of aluminum panels as welding does, reducing the risks of rips and tears.
Similarly, he said, the risk of work hardening is reduced because panels are not subjected to the heat of welding.
By show of hands, White determined that about one-third to one-half of the repairers in the audience were already using a GPR system in their shop.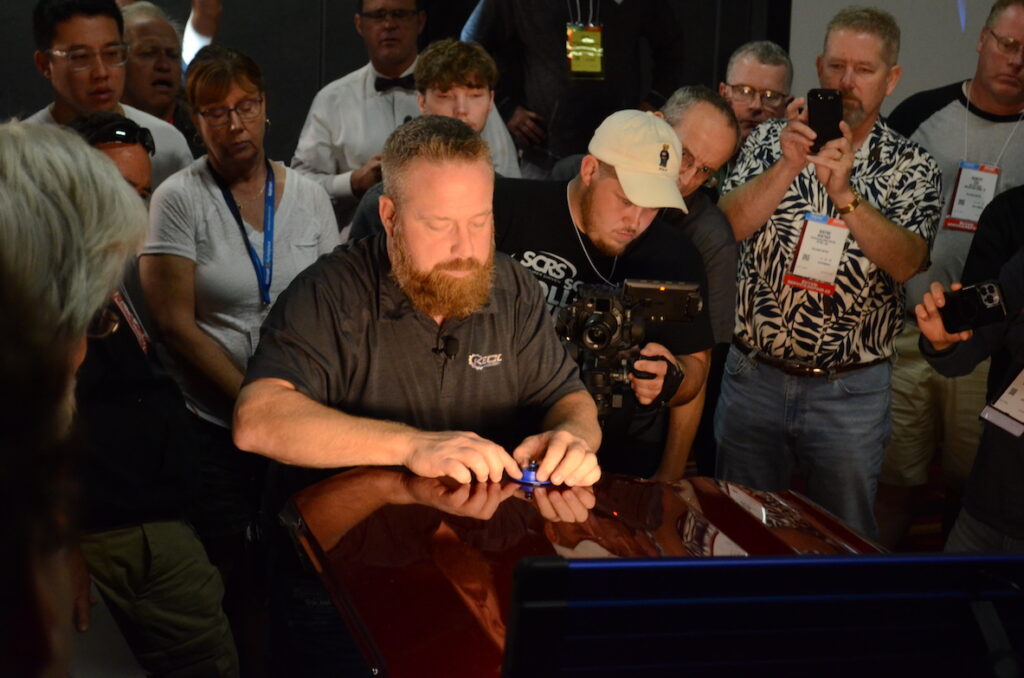 Fetty demonstrated his company's GPR tools, pulling dents from an aluminum panel as the audience crowded around to watch. He explained the process and went over a number of important considerations necessary for success. (Repairers who were not able to attend SEMA will be able to register to watch the session in its entirety at the Society of Collision Repair Specialists' RDE website, https://rde.scrs.com/p/2022, when the content is posted.)
He began by making certain that the surface was clean, using 99% isopropyl alcohol. It's the same material that's used for dissolving the glue once the dent has been pulled, he added.
Maintaining proper temperatures is critical to a successful repair, he said. That includes the tab, the glue, and the ambient air, as well as the panel itself. "All of these things add up to make the best possible pulls," he said.
The area where the tab will be located should be at 120 degrees Fahrenheit, he said. "We want some working time, right? So on aluminum, level up that first heat to 140, work fast, place everything on and let it cool and pull at 85 degrees," checking the temperature with an infrared thermometer. "If you take nothing else away from today in the process, take this temperature with you."
The temperature in the shop makes a difference, too, Fetty said. If it's below 50 degrees, the technician should turn up the heat, if possible. If that's not possible, another heat source, like a heat lamp, can be used. If the temperature is above 85 degrees, a fan can be used to bring temperatures down, he said.
The tab also needs to be warmed with a heat gun. "Because it sucks that heat out of the [aluminum] panel so fast, warm your tab above 100 degrees every time," he added. "We've found that when you heat everything up and place it all hot, it gives us one little extra level of pulling power, so warm that tab north of 100 degrees."
The thermostat on the glue gun is set between 190 and 200 degrees Celsius, or about 380 degrees Fahrenheit, Fetty said. "Visually, what that looks like, the glue will be smoking hot coming out of the gun, but not boiling," he said. "At that point, we know we've activated the polymers and resins in the glue."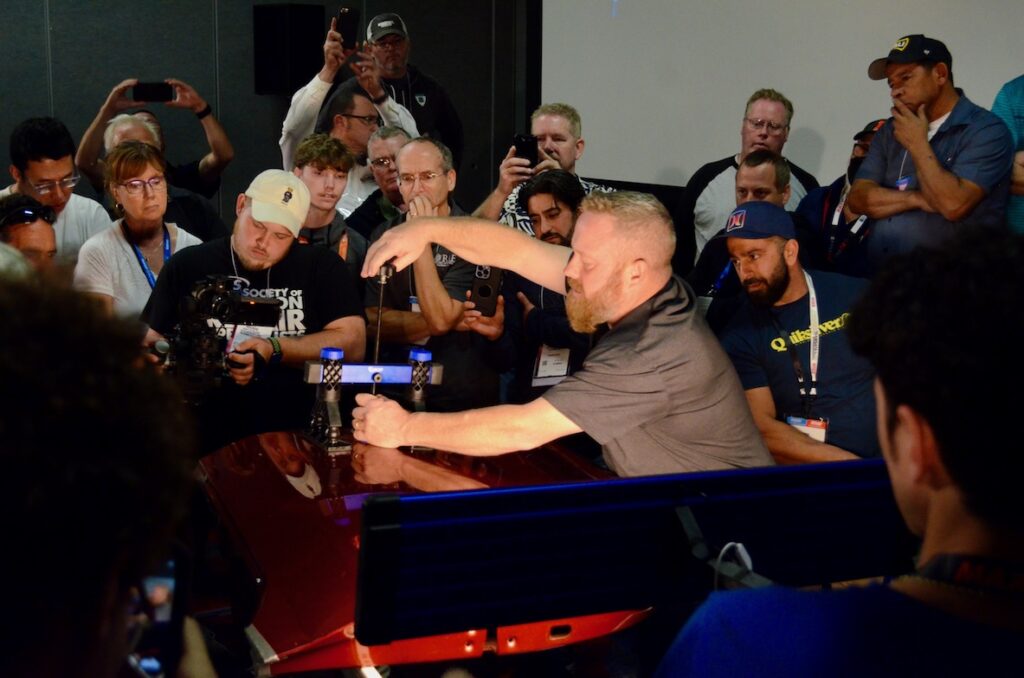 Once the tab is set on the panel, it's critical to wait until it cools to 75 to 85 degrees Fahrenheit, Fetty said, when the glue is neither so cold that it will crack nor so hot that it's still too liquid.
"When I walk into a shop and they say, 'Hey, we've been playing around with it, it doesn't work, it's not sticking most of the time,' temperature is our culprit," he said. "If we're going too slow, it's too cold, that glue gets brittle and it wants to crack and break away. If we're trying to work too fast and it's too hot, remember it was a liquid just a little while ago. We have to let that cool down and get to our working temperatures. So check panel temperature, ambient air temperature, tab temperature, and the temperature of the glue coming out of the gun. All of these things add up to make the best possible pulls," he said.
"I had a student come in yesterday, and he said, 'I need a stronger glue.' I said, 'I don't think you need a stronger glue, because our biggest tabs with the glue will pull in excess of 1,500 pounds, way more than you should ever need to move sheet metal. So let's go back and figure out what process you're missing.'
"It was temperature. 'Ah, man, I'm trying to work too fast. I forgot to grab my infrared reading. That's where my problem is.' [Poor] adhesion is typically not the glue, it's temperature or cleanliness," Fetty said.
More information
Keco wins Collision Repair & Refinish category at SEMA's New Product Awards Breakfast
Potentially overlooked best practices for glue pulling include heating, surface prep
Images
Featured image: KECO President Chris White, left, and master GPR trainer Gene Fetty discuss the advantages of glue pull repair during a Repairer Driven Education session at the 2022 SEMA Show in Las Vegas. (Dave LaChance/Repairer Driven News)
Master GPR trainer Gene Fetty sets a glue pull tab into a dent on a vehicle panel, and uses a K Beam lifter to pull out the dent. It's crucial to wait until the glue has cooled to 75 to 85 degrees before making the pull, he said.
Share This: