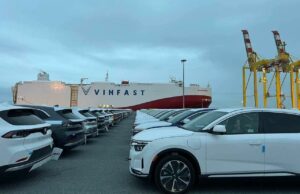 Vietnamese OEM VinFast has filed with the federal Securities and Exchange Commission (SEC) for an initial public offering (IPO) to fund its expansion with a planned $2 billion plant in North Carolina.
The company has also opened four more stores in California, in Los Angeles and Orange County, and has brought into operation its first four service centers where the vehicles can be maintained and repaired. The openings bring the number of stores to 10.
The openings "affirm VinFast's efforts to expand its retail and service system before the delivery of vehicles to U.S. customers at the end of this year," the company said.
The plans for the factory, which would build electric buses, sport utility vehicles (SUVs), and batteries for electric vehicles (EVs), were announced by VinFast in March.
In October, a VinFast executive told commissioners in Chatham County, North Carolina, that the site work for the new factory was approximately 35% complete, and that construction would begin in the first quarter of 2023. The plant's initial capacity will be 150,000 units per year, Vinfast has said, when production begins in 2024.
The company exported its first batch of vehicles, 999 VF 8s, to the U.S. from its Vietnam factory in November, with deliveries to customers expected to begin before the end of 2022. VinFast had reservations for approximately 58,000 VF 8 and VF 9 EVs globally as of Sept. 30.
VinFast's pricing strategy offers buyers something novel: a lifetime "battery subscription plan." Essentially, the OEM will lease the battery pack to each customer on a monthly basis. The batteries will have a lifetime warranty and will be replaced by VinFast when they can no longer be charged above 70%.
With a monthly battery subscription, pricing on the mid-size VF 8 begins at $42,200, while the full-size VF 9 is priced at $57,500 and up. Without the subscription plans, the two vehicles are $57,000 and $76,000, respectively.
The company has said it will offer the subscription plan for all of the EVs it sells in 2022 and 2023 but will make only half of its vehicles eligible for the plan from 2024 onward.
VinFast has said it plans to gain market share by offering "premium features, including infotainment, driver assist, ADAS and other enhancements expected in a top-end EV ownership experience" on all of its vehicles.
Although Tesla continues to dominate the EV market, startups like VinFast and established OEMs like Ford, General Motors, Hyundai, and Kia are presenting a growing challenge, particularly in the sub-$50,000 bracket, where "Tesla does not truly compete," according to an analysis by S&P Global Mobility.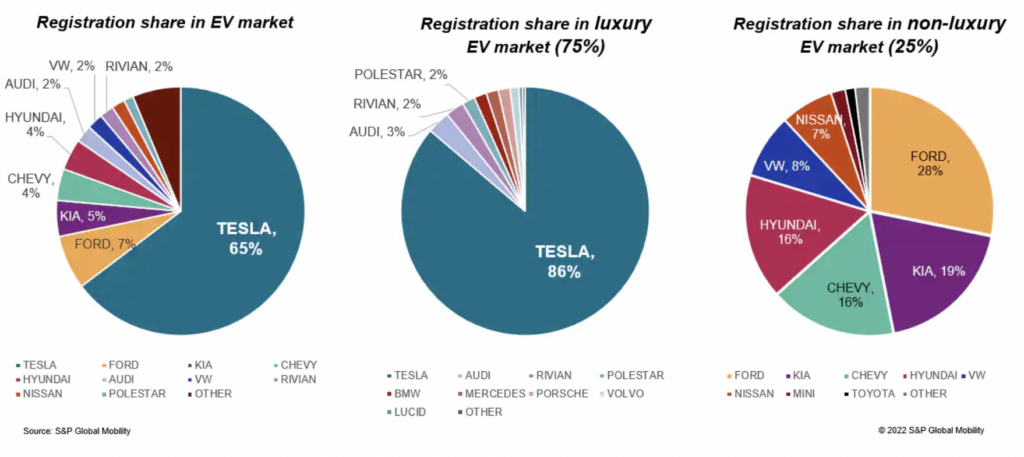 S&P Global Mobility notes that, of more than 525,000 EVs registered over the first nine months of 2022, nearly 340,000 were Teslas, with the remaining volume divided unevenly among 46 other brands. Tesla has four of the top five EV models by registration, with the sixth through 10th positions held by the Chevrolet Bolt and Bolt EUV, Hyundai Ioniq5, Kia EV6, Volkswagen ID.4, and Nissan Leaf.

As new, more affordable EV options arrive on the market, "offering equal or better technology and production build," Tesla's ability to maintain its dominant market share will be challenged, S&P Global Mobility said. Tesla CEO Elon Musk said during a recent earnings call that the company intends to launch a vehicle priced lower than its Model 3, but the timing of that launch is "unclear," S&P Global said.
The number of EV nameplates, now at 48, will grow to 159 by 2025, "at a pace faster than Tesla will be able to add factories," S&P Global Mobility predicted. By 2025, it predicts Tesla's market share will be less than 20%, compared with 65% in 2022, and 79% in 2020.
Still, Tesla's diminished share will be more than offset by the growth in the EV market. "Before you feel too badly for Tesla, however, remember that the brand will continue to see unit sales grow, even as share declines," said Stephanie Brinley, associate director, AutoIntelligence for S&P Global Mobility. "The EV market in 2022 is a Tesla market, and it will continue to be, so long as its competitors are bound by production capacity."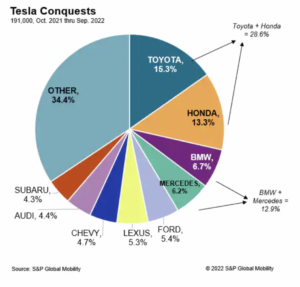 S&P Global Mobility said its early data suggests that customers who are moving to EVs in 2022 are moving away from Toyota and Honda, "brands which have been unable to keep their internal combustion owners loyal until their own brands begin to participate more significantly in the EV transition."
"While both Japanese companies built a U.S. legacy with phenomenal fuel economy and powertrain technologies — including electrification through hybrids, plug-in hybrids, and fuel-cell electric vehicles — both have been caught flat-footed in the context of 2022. S&P Global Mobility conquest data for Tesla's Model 3 and Y, Ford Mustang Mach-E, Hyundai Ioniq5, and Chevrolet Bolt show strong captures of buyers from the two leading Japanese brands," it said.
More information
New EV entries nibbling away at Tesla EV share
https://www.spglobal.com/mobility/en/research-analysis/new-ev-entries-nibbling-away-at-tesla-ev-share.html
Images
Featured image: The first batch of VinFast EVs are lined up for export at Haiphong, Vietnam. (Provided by VinFast)
Graphics by S&P Global Mobility
Share This: