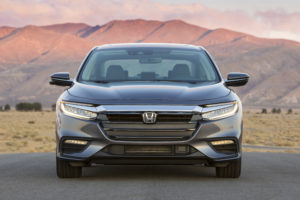 Honda steps up its efforts to build an electric future
By on
Announcements
Honda is launching a new business unit to accelerate its electric vehicle (EV) business as it struggles to compete with more established players in the space.
The structural shift will "further strengthen and accelerate Honda's electrification business," the Japanese automaker said in a statement.
"By further accelerating the series of initiatives Honda has been taking to transform itself through electrification and new value creation, Honda strives to remain and become even more recognized as a 'company society wants to exist' in the electrified era.'"
The company has lagged behind its competitors in the EV space, with its first electric SUV the Prologue expected to be released this year. Already on the market are Toyota's bZ4X, the Kia Niro, the Hyundai Ionic 5, and numerous other mid-budget carbon-free options. Tesla started deliveries on its Model Y in March 2020.
A spokesperson said Honda's hybrid models are key steps in Honda's electrification strategy. Its new CR-V and Accord hybrids will represent about half of the models' annual sales, he said.  The automaker is working to bring a hybrid Honda Civic to market.
Honda is trying to eliminate gasoline-powered vehicles from its North American lineup by 2040, and last October announced two major investments in Ohio. This includes $700 million to re-tool several of its existing plants for the production of EVs and $3.5 billion with LG Energy Solution to establish a previously announced joint venture (JV) facility to produce the batteries to power them.
Honda plans to begin production and sales of Honda EVs in North America in 2026, based on its new Honda e:Architecture. The OEM previously said it plans to build some 800,000 EVs in North America by 2030. It anticipates that EVs will account for 40% to 50% of its total production in the market by that date.
The EV market is becoming increasingly lucrative, with demand only expected to grow as California, Washington and Oregon announced plans to ban gas-powered vehicles beginning this year.
More than 6.6 million EVs sold in 2021, bringing the total number of electric cars on worldwide roads to 16.5 million, according to the International Energy Agency (IEA). Strong continued growth in the sector continued throughout the past year, though exact figures for 2022 are not yet available.
Meanwhile, automakers may have discovered a way to land an extra $7,500 tax credit for customers. As Business Insider reported earlier this week, car companies might be able to work around the Inflation Reduction Act's tax credit requirements by classifying leased vehicles as commercial, a category with less stringent requirements.
Images:
The 2019 Honda Insight hybrid. (Provided by Honda)
Share This: