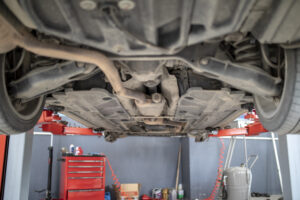 Nebraska seeks to make structurally damaged vehicles known to buyers, require repairers to follow OEM procedures
By on
Collision Repair | Legal
A bill has been filed in Nebraska to add structurally totaled vehicles to the state's list of vehicles that require a salvage title and would require repairers to follow OEM procedures.
LB 782 defines a structurally totaled vehicle as those that have a kink or crease in a frame rail, a unibody, or a structural component, including an engine cradle or a rear differential. Vehicles with repair costs that don't exceed 75% of the actual cash value aren't included.
The bill would also require repairers to follow OEM repair procedures for all repairs to vehicles except for the use of OEM parts.
Nebraska Auto Body Association (NABA) Vice Chair Ryan Clark told Repairer Driven News the bill is important to ensure repair facilities follow OEM procedures "to ensure the safety of the passengers in the vehicle."
"Our industry is at a crossroads of how fast technology is changing in vehicles and how fast the vehicle makers can get the information out to repairers," he said. "Vehicles today are constructed with different materials than they were even 10 years ago. It used to be accepted to clip vehicles — that is not a safe option any longer. A lot of consumers are not well versed on how the vehicles are constructed. They may have purchased a vehicle that had previously been wrecked and told that everything is OK.
"As repairers, we see previous unrelated damage all the time when these vehicles are wrecked and brought into our shops. It then lies on us to explain to the customer the additional damage that needs to be repaired in order to put the vehicle back on the road safely. A lot of times, these customers are shocked, angry, and feel like they've gotten screwed over. This bill will help prevent unsafe repairs from being performed both at the repairer level and the salvage level."
The association's legislative committee wrote the bill according to what its members believe to be pressing issues, Clark said.
Automotive Recyclers Association (ARA) Executive Director Sandy Blalock told RDN ARA sees LB 782 as having "a substantial impact on vehicle repairs," possibly including the restriction of recycled automotive parts.
"Legislative Bill 782 seeks to modify the existing law pertaining to salvage vehicle designations and creates statutory definitions for original equipment manufacturer parts and original equipment manufacturer procedures," Blalock said. "ARA is alert to the fact that statutory definitions for original equipment manufacturer parts and original equipment manufacturer procedures have been previously used to restrict the use of recycled original equipment parts in motor vehicle repairs. ARA will always fight for vehicle owners' right to purchase recycled original equipment parts for vehicle repairs. Efforts to restrict vehicle owners' ability to choose recycled original equipment motor vehicle repair parts in a fair and competitive replacement parts market is contrary to the public interest."
Blalock has previously said that inaccurate total loss valuations create a lose-lose for everyone.
Blalock addressed "title washing" — a practice that she notes is both unethical and illegal — and means the vehicle was totaled then bought at auction, repaired, and resold. As of the time of her IDEAS Collide 2021 session above, she said 1 in 325 vehicles on U.S. roads had a washed title. She also delved into the conditions that exist today that lead to unnecessary total losses and invites the industry to consider potential solutions that would help consumers and professionals through better governmental models and industry practices.
NABA contends that the bill would benefit repairers, and in turn, consumers.
"Repairers would no longer need to worry about unrelated prior damage to structural parts of the vehicle," Clark said. "This would also encourage all repair facilities to repair vehicles per the manufacturer recommendations and not the estimating system. For instance, a 2019 Chevy Equinox used to show, in the estimating package, sectioning time for an upper roof rail. GM does not approve sectioning in this area. If the repairer did not follow the repair procedure, they would have repaired the vehicle improperly. With ever-changing technology, construction materials, and information the collision industry has to pivot to finding more information on each individual job, operation, and repair in order to successfully repair a vehicle properly. Our industry is becoming a very high skilled industry who need way more equipment and tooling than ever before. The repair facilities should treat it as such."
A hearing on LB 782 will be held by the Transportation and Telecommunications Committee on Jan. 31.
Images
Featured image credit: 123ducu/iStock
Share This: