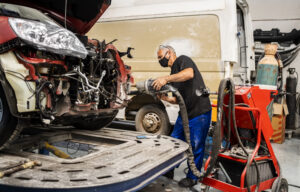 Challenge-plagued repair industry reaches 'breaking point': consultant
By on
Collision Repair
The auto repair industry has reached an inflection point as it struggles to remain profitable amid tech shortages and supply chain backlogs, a consultant says.
"Make no mistake: the industry has reached an economic breaking point," Sean Carey, president of SCG Management Consultants, said during a Jan. 26 webinar. "For many years market forces have suppressed the true economics of this. It's just a fact that these shops have absorbed large cost burdens.
"There's no longer room for shops to absorb these expenses, repair vehicles safely, and remain profitable."
Picking the right jobs and partners
One challenge shops face is the inability to complete repairs quickly because of unavailable parts. Technicians can prevent that from happening by being more selective with the jobs they select, Carey said.
"Finding and intaking the right work is going to be critical because workflow efficiency will be key in your profitability as a shop," he said. "All the things that make your business run will depend on workshop efficiency and workflow efficiency. Having a lot full of vehicles that are either partly repaired, waiting to be repaired, or fully repaired waiting for one part will [cause you] the cash flow challenges, and the employee dissatisfaction that comes with all of that."
As shops strive to balance quality with efficiency, and as safe and proper repairs become the industry's "north star," Carey said outdated processes must be replaced with long-term strategy and meaningful repair software.
It's equally important to select the right partners to ensure shops are working with the most trustworthy and reliable vendors, he said.
Tech bridge
Virtual estimating and automation of time-consuming tasks are some ways to help offset the capacity crunch, he said. Shops can alleviate space and cash constraints by finding and completing the right work, he added.
He said this is especially vital as incoming standardized or certified repairs are posed to tack an extra $550 to the repair bill of each vehicle, further exacerbating cash flow restraints.
"All of those things will have to come to the forefront," he said. "Because what's coming in is validation of repair in order to receive fair compensation. You're going to have to validate everything that you've done. Some of that might be storage, some of that might be waiting for parts. And so validation of all processes and procedures is going to be required.
"We are very much on the slow road to certified repairs. I predict we will be there by 2026."
Labor shortages
The skilled worker shortage we're facing today will only get worse throughout the next few years, with it reaching "critical levels" by 2024, Carey said.
Technicians expected to retire or leave the business, coupled with a lack of new workers entering the field, will harm shops who aren't preemptive about training and retaining new workers, he said.
In a separate webinar last week, mentoring experts offered advice on how to alleviate the labor gap through a strategic hiring and training system.
Other industry experts have said competitive pay and benefits packages, a positive team dynamic and a "fair and equitable" labor rate can help attract and retain automotive technicians. According to Carlisle's annual North American Service Benchmark, labor rates for customer-paid mechanical work are, on average, roughly $155 for premium brand dealerships and roughly $125 for non-premium brand dealerships.
"The main reason why technicians are not coming into the collision repair industry is that they are not being compensated for their knowledge and expertise," said Alliance of Automotive Service Providers Massachusetts Executive Director Evangelos "Lucky" Papageorg. "The reason they are not is the insurers are not reimbursing at a fair and equitable rate and they have been able to artificially suppress the labor rate here in Massachusetts to an average that has climbed slightly, but is around $40 an hour.
TechForce's "2021 Transportation Technician Supply & Demand Report" states demand for collision, automotive, and diesel technicians is strong with 797,530 needed through 2025 and the shortage continues to worsen.
Ducker Carlisle Principal Eliza Johnson said while she hasn't done much research specifically on non-dealer owned and independent collision repair shop trends, the industry as a whole is suffering from decreased interest by young people, low pay considering high skillset as well as a lack of benefits and defined career paths.
"I think there's become less interest in the field overall for people at a young age and people aren't really getting funneled into the career like they used to be," Johnson said. "There's a lot of encouragement on high schoolers to go to four-year universities and much less focus on trades such as automotive."
Shop owners looking to ride out the challenges ahead must take measures to adopt to the "new normal," Carey said.
"Let's not think for one moment that we're going back to 2019 folks because that ship has sailed," he said. "We are not going back. So whatever your new normal now is, is new, and it's normal."
IMAGES
Featured image credit: NickyLloyd/iStock
Share This: