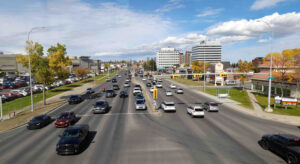 Insurance industry critics slam Alberta's move to freeze auto insurance rates
By on
Insurance
Alberta's provincial government has frozen its insurance rates for private passenger vehicles, but critics say the move could cost drivers.
"A rate freeze does nothing to improve the affordability of auto insurance in the near term and only pushes today's challenges down the road," the Insurance Bureau of Canada (IBC) said in a statement. "Rate caps have resulted in significant negative consequences for consumers when undertaken previously in Alberta and elsewhere."
In a Jan. 26 joint press release, Alberta's Finance Minister Travis Toews and Affordability and Utilities Minister Matt Jones said the province would pause rates through the end of 2023. They said the provincial government would continue exploring long-term solutions to temper auto insurance rates in the interim.
"We share Albertans' concerns about the rising cost of living during the current inflation crisis," Toews said. "We will continue to meet with members of the insurance industry to find additional longer-term solutions for automobile insurance."
Some Albertans could still see higher rates this year, the province said. Those whose driving records have worsened, or others who've moved or are insuring a new vehicle, could see spikes.
The critics speak
Payments could also be higher for those on previously arranged rate changes, a caveat that irked members of an opposition party.
"This so-called 'freeze' of auto insurance comes far too late and after so much damage has been done," tweeted Opposition Leader Rachel Notley, who leads the New Democratic Party. "The [United Conservative Party] lifting the cap in 2019 resulted in increases of up to 30%. Even now, the government admits some Albertans will still see an increase this year."
Auto insurance rates were previously frozen under Notley's government from 2017 through 2019, but the cap was lifted after the UCP's 2019 provincial election win.
The ICB said the insurance freeze wasn't effective the previous time, either.
"Consumers faced challenges securing the coverage they needed, as insurers were forced to take action to remain viable and continue paying customers' claims," the release said. "Premiums still increased 12% when the rate cap was in place."
Barry Haggis, Insurance Brokers Association of Alberta president, said drivers will likely continue to pay more for insurance even with the cap.
"A rate pause or a rate freeze makes it seem like 'Great, I will not have to pay more on my auto insurance on this renewal than I did last year,' unfortunately that's not going to be the case," he told CTV News.
He said with repair costs on the rise, insurers could find other ways to recoup costs, including by offering less comprehensive coverage.
"The cost to repair vehicles has gone up by 15 percent in the last year. All signs point to that increasing again coming into 2023, so in order to pay claims, we need to have those premiums that match."
Improving affordability?
Alberta's government said it has heard from drivers who are struggling to pay their annual insurance premiums, and that it's now requiring insurance companies to give drivers the option to pay in installments.
The actions Alberta is taking will help make living in the province more affordable, said its affordability and utilities minister.
"Affordability is a primary challenge facing many Albertans as rising inflation makes it challenging for many to afford necessities, including auto insurance," Jones said. "We are taking decisive action to protect Albertans from increased costs while working to keep Alberta affordable."
Last year, a report from Alberta's Superintendent of Insurance revealed that the insurers in the province brought in $1.32 billion more in premiums than they paid out in claims in 2020.
Meanwhile in California
Insurance rates have been frozen in California under the leadership of insurance commissioner Ricardo Lara since the start of the COVID-19 pandemic in March 2020. However,  insurance industry associations and major carriers throughout the U.S. are in agreement that it's necessary to be able to collect "adequate rates" to stay afloat as the cost of doing business rises.
In a joint letter, the National Association of Mutual Insurance Companies (NAMIC), the Personal Insurance Federation of California (PIFC), and the American Property Casualty Insurance Association (APCIA) warned California Insurance Commissioner Ricardo Lara that he is risking a crisis by refusing to approve any rate increases.
Image
Featured image: Motorists in Alberta paid $1.32 billion more in premiums in 2020 than they received in claim settlements, the provincial government has reported. SeasonLIVINUS/iStock
Share This: