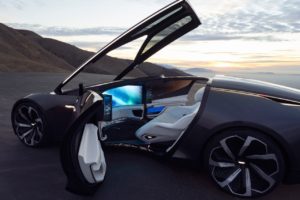 Appen makes case for future of autonomous vehicles
By on
Technology
A global leader in artificial intelligence (AI) says it's optimistic that future roads will be ruled by autonomous vehicles, although others have expressed concern that robotic rides are "going nowhere."
Appen lays its argument for a driverless vehicle takeover in its 2022 State of AI and Machine Learning for Automotive report. The 14-page study details how new technologies are changing the ways cars are built, as well as the way consumers view them.
"Autonomous mobility is dependent on artificial intelligence, which is only as good as the data that powers it," the report says. "To create the car of the future, manufacturers must consider capabilities and processes for utilizing massive amounts of high-quality training data to ensure road safety."
Bringing an autonomous can be easier said than done, as automakers such as Tesla have learned. If Elon Musk's predictions had come true years ago, there would have been self-driving cars on the road by 2017. Others are less optimistic, with Bloomberg publishing a blistering article last year titled "Even after $100 billion, self-driving cars are going nowhere."
The Appen report acknowledged the challenges that will come with bringing autonomous cars mainstream, noting that manufacturers will be tasked with "utilizing massive amounts of high-quality training data to ensure road safety."
One real-world success story is Mercedes-Benz' self-driving system, Drive Pilot, which was approved for use in Nevada. Mercedes will limit the system to use on highways at 40 mph and below, meaning drivers can effectively use it only in traffic jams, KBB reports.
Benefits of leaning into leading-edge AI in autonomous vehicles could include fewer crashes, emissions, and impaired driving incidents, the report found. It could also lead to better traffic conditions and more comfort for passengers.
Inside the cabin, real-time data and sensors will help keep occupants informed by alerting them to severe weather or other outside conditions. Biometrics could be used for locking and monitoring vehicles and AI could also be used to keep vehicles safe when unoccupied, the report said.
"Our latest State of AI report indicates that AI has tremendous potential to make the automotive experience safer, more innovative, and more enjoyable than ever before," said Armughan Ahmad, Appen chief executive.
More than three-quarters of the 500 people surveyed globally for the report said they feel safe sharing a road with autonomous vehicles, with Appen acknowledging safety is a critical component of self-driving vehicles.
"Not only is AI currently used to enhance driver, passenger, and pedestrian safety, but it is also a major motivator for the continued development of self-driving cars," the report said. "Data plays a key role in reducing risk and ensuring that automotive products are safe, and humans are part of that process as well."
Safety and experience will be the primary themes that shape the auto industry's future, said Appen's chief product officer.
"Those include for drivers, passengers, cyclists, pedestrians, and all others sharing the road," added Sujatha Sagiraju. "We're at a pivotal moment in transportation and AI is leading the charge. With high-quality and inclusive data, those futuristic concepts are right around the corner."
Autonomous vehicle (AV) industry leaders say full self-driving vehicles, without any human supervision, may be further in the future than originally thought.
For example, General Motors and Ford want to manufacture up to 2,500 Level 4 autonomous vehicles a year under temporary federal motor vehicle safety standards (FMVSS) exemptions both are seeking from NHTSA. The exemptions would be for two years. Reuters reports that GM first sought approval in 2018 for the release of the vehicles in 2019 but that mark wasn't met and is now slated to begin in spring 2023.
And Tesla, three years ago, promised 1 million robotaxis by 2020, which hasn't happened yet all while its Full Self-Driving and Autopilot ADAS features are under fire for false advertisement.
"If these companies don't succeed over the next two years, they're not going to exist anymore," said Mike Wagner, CEO of Edge Case Research, told Reuters. "It's a case of put up or shut up at this point."
Image
Cadillac's InnerSpace concept car, a two-passenger self-driving EV. (Provided by General Motors)
Share This: