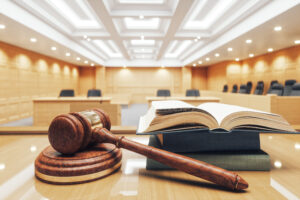 Judge grants partial dismissal of CCC intellectual property suit against Tractable
By on
Legal
Two counts of a seven-count intellectual property lawsuit against AI photo estimating company, Tractable, by CCC Information Services have been dismissed without prejudice in U.S. District Court.
According to a complaint filed by CCC in October 2018, someone posing as "Jason Chen" with "JA Appraisal," working on behalf of Tractable, bought a CCC One independent appraiser license in August 2017 and passed some of CCC's trade secrets on to its London-based rival.
The seven counts allege violations of:
Computer Fraud and Abuse Act (CFAA)
Defend Trade Secrets Act of 2016
Illinois Trade Secrets Act of 2016
Lanham Act via trademark infringement
Lanham Act via false designation of origin
Illinois Uniform Deceptive Trade Practices Act (IUDTPA)
Common law fraud
Counts one and six were dismissed by U.S. District Court for the Northern District of Illinois, Eastern Division Judge Robert W. Gettleman on Jan. 25 because CCC failed to prove Tractable caused damage or loss as defined in the CFAA, and that CCC "has not plausibly alleged continuing and ongoing harm stemming from defendant's conduct" under the IUDTPA.
In June 2022, the U.S. Court of Appeals for the Seventh Circuit ruled that Tractable cannot compel arbitration of the suit because it used a fake name to obtain a license to use CCC's technology. Tractable employee Xing Xin, who was granted the license under the name "Jason Chen," said in an affidavit that he told CCC he wasn't using his own legal name but was granted the license anyway. None of the evidence presented at that time by Tractable indicated it told CCC that it was behind JA Appraisal.
In the Jan. 25 order to dismiss counts one and six, Gettleman said he agreed with CCC that actual technological harm is not required to claim a loss under the CFAA but that CCC hasn't proven Tractable's access to, and alleged misappropriation of CCC ONE, could have possibly resulted in technological damage.
The CCFA defines "damage" as "any impairment to the integrity or availability of data, a program, a system, or information," and "loss" as "any reasonable cost to any victim, including the cost of responding to an offense, conducting a damage assessment, and restoring the data, program, system, or information to its condition prior to the offense, and any revenue lost, cost incurred, or other consequential damages incurred because of interruption of service."
Instead, Gettleman concluded that CCC only lodged its complaint out of fear and suspicion that Tractable may have copied its algorithms and data thus harming the CCC ONE platform with alleged intention.
"[P]laintiff alleges that defendant's access was part of 'a concerted effort to discern [plaintiff]'s proprietary data, algorithms, and other information to achieve [defendant]'s own business ends,'" Gettleman wrote. "In fact, the allegations in the first amended complaint cut against the argument that plaintiff investigated defendant to uncover potential technological harm. If, as plaintiff alleges, defendant was using plaintiff's trademarks to 'pass[ ] off its own estimates as the product of CCC ONE,' it is implausible that defendant would have harmed the very platform that it allegedly bootstrapped for its own success."
Regarding count six, violation of the IUDTPA, Gettleman said CCC "has not plausibly alleged continuing and ongoing harm stemming from defendant's conduct," or the possibility of future harm, as required under the act.
"Past harm is not necessarily evidence of future harm, and where a party is now aware of another party's past deceptive practices, that party is not likely to be harmed by the practices in the future," he wrote. "…It is plausible, as plaintiff alleges, that defendant could have copied plaintiff's algorithms and data, which could allow defendant to continue to misappropriate CCC ONE in the future. The problem for plaintiff is that the IUDTPA does not provide a cause of action against defendant's alleged misappropriation of CCC ONE's algorithms and data; rather, the foundation of plaintiff's IUDTPA claim must be defendant's allegedly fraudulent and deceptive practices."
While the alleged copying of algorithms and data is described, Gettleman added that access was gained through a licensing agreement and that CCC's lawsuit "contains no suggestion that defendant will fraudulently attempt to gain access to CCC ONE in the future using aliases or fake companies, and there is also no plausible allegation that defendant continues to access the platform, given that plaintiff terminated the licensing agreement with JA Appraisal."
In its complaint, CCC seeks an order from the district court that would prohibit Tractable from using the CCC ONE platform and CCC's trademarks, to destroy or return anything it received from CCC, and "never mislead anyone that Tractable's products are related to CCC." CCC also seeks statutory, punitive, and compensatory damages and restitution as well as attorneys' fees.
"While we disagree with the Court's ruling on Tractable's partial motion to dismiss, that decision is immaterial to the fundamental issues in the case because it only addresses two of CCC's ancillary claims against Tractable," CCC told RDN on Feb. 14. "Tractable did not even move to dismiss the primary claims in the case for trade secret misappropriation, trademark infringement, and fraud, which are still pending against Tractable. CCC remains confident with respect to the merits of those claims and will pursue them through the litigation vigorously in order to defend its intellectual property rights and hold Tractable responsible for its violations of those rights and its fraudulent conduct."
In addition to dismissing two of the seven counts, Gettleman ruled that CCC isn't entitled to injunctive relief under the IUDTPA in this case.
"On January 25, the District Court dismissed two of the claims made against Tractable by CCC," a Tractable spokesperson told RDN on Tuesday. "This decision underscores our position that CCC's complaints against us are meritless and intended to stifle industry competition. We're confident in our position and look forward to this being sorted out once and for all, and proving CCC wrong in court, on the record."
Images
Featured image credit: imaginima/iStock
Share This: