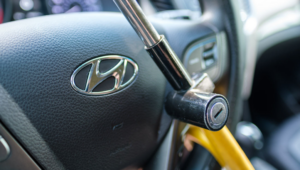 After being targeted by car thieves participating in a TikTok challenge, two automakers are rolling out theft deterrent software for millions of vehicles.
Hyundai and Kia will update their anti-theft software on certain models, extending the alarm time from 30- to 60 seconds and requiring a key in the ignition for vehicles to turn on, the National Highway Traffic Safety Administration (NHTSA) said.
Both OEMs had been facing dozens of lawsuits throughout the U.S., including a federal class action suit filed in California, over theft risks of their older model vehicles that lack engine immobilizers.
A spike in reported thefts has been attributed to TikTok challenges that showed viewers how to steal Hyundai and Kia vehicles using a screwdriver and USB cord. The TikTok video, viewed more than 33 million times, has resulted in at least 14 crashes and killed eight people, according to the NHTSA.
At least two insurance companies, State Farm and Progressive, dropped coverage for the affected models, with State Farm telling USA Today that it halted new customer applications for certain Hyundai and Kia vehicles in some states. 
The company said theft losses for the cars have dramatically increased and called it a "serious problem impacting our customers and the entire auto insurance industry."
Hyundai said this month that it is responding to the surge in thefts by introducing a free anti-theft software upgrade to prevent it from starting "during a method of theft popularized on TikTok and other social media channels."
It began launching the upgrade to nearly 4 million customers last week, initially rolling the software fix out to more than 1 million 2017-2020 Elantras, 2015-2019 Sonatas and 2020-2021 Venues.
The remainder of the affected vehicles will receive the free upgrade, which is performed by Hyundai dealers, by June. The OEM said it takes less than one hour to install the fix.
"Hyundai is committed to ensuring the quality and integrity of our products through continuous improvement and is pleased to provide affected customers with an additional theft deterrent through this software upgrade," said Randy Parker, CEO of Hyundai Motor America in a statement. "We have prioritized the upgrade's availability for owners and lessees of our highest selling vehicles and those most targeted by thieves in order for dealers to service them first."
Some 2011-2022 model year vehicles without engine immobilizers cannot accommodate the software upgrade, and Hyundai said it will instead reimburse drivers for the cost of steering wheel locks.
Click here to learn whether your Hyundai is eligible for a software upgrade.
Kia will also update its software in a phased approach, though details of its plans were not available by deadline. The NTHSA said it will begin updates later this month, with the process expected to continue for the next several months.
IMAGE
Featured image credit: IIHS
Share This: