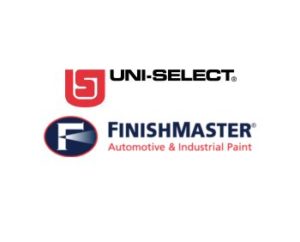 FinishMaster sold to LKQ Corp. through $2 billion Uni-Select acquisition
By on
Announcements
Alternative and specialty parts giant LKQ Corp. will acquire Uni-Select in a deal valued at $2.1 billion, the corporations announced Monday.
In Canada, Uni-Select supports more than 16,000 automotive repair and collision repair shops and more than 4,000 shops through its automotive repair shop banners and automotive refinish banners. In the U.S. it's better known for its subsidiary, FinishMaster.
Founded by Jim White in 1968, FinishMaster has grown to become a leading independent distributor of paint, body, and equipment to the collision repair industry. It today has more than 210 branch locations throughout 33 states.
The acquisition is expected to complement LKQ's pant distribution operations, with FinishMaster improving its scale and product mix "to compete in this attractive and growing space," the Illinois-based company said. It will also give it a scaled entry into Canada's "attractive" mechanical parts space with opportunity for future growth, it said.
Uni-Select's earnings were strong in 2022, with sales growing by 11.7% year-over-year.  The company's adjusted earnings before interest, taxes, depreciation, and amortization rose by 26.1% to exceed $185 million, the company said when announcing its annual earnings earlier this year. It said it also reduced its debt by $74.8 million thanks to "strong operating results and sound working capital management."
Increased sales helped offset higher fuel and utility costs and increased repair costs due to fleet replacement delays and higher payroll, Uni-Service added.
With more than 5,200 employees and more than 70,000 annual customers, the Uni-Service acquisition is expected to help LKQ grow both its clientele and bottom line.
"This acquisition further enhances LKQ's global automotive vehicle parts distribution business," Dominick Zarcone, LKQ's president and chief executive, said in a release. "Uni-Select's North American automotive refinish paint and mechanical parts distribution operations complement LKQ's existing footprint and will allow us to distribute a broader array of products to our customers."
He added that the acquisition will build upon LKQ's existing presence in Quebec and that Uni-Select's headquarters will remain there.
Daniel Imbro, a Stephens analyst specializing in the retail-automotive sector, told Repairer Driven News that the deal appears to be a good one for LKQ.
"I think the LKQ deal makes strategic sense because in the U.S., the customer relationships LKQ has with Uni-Select's customers should create minimal integration risk and we believe could create cost synergies over time," Imbro said. "We also believe the Canadian mechanical parts business will be complementary to LKQ's current North American revenue and diversifies into a defensive end-market."
The sale will see Uni-Select shareholders receive CAD 48 per share in cash, representing a 19.2% premium to Uni-Select's closing share price on Feb. 24, the companies said in a joint release.
"The transaction offers compelling value and liquidity to our shareholders and is the culmination of the efforts by our dedicated team to improve our operations and drive efficiencies with a focus on excellent customer service," said Brian McManus, chief executive of Uni-Select. "We see great opportunities to benefit our customers, employees, suppliers and brands by combining our complementary strengths within the larger, multi-disciplinary and growing LKQ team."
Images:
Featured image: The Uni-Select and FinishMaster logos are shown (Provided by the companies)
Share This: