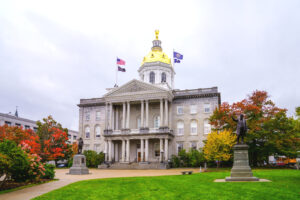 A bill has been filed in New Hampshire's House of Representatives that seeks to inform consumers of the need for recalibration of advanced driver assistance systems (ADAS), specifically auto glass, to ensure the safety systems work correctly post-repair or replacement.
Rep. Tim McGough (R-District 12), as the prime sponsor of the bill, pitched it to the House Commerce and Consumer Affairs Committee on Feb. 15.
"House Bill 304 is a good consumer protection bill designed to inform consumers about some potentially bad practices that you really could not possibly know about, or at least would be very unlikely to know about, related to windshield repairs," he said.
McGough shared a personal story about when his vehicle recently needed windshield repairs. If the automotive maintenance shop he takes his vehicle to for oil changes hadn't noticed a chip in his windshield and informed him it could prove to be a costly repair if it were to crack due to the HUD, he wouldn't have submitted an insurance claim. And if his insurer, GEICO, had not informed him of the need for recalibration, McGough said he wouldn't have known.
After the first recalibration, he said his HUD wasn't working properly so he took it back to the shop.
"Next thing I know, they're taking the dash off and they're replacing the heads-up display and it's $3,000 and it's $4,000. Thankfully, all of this is covered… it's a very specialized process and they thankfully were using either SafeLite or Portland or one of the big-name places and bringing in a specialized person to do this."
Had he not been informed upfront, McGough said he could have been slapped with a very expensive repair and recalibration bill, which is why he wants a law in place to ensure consumers are notified upfront of the process.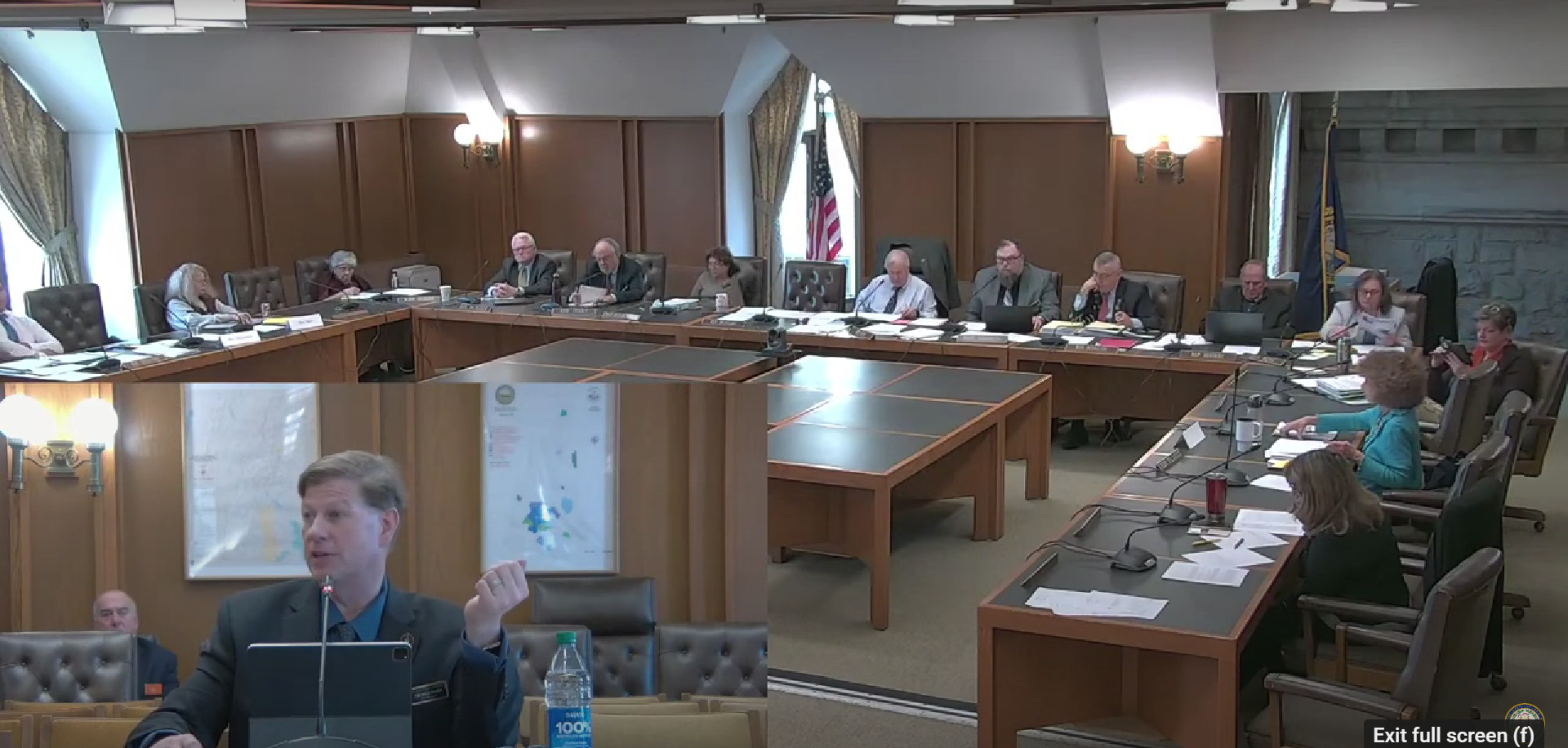 The committee, however, struggled to understand why the bill would be necessary because customers' protection or recourse would be covered under the state's Consumer Protection Act. The bill was brought to McGough by Safelite for sponsorship.
"There's a number of other states that have enacted complicated pieces of legislation and this is simple and this is direct," McGough told the committee. "It requires some simple consumer protection notification language. The problem is an unsuspecting consumer could very easily go to a fly-by-night auto glass shop, not be told, leave and have non-working collision sensors, radar sensors, laser sensors — all the sensors that are in your complicated windshield — get a aftermarket or an average windshield glass replacement and all of those important sensors, collision sensors, braking sensors all those things, be completely uncalibrated and never know it. This bill simply says you need to go get those recalibrated."
The bill would require shops that can't offer recalibration to inform customers that while recalibration is necessary, they can't provide it and that would need to be done elsewhere, he added.
Chairman Rep. John Hunt (R-District 14) argued that under the state's Consumer Protection Act, shops wouldn't be penalized as long as the customer is told upfront what they'll be charged for calibration, or receive a refund after the fact for not being told the charge would be incurred.
"You could definitely take the position, as this committee has a number of times, that it's 'buyer beware' and 'you can't legislate common sense' but I'm saying… after a certain point in 2023, that all windshields are going to need some kind of recalibration," McGough said.
When asked if he knew of any instances of "unscrupulous" repair shops that perform calibrations without knowing how to complete them properly, McGough said he didn't and didn't have data to back it up. Instead, he said the bill is "common sense consumer protection that a number of other states have addressed."
"There's about 30 safety issues in the various sensors — speed, braking, collision sensors …that I would like all those drivers to be aware of so that they're properly recalibrated," he said.
Committee member Rep. Carry Spier (D-District 6) said every vehicle should already have calibration consumer notifications in their owner's manual that owners can read, just as she has.
"I would guess that you're probably in the minority of folks that read the manual about their windshield calibration," McGough responded. "I know that I didn't read it until after when I was trying to diagnose this ridiculous HUD problem but I did find it… I didn't know that until it was far too late."
The bill would require repair shops to provide a written disclosure, whether on paper or electronically, to their customers upfront to let them know recalibration to OEM specifications will be necessary. At that time, shops would also be required to provide a description of the work that will be done to recalibrate. If a shop can't conduct the calibrations, they would be required to also let their customers know they will need to take their vehicles to a manufacturer-certified dealership to have it done.
McGough said he spoke to independent shop owners to make sure mandating manufacturer-certified dealerships to conduct the calibrations would not put them out of their business. They told him they're not worried about it because they sublet calibrations. However, as the language states now, independent shops capable of conducting the calibrations would still be able to do so in New Hampshire if the bill is passed:
"If a recalibration was not performed or not completed successfully, the auto glass repair or replacement facility shall inform the customer in writing or electronically that the recalibration was not successful or was not performed and that the vehicle should be taken to a vehicle manufacturer's certified dealership or a qualified auto glass repair or replacement facility capable of performing the recalibration of an advanced driver assistance system that meets or exceeds the vehicle manufacturer's specifications."
Safelite Legislative Affairs Vice President Scot Zajic concurred with McGough that the bill is about safety.
"Because your forward-facing camera dictates automatic braking [and] lane deviation, if that camera's off by a millimeter that could cause the vehicle to go 50 feet left, 30 feet long on braking so it's critical that if you take your car… to a glass shop, that glass shop should be informing you that you have an ADAS feature that needs to be recalibrated if they can do it. If they can't, they need to push you in the direction of a quality [company], not just Safelite; there's a lot of glass companies that can do it… if it's not done appropriately you're still responsible as a consumer to drive your car. You can't solely rely on the safety features but they're designed to create the safety zone around your car and if that camera is not recalibrated you're in danger.
"You should at least be told whether you have it upfront. You should be told if the glass shop can do it. It doesn't matter if they can or can't but they should inform you if they have done it or if they can't do it; if they did it, was it successful?"
He added that he can bring data to the committee that shows there are glass shops that are charging for recalibrations but not doing them so consumers need a recourse from the Attorney General's Office under the Consumer Protection Act, which along with consumer safety is Safelite's goal.
The bill is similar to bills passed in Maryland and Arizona, according to Zajic, and will be introduced in Florida, Texas, Illinois, Nevada, and likely Hawaii this year.
A bill currently before Florida's legislature would amend the current legal definition of "motor vehicle repair" to include calibration or recalibration of ADAS. The bill would prohibit repair shops from offering customers anything of value, including but not limited to, a rebate, gift, gift card, cash, or coupon in exchange for filing an auto insurance claim for vehicle glass replacement or repair and ADAS calibrations. Repairers would also be in violation of the law if they don't provide electronic or written notice to customers that calibration or recalibration is necessary as part of the repair or replacement of vehicle glass "to make such system operable and to ensure such service is performed in a manner that meets or exceeds the vehicle manufacturer's specifications," the bill states.
The bill would prohibit insurance policyholders from assigning post-loss vehicle glass benefits to repairers to work with insurance companies on their behalf throughout the repair or replacement process.
As for the New Hampshire bill, a Glass America marketing manager, Bonnie Wheeler, spoke in support of the bill during the committee's hearing.
"Technology is rapidly changing the industry and auto glass companies such as Glass America and its technicians need to be up on the latest changes and safety guidelines. Modern vehicles equipped with electronic safety features need to be thoroughly reviewed prior to windshield replacement and the camera in the windshield absolutely needs to be recalibrated once the new windshield is then installed."
She said Glass America suggests that the legislature not limit the bill to auto glass calibration but also include the issues covered by the Auto Glass Safety Council (AGSC)'s replacement safety standard. Wheeler wasn't specific but the standard covers vehicle assessment; selection of glass and retention systems; installation standards for adhesive bonded glass; installation standards for rubber gasket set glass, as well as additional requirements for all other glass in a vehicle; continuing education for auto glass technicians, and consumer interaction.
HB 304 will be discussed next during a subcommittee work session on March 8 followed by a Commerce and Consumer Affairs Executive Session on the same day. The House hasn't voted on the bill yet.
Images
Featured image: New Hampshire State House. (Credit: 4nadia/iStock)
YouTube screenshot of HB 304 sponsor, Rep. Tim McGough, discussing his bill with the New Hampshire House Commerce and Consumer Affairs Committee on Feb. 15, 2023. (Credit: YouTube/New Hampshire legislature)
Share This: