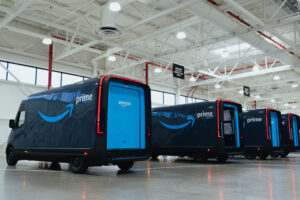 Rivian is reconsidering its exclusivity agreement with Amazon, according to reports.
The companies joined forces in 2019 in a deal that was meant to see the OEM supply the retail giant with more than 100,000 electric delivery vans (EDV) by 2030. But according to reports, Amazon committed to buying just 10,000 EVs this year, leaving Rivian seeking to market its products elsewhere.
The Wall Street Journal first reported that the automaker is seeking to "scrap the exclusivity part of their electric van deal after the online retailer's order for 2023 came in at the low end of a previously provided range."
Rivian spokesman Peebles Squire said the company couldn't comment on reported negotiations, but provided Repairer Driven News with a brief statement.
"Our relationship with Amazon has always been a positive one—we continue to work closely together and are navigating a changing economic climate, similar to many companies," the statement said. "The relationship we have with Amazon is a very positive one."
Squire did not respond to a follow-up query inquiring whether certified repair networks differ for Rivian's EDVs and passenger vehicles.
Amazon revealed no signs of an impending breakup in its response to RDN, saying it still plans to meet its 2030 target of having 100,000 Rivans on the road.
"While nothing has changed with our agreement with Rivian, we've always said that we want others to benefit from their technology in the long run because having more electric delivery vehicles on the road is good for our communities and our planet," said an Amazon spokesperson. "That's a big part of why we invest in companies like Rivian – to both meet our needs and to help scale technologies that will benefit others and protect our planet for future generations."
Last October, Rivian issued a recall for nearly all of its vehicles produced to date, including 12,212 Rivian EDV delivery vans, after it discovered that a fastener in the front steering assembly might have been insufficiently torqued.
An improperly torqued steering knuckle retention fastener "could cause excessive wheel camber, or, in rare instances, a separation, affecting the driver's ability to control the vehicle, and increasing the risk of a crash," the OEM said at the time.
Rivian's EDVs include unique features, including a comprehensive fleet management system (FleetOS)  that includes telematics, software services, charging, connectivity management and lifecycle management.
"FleetOS is designed to simplify the commercial experience around centralized fleet management and ownership," the OEM said in a 2022 letter to shareholders. "We expect FleetOS to drive improved total cost of ownership and utilization across the full vehicle lifecycle. Our FleetOS customers can avoid dependency on fragmented third parties who add costs and are often ill equipped to manage the transition to connected vehicles and data-enabled decision making."
Amazon said in a press release last year that it worked closely with Rivian to develop delivery vans, and has since 2021 been testing deliveries with Rivian's preproduction vehicles.
"This significant testing has allowed Rivian to continuously improve the vehicle's performance, safety and durability in various climates and geographies as well as its state-of-the-art features to ensure driver satisfaction, and overall functionality," the retailer said.
Rivan reported a more than $1.72 billion loss in its Q4 2022 earnings, and said it will continue to experience negative gross profit driven by "labor, depreciation, and overhead costs through 2024."
The OEM produced 24,337 EVs last year overall, and said it hopes to double its production to 50,000 vehicles in 2023.
Not unlike other automakers, Rivian has faced a number of challenges throughout the past year, including battery shortages, recalls and economic circumstances.
Last July, the company's CEO RJ Scaringe said Rivian was "prioritizing certain programs" while stopping others, "halting certain non-manufacturing hiring" and taking on "major" cost cuts to lower material spending and operating expenses. And he didn't deny reportedly potential layoffs.
According to Bloomberg, the letter was the result of a report that the automaker was considering hundreds of layoffs across nonmanufacturing positions. In reference to what he called unofficial news reports, Scaringe said in his letter to employees that, "This is not how we intended for you to hear about this."
"The hardest part of this process has been working through our organization to assess the size and structure of our teams and how well this aligns with our strategic plan. Our team is the core of Rivian and we are working to be as thoughtful as possible as we consider any reductions. We will always be focused on growth, however, Rivian is not immune to the current economic circumstances and we need to make sure we can grow sustainably. Every decision about our team is being assessed through the lens of our strategic priorities, not as a mechanism to simply reduce costs. Our team will continue to grow in support of our production ramp and product roadmap."
Amazon said this week that Rivian will remain an important partner, and that it's excited about its future with the automaker.
"We share a mission to decarbonize last mile delivery, and have been working together since 2019 to make that a reality," the spokesperson said. "In just a few short years, we've already put thousands of our electric delivery vans from Rivian on the road, and our prioritization hasn't changed – we will have more of our custom vans from Rivian hitting the streets every day as we continue to partner together to bring 100,000electric vans to the road by 2030."
Images:
Amazon's electric delivery vans, manufactured by Rivian, are pictured. (Amazon)
Share This: