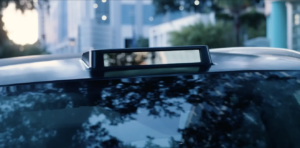 Luminar & Swiss Re partner to study lidar accident prevention capabilities, effect on insurance claims
By on
Insurance | Technology
Global automotive technology company, Luminar, and reinsurance provider, Swiss Re, have announced a new exclusive partnership that will look at the on-road performance and safety improvements of consumer and commercial vehicles equipped with Luminar's lidar and proactive safety technologies.
The research will be the first step in the partnership and will cover the impacts on the automotive industry and a new insurance program Luminar plans to offer, according to a joint news release.
"Saving lives is our primary goal and we can democratize our technology to help more people by establishing a lower total cost of ownership of their vehicles," the release states. "The objective of this testing is to validate accident prevention capabilities that we expect will substantially reduce insurance claims, which has the opportunity to lead to substantial reduction in cost of insurance for consumers that drive Luminar-equipped vehicles."
Added Luminar founder and CEO Austin Russell: "Reduction in accidents and lives saved with Luminar-equipped vehicles will naturally drive lower cost of car insurance and savings to consumers. Just as the introduction of electric vehicles has reduced the cost of energy to the consumer, Luminar-equipped cars can reduce the cost of insurance. We're collaborating with Swiss Re in order to accelerate this process and give consumers the economic credit they deserve."
Luminar's upcoming insurance launch will be headed by Alex Tsetsenekos, whose team successfully led the creation and deployment of Tesla's insurance program, the release states. Luminar Insurance is slated to enter the U.S. market for Luminar-equipped vehicles in 2024. The company says there will be substantial discounts provided to consumers who will see safety savings.
Swiss Re CEO Russell Higginbotham said the company's mission is "to make the world more resilient, so we're delighted to partner with Luminar on a project that can make our roads safer."
"By capturing tech advancements and their impacts on road safety we can deliver more accurate risk models, pricing competitiveness and risk knowledge for Luminar-equipped vehicles to our clients – insurance providers," he said.
When asked by Repairer Driven News if part of the partnership's purpose is to help insurers better underwrite for cars with advancing technology in them, a Luminar spokesperson responded that the company expects accident prevention capabilities "will significantly reduce insurance claims, and subsequently lead to a substantial reduction in cost of insurance for consumers that drive Luminar-equipped vehicles."
"Saving lives is Luminar's primary goal and we can democratize our technology to make vehicles safer, helping more people by establishing a lower total cost of ownership of their vehicles," he said.
Accident prevention capabilities data collection is still in its early stages but Luminar partner, Volvo, estimates that lidar could help reduce accidents that result in serious injury or death by up to 20%, according to its Traffic Accident Database. Volvo's data also estimates that vehicles will be able to improve overall crash avoidance by up to 9%, adding up to "millions of accidents avoided over time."
Luminar didn't provide RDN with any specific bodily injury severity statistics.
There are currently opposing views on whether advanced driver assistance systems (ADAS) and artificial intelligence (AI) actually make a difference in safety —some argue it makes roads more dangerous.
Last year, CCC found that "while the growing list of available safety features is sought by over half of drivers, many have a complicated perception of ADAS and its benefits." While 84% of drivers feel all ADAS features promote safe driving, 70% disable them, according to CCC.
Tarik Bolat, CEO and co-founder of autonomous driving tech company GPR, said at the time that drivers don't yet see the safety potential of ADAS and that the systems "as currently designed aren't working for consumers."
Vehicle diagnostic companies Repairify and AirPro Diagnostics told RDN in February that following OEM repair procedures in collision repair is essential to preventing injuries and deaths in repaired vehicles that could be involved in another crash, especially those with ADAS. In fact, faulty repairs or missed operations could cause some safety systems to be inactive or inaccurate.
Also in February, U.S. Transportation Secretary Pete Buttigieg launched a Call to Action campaign that asks the private sector, law enforcement, municipal organizations, health and safety advocates, and OEMs to take specific actions in 2023 to reduce serious roadway injuries and deaths on roadways, which the department says have reached crisis levels.
A J.D. Power auto insurance released in 2022, based on 2021 claims experiences, found record utilization of usage-based auto insurance, which monitors driving habits and assigns risk as well as price according to vehicle telematics data. Use doubled from 2016 through 2021 with 16% of auto insurance customers participating in such programs. Price satisfaction among customers participating in the programs was 59 points higher, on average at the time, than among customers overall.
Mark Garrett, J.D. Power's insurance intelligence director, said 2022 was the first year he'd ever seen a decrease in the use of digital claims reporting, digital used as a primary channel for status updates and for submitting photos that were used for the estimate.
"This is a worrying sign for the industry, as digital tools are apparently not meeting customer needs," he said.
Images
Featured image credit: Luminar Technologies
More information
NHTSA's initial data on ADAS crashes not definitive of systems' safety
Share This: