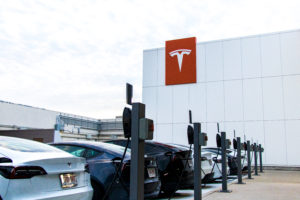 Mississippi's governor has signed into law legislation that restricts automakers' electric vehicle (EV) sales to franchised dealerships.
Gov. Tate Reeves enacted House Bill 401, introduced by Rep. Trey Lamar (R-Senatobia), despite pushback from fellow Republicans. The law requires EV manufacturers to sell their vehicles through franchises rather than direct sales.
Reeves said the legislation was passed to ensure automakers are all playing by the same rules. Tesla's sole facility in Mississippi operates as a store, allowing it to skirt around state franchise laws.
"I signed HB401 to restore MS's auto dealer franchise law back to how it had been interpreted for the last 50 years. Almost 200 small businesses in communities across our state are seeking assurances that big manufacturers can't just destroy their businesses. That's fair," Reeves tweeted.
"I also recognize that innovation in this industry is inevitable. And with innovation comes new companies with new business models. I am committed to find long-term solutions — in an ever-changing market. I look forward to working with all parties going forward to do just that."
Critics of the bill have said the bill would give Tesla, which will be grandfathered into the law, an unfair advantage against competitors such as Rivian and Lucid. Before the bill passed 39-13 in the Senate this month, the topic drew fierce debate among those in favor of the legislation and others who worried it could push away investments.
Sen. Joey Fillingane (R-Sumrall) spoke out against the bill, saying it could cause the state to lag behind others, the Associated Press reported.
"Maybe we just like being last all the time," he said. "Maybe it's a badge of honor. We're the last ones to change. If we're not careful… we could deprive our citizens of opportunities they really ought not be deprived of."
Mississippi legislators previously took a stance against direct sales with both the House and Senate approving bills to prohibit the sales model in the state.
The approved HB 833 requires new auto dealer license applicants, beginning July 1, to "furnish satisfactory evidence that he or it maintains adequate space in the building or structure wherein his or its established business is conducted for the display of new motor vehicles, or he will have such facilities within a reasonable time after receiving a license, and that he or it has or will have adequate facilities in said building or structure for the repair and servicing of motor vehicles and the storage of new parts and accessories for same."
HB 833 has not yet been signed by the governor.
In January, Tesla posted a campaign on its website against the bill, stating it would "block Tesla and other EV manufacturers from opening more stores in Mississippi, and as a result many locals will be forced to travel out-of-state to buy the country's top-selling EVs. Mississippi should be focused on increasing revenue and jobs in the state, not stifling competition and the adoption of clean transportation."
Meanwhile, in Illinois, a judge ruled last December that Rivian and Lucid could continue to sell vehicles directly to customers in the state to which the Illinois Automobile Dealers Association (IADA) has filed an appeal.
The ruling granted the OEMs' motion to dismiss a 2021 lawsuit filed by IADA that contends the direct sales model goes against the state's vehicle code and the Illinois Motor Vehicle Franchise Act (IMVFA). IADA previously took issue as far back as 2009 and in 2019 with Tesla being granted dealer licenses for their direct sales model.
Thinking that "litigation was inevitable," the state Secretary of State asked for the attorney general's opinion on the matter in 2020. His informal opinion was that the laws at issue "did not contain any such requirement, nor any prohibition on 'newly established' manufacturers selling directly," Judge David B. Atkins' order states.
While IADA argues that Illinois law states a franchisee must contract with a manufacturer, Atkins wrote that the "argument paints a very limited picture of the statutes as a whole."
"First, it is evident that franchisees are not the sole contemplated form of dealer, as the IMVFA defines 'motor vehicle dealer' and 'franchisee' separately… This is further supported by various provisions referencing dealers with a 'franchise or selling agreement,' apparently contemplating other types of arrangements."
IMAGES
Featured image credit: JL Images/iStock
Share This: