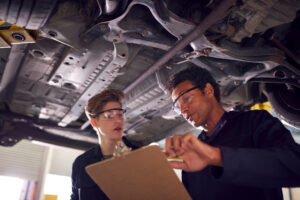 The industry-leading Collision Engineering Program (CEP) is expanding to a seventh school in an effort to boost the amount of collision technicians available for hire.
The program is now being offered at the Parkland College Automotive Collision Repair Program in Champaign, Illinois, to attract and develop the talent to fill the need for more than 110,000 new collision technicians by 2026.
CEP's two-year apprenticeship model gives students the chance to earn an income while completing their training. Students learn both in traditional classroom settings and by working at modern collision repair facilities.
Employers can participate in the program through sponsorship, and several local businesses have already signed up to partner with CEP to offer apprenticeships to Parkland students.
Jon Ross, Parkland College's applied sciences and technologies department chair, said the program is giving the college an opportunity to reengage the collision repair community.
"I think the exciting part is that all of the industry coming together to support the idea that we need to [fill the] training gap," Ross told Repairer Driven News. "When the industry comes to the table and not only says 'we need help,' but then say 'here's how we can help,' that's a really fantastic situation."
Parkland College already has a collision training program but was forced to shelf it for years due to low enrollment that was only made worse by the pandemic. Ross is hopeful the new CEP offering, where students rotate through eight weeks of training followed by eight weeks of working, will reverse that trend.
"Technician training today requires a different approach utilizing extensive resources from the industry," Ross said. "Our partnership with the Collision Engineering Program has been invaluable in connecting Parkland and our students to these industry resources. Barriers to student enrollment can be significantly reduced when industry and education work together."
Parkland College already has a Ford ASSET Program, a two-year program supporting the demand for entry-level service technicians with certifications from Ford. It also happens to be close to several repair facilities, and Ford's manufacturing plant in Chicago.
The CEP program, which was founded by the Enterprise Holdings Foundation and Ranken Technical College in St. Louis, is supported by the Ford Motor Company Fund.
The Ford Fund will give Parkland students access to scholarships and cover the program's startup costs, instructor training, school materials, certifications, personal protective equipment, tuition, and assessments.
Enrollment for the program is now open with classes set to begin this fall.
"The skills needed to obtain and retain jobs are evolving rapidly, and high-quality collision repair careers are in demand. Ford Fund is proud to partner with organizations committed to removing roadblocks and prioritizing student resource needs to become tomorrow's collision repair professionals," said Mike Schmidt, the Ford Fund's economic mobility director.
"The CEP program at Parkland College takes an exciting earn-as-you-learn approach to prepare students for career readiness. Together we're building a support system around student needs, from access to scholarship opportunities to modern collision engineering facilities and tools."
Other schools offering the program include:
Ranken Technical College in St. Louis, Missouri;
College of Lake County in Grayslake, Illinois;
Contra Costa College in San Pablo, California;
Collin College in Allen, Texas;
Texas State Technical College in Waco, Texas; and
Metropolitan Community College in Omaha, Nebraska.
"The addition of Parkland College is another important step in increasing access to quality collision engineering education for more students across the country," said Mary Mahoney, Enterprise Holdings' vice president.
"We're extremely grateful to be partnering with the Ford Motor Company through its philanthropic arm, the Ford Fund, to show how working together across our industry can make a meaningful difference in tackling the worker shortage and skills gap."
Meantime, I-CAR recently launched a new website, Collision Careers, to provide another avenue of support for those interested in entering the industry. The site offers guidance for students, educators, and those seeking a career change on the opportunities available within the industry.
And in Louisiana, Rep. Buddy Mincey (R-Denham Strings) is pushing a bill that would incentivize business owners to hire interns by offering them tax credits.
House Bill 637, which would apply to students aged 16 and older, would involve paying workers up to $2,500 each to receive on-the-job training in "high-wage, high-demand industry sectors."
For more information about the Collision Engineering Program, visit www.beacollisionengineer.com.
Images
Featured image credit: monkeybusinessimages/iStock
Share This: