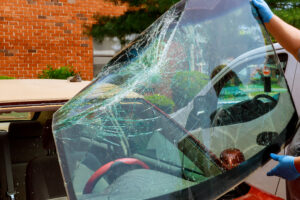 Florida auto glass AOB, steering prohibition heads to DeSantis
By on
Insurance | Legal
A Florida glass repair bill that would eliminate assignment of benefits (AOB) on insurance claims is headed for the governor's desk after passage in the House on Tuesday.
SB 1002 seeks to prohibit shops or their employees from "offering anything of value to a customer in exchange for making an insurance claim for motor vehicle glass replacement or repair," otherwise known as AOB. AOB is a measure collision repair shops can use to fight insurance companies over underpayment on behalf of their customers.
The bill would also prohibit insurance carriers and auto glass shops from steering customers to certain businesses.
The House vote was overwhelmingly in favor at 103-16, and in April was unanimously passed in the Senate. At least one opponent of the bill, Florida Independent Glass Association lobbyist Jeff Johnston fears the legislation will create a glass repair monopoly for large chain businesses, such as Safelite.
Bill sponsor Sen. Linda Stewart (D-District 13) said in April that SB 1002 will "modernize our laws to include new technologies and make sure the calibration of these new systems are covered in replacements and will finally put an end to the frivolous lawsuits perpetrated by a few bad actors."
She also said AOB lawsuits are one of the reasons why auto insurance premiums are increasing in the state.
Fix the Cracks — an initiative in support of SB 1002 backed by the National Insurance Crime Bureau (NICB), Consumer Protection Coalition, American Property Casualty Insurance Association (APCIA), and others — argues on its website that, "AOB auto glass abuse rewards few at the expense of many."
Auto glass lawsuits went up 4,000% from 2011-2021, including a recent spike of roughly 30% between 2021 and 2022, according to Fix the Cracks. In April, State of Florida CFO Jimmy Patronis told the Senate Committee on Rules that windshield-related lawsuits went from 591 in 2011 to 37,000 last year as a result of the state allowing AOB.
In a May 2 news release, Fix the Cracks said the legislation "addresses problems caused by some glass vendors and attorneys who have in recent years churned out unnecessary litigation, teaming up to exploit Florida law and hurt insurance consumers."
The average cost of glass repair in the U.S. in 2020 was $294.37, compared with the average repair cost in Florida, which was $435.56, representing a 59% premium for auto glass claims, according to Fix the Cracks.
NICB Government Affairs Director Eric De Campos added, "Fraudulent conduct affects every consumer as unlawful claims lead to higher insurance premiums that innocent policyholders are left to pay. Delivering these reforms will go a long way toward protecting consumers from criminal actors and irresponsible litigation. We are especially grateful to Senator Stewart, Representative Griffitts, and the Florida Legislature for passing SB 1002, which represents a significant step forward in addressing many of these issues. This will help reduce fraudulent activity, improve conditions in Florida, and protect consumers from rising insurance rates."
When the bill was heard by the Senate Committee on Rules last month, De Campos testified that Florida's current law allows glass shops to charge for unwarranted advanced driver assistance system (ADAS) recalibrations, or to charge for recalibrations but not perform them. The bill, he said, would create transparency about why ADAS calibrations and recalibration are needed in addition to fighting fraud and abuse in the auto glass industry.
In addition to addressing AOB and steering, SB 1002 also:
Defines ADAS;
Expands the state's motor vehicle repairs definition to include ADAS calibration or recalibration;
Expands the state's definition of unlawful vehicle repair shop acts to include offering inducements for making vehicle glass replacement or repair insurance claims; and
Adds failing to give customers notice about the necessity of ADAS calibrations as an unlawful vehicle repair shop act.
Several Fix the Cracks members praised the legislature for the bill passage and encouraged Gov. Ron DeSantis to sign it into law.
"This is a perfect example of why we say, 'Insurance Fraud Is the Crime We All Pay For,'" said Joseph Matos, chief of communications, outreach & creative services for the Coalition Against Insurance Fraud.
International Association of Special Investigation Units (IASIU) President Celeste Dodson said auto glass repair fraud doesn't just impact those involved — it affects everyone.
"The only individuals that benefit are the fraudsters," she said. "As the global leader of insurance fraud investigators, IASIU stands with NICB and the Coalition Against Insurance Fraud in support of SB 1002, focused on curbing auto glass fraud and abuse. We thank Florida legislators for keeping up the momentum to fix the cracks in auto glass laws."
Insurance Journal reports that the passage of SB 1002 is just the latest piece of legislation designed to reduce claims litigation in Florida coming after lawmakers' decision in December to end AOB in property claims and limit one-way attorney fees in insurance litigation. In March, calling Florida "a judicial hellhole," DeSantis signed into law a tort reform bill that, among other things, is meant to "decrease frivolous lawsuits and prevent predatory practices of trial attorneys."
Images
Featured image credit: photovs/iStock
Share This: