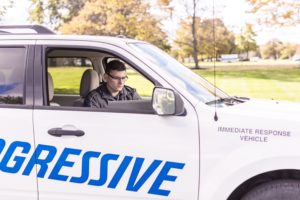 Progressive plans 'aggressive' rate increases, reports 10% loss severity increase
By on
Insurance
In its Q1 2023 report to shareholders, Progressive said it won't slow down on personal auto insurance rate increases any time soon following a 4% companywide increase during the quarter.
"Considering our first quarter profitability results, and the fact that inflation has not abated, we are re-evaluating our rate plans and intend to be aggressive with raising rates over the remainder of the year," wrote President and CEO Tricia Griffith. "Of course, some of these rate increases will be subject to regulatory approval and any change in circumstances could lead us to determine if more or less rate is needed in order to achieve our calendar year CR [combined ratio] goal."
Rates increased totaled more than 13% during 2022. Griffith said in this year's Q1 letter to shareholders that, "While not where we'd like to have started the year, there were a lot of factors that contributed to our underwriting results."
The results were a 10% increase in loss severity compared to Q1 2022, similar to the year-over-year increase experienced in Q4 2022, while frequency was relatively flat, Griffith said. Loss costs were higher than Progressive anticipated.

"During the first quarter, we experienced continued elevated loss costs due, in part, to our inflationary environment, reserving development, additional weather-related losses, and recent law changes in Florida that impacted loss estimates and prompted increases to our reserves," Griffith wrote.
"During the first quarter 2023, our Personal Lines business experienced strong growth but fell short of our profitability target with a CR of 98.7 for the quarter. NPW [net premiums written] grew a very healthy 25% with policies in force growth of 10%. Our growth in new applications reflected a combination of increased quotes from continued shopping in the marketplace and an increase in conversion. We also saw an increase in Personal Lines renewal applications, which contributed to policy growth. In addition to unit growth, our Personal Lines written premium growth reflected rate actions taken in both 2022 and 2023."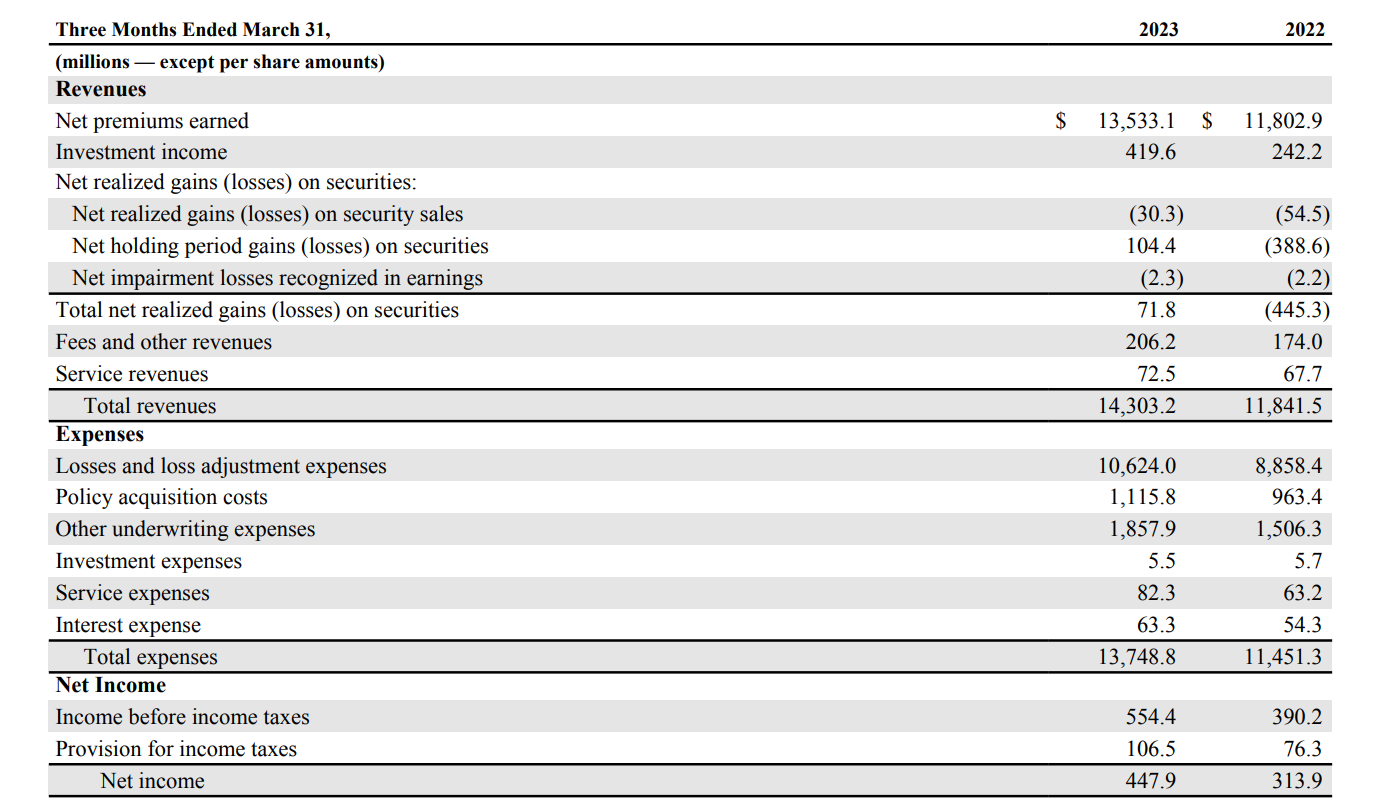 Griffith concluded her letter with, "Is it an enjoyable way to start the year? No. Do we have a cogent plan to respond to these challenges? Absolutely!"
Progressive came in at No. 2 on the National Association of Insurance Commissioners' (NAIC) 2022 top 25 P&C list followed by Berkshire Hathaway Group, which owns GEICO, then Allstate and USAA. Progressive's market share fell only slightly by around a third of 1% to 14.05% compared to 2021. State Farm was No. 1.
While Berkshire Hathaway said during its annual shareholders meeting that GEICO "significantly reduced advertising" in Q1, which contributed to a decrease of $257 million in underwriting expenses, Progressive increased advertising spending by 23% above Q1 2022.
Allstate reported earlier this month that it also plans to continue rate increases this year "to improve auto insurance profitability." During Q1, auto loss costs "continued to increase rapidly and essentially offset higher premiums, which combined with exceptionally high first-quarter catastrophe losses resulted in an underwriting loss of $1.0 billion," Allstate said.
"Expense reductions are partially offsetting current increases in claims severity and will support increased competitiveness when targeted profitability is restored. Distribution transformation is working, with higher Allstate exclusive agent productivity, expanded product offerings through independent agents and enhanced direct capabilities."
Allstate implemented auto rate increases in 28 locations during Q1 at an average of 8.4% or 1.7% on total premiums, which the carrier believes will raise annualized written premiums by $454 million. Q1 saw higher accident frequency, current report year claim severity, and catastrophe losses, the carrier said. 
"We continue to execute a comprehensive plan to improve auto insurance profitability, including raising rates, reducing expenses, lowering growth, and enhancing loss cost management."
Meanwhile, Allstate's CEO Tom Wilson received $14.9 million in salary and incentives last year for delivering "excellent operating leadership in a difficult external environment," the company said in a filing to the SEC this month. Progressive reported in its 2023 proxy statement that Griffith's 2022 compensation, including salary, stock awards, incentive, and all other compensation, added up to nearly $12.75 million.
According to J.D. Power's recent insurance shopping study, the insurance shopping rate reached 13.1% in 2023, the highest rate since June 21, 2021. Meantime, the 30-day switch rate reached 4.1% in March, compared to a yearly average of 3.4% in 2021.
Images
Featured image: File photo provided by Progressive.
More information
Auto insurance shopping, carrier switching increases again in Q1
Share This: