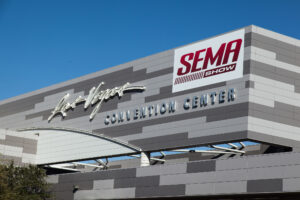 Elon Musk's infrastructure venture The Boring Company has received approval to expand its underground Las Vegas tunnel system, which will now span 65 miles and include 69 stations.
Commissioners in Clark County, Nevada approved the company's plans for 18 new stations and 25 extra miles of tunnel earlier this month. The loop was originally set to include 51 miles of tunnels throughout 29 miles.
Once the expansion is complete, new stops will give convention goers expanded, faster and easier access to local hotels, the University of  Nevada Las Vegas (UNLV), shopping, residential neighborhoods and attractions.
The city's Harry Reid International Airport was not included as part of the expansion, and is part of a separate approval process that has not yet been brought forward for consideration.
Additional stops include:
3025 Sammy Davis Jr. Drive
Las Vegas Boulevard South and Elvis Presley Boulevard
Spring Mountain Road and Procyon Street
Spring Mountain Road and Twain Avenue
The Westin Hotel
Las Vegas Boulevard South and Harmon Avenue
Spring Mountain Road and Twain Avenue
UNLV Gaming
UNLV Athletics 1
UNLV Athletics 2
UNLV Housing 1
UNLV Housing 2
Thomas & Mack 2
4769 Deckow Lane
The Virgin Resort Hotel
Harmon Square
5051 Las Vegas Boulevard South
Town Square Las Vegas
Blue Diamond and Las Vegas Boulevard South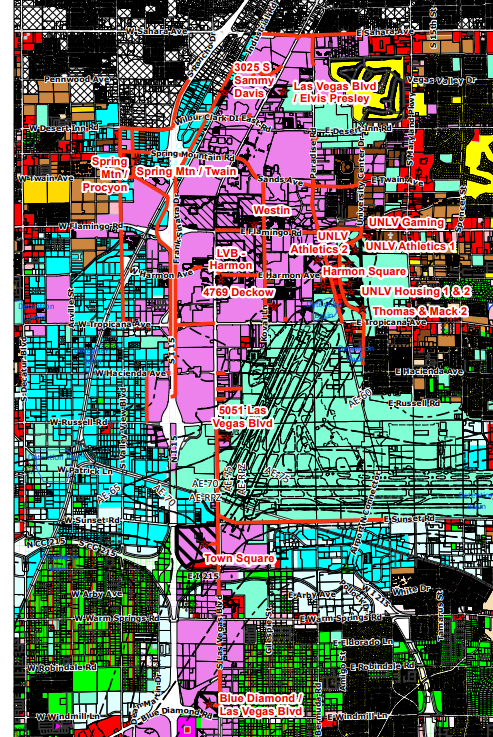 Right now, the Las Vegas Convention Center (LVCC) loop system connects the New West Hall with existing campuses in the north, central and south halls. The Boring Company said the system is designed to transport more than 4,400 convention attendees per hour, with the loop reducing 45-minute walk times to two-minute car journeys.
The LVCC serves as the venue for the annual Specialty Equipment Market Association (SEMA) Show, happening this year from Oct. 31 through Nov. 3.
An LVCC spokesman told Repairer Driven News that expansion will not impact car or air traffic. There's not yet an indication on when construction will begin on the expansion, but tunnel construction so far has been completed using high-tech drills that don't affect the surface.
Andy Tomkins, SEMA's trade show director, said the tunnel has made it easier for attendees to navigate the annual event.
"The Las Vegas Loop has been a game-changer to navigate the SEMA Show with stations available at West, Central and South Halls, along with Resorts World, making thousands of exhibits and attractions across the show accessible within a short ride," Tomkins told Repairer Driven News. "We look forward to offering this service to Show attendees again this year.
"We have heard very positive feedback from both our attendees and the City of Las Vegas about the Loop experience, with local news reports stating they have served more than 1 million passengers since its introduction in 2021. Reports also cite plans are underway to expand the Loop to include destinations across the Strip, along with Allegiant Stadium and Harry Reid International Airport, with construction timelines to be determined."
Registration for the 2023 SEMA Show is now open, with discounted fees for registration and Repairer Driven Education (RDE) sessions.
The show features thousands of exhibitors and brands, and so far for 2023, SEMA tells Repairer Driven News there's already a nearly 5% increase in the number of Collision Repair & Refinish company exhibitors. There's also a 15% increase in the number of Tools & Equipment exhibitors.
More than 2,000 exhibitors are currently taking part in booth place selection, with more exhibitors expected to sign up leading up to the show. The floor plan can be viewed at semashow.com/floorplan.
"The industry's support for this year's SEMA Show has proven and shown that people are focusing on the next three to five years with plenty of new products and innovation," SEMA Vice President of Events Tom Gattuso told RDN. "We're excited to see it all on the SEMA Show floor this November."
The show will be held Oct. 31-Nov. 3 at the Las Vegas Convention Center to showcase products in, and tools for, automotive customization.
A $40 fee for qualified buyers is available until June 30. Deadlines and fees for other registration categories can also be found at semashow.com/register. Repairer Driven Education (RDE) sessions are increased to full price on Sept. 29.
A single registration includes:
Four days of access to the trade-only SEMA Show floor, where manufacturers are prepared to provide product demonstrations and answer technical questions about thousands of products

Inspiration from leading innovators and celebrities sharing their personal messages at seminars, keynote addresses, and other special events

Insight on new technology, such as alternative fuel, electric vehicles, advanced driver assistance systems, and more

Emerging trends shown on the world-class vehicle build debuts throughout the Las Vegas Convention Center

Meaningful connections and partnerships with professionals from throughout the world, which can only be accomplished through face-to-face conversations and gatherings
"Making the annual trade show accessible to the worldwide marketplace is what helps make the SEMA Show the best place to connect with the industry," Gattuso said. "It guarantees that the best products, most innovative ideas, and emerging trends are at the Show."
Airfare discounts and low-price guarantees on all hotels are available through the SEMA Show block.
Image
iStock/MortonPhotographic
Share This: