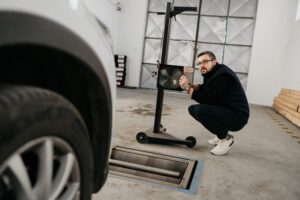 Boyd Group Services businesses, which include Gerber Collision & Glass, may soon start offering more of its own scanning and calibration services moving forward, and outside of its current markets.
Boyd CEO Tim O'Day told investors during the company's Q1 earnings call that sales increased due to more calibrations, higher repair costs on vehicles that are more complex to fix, and higher parc content and cost.
Most of Gerber's scanning and calibrations are completed by third-party sublets but the company is benefiting from the revenue the services bring in, O'Day told investors.
"Operationally, we're focused on optimizing performance of new locations as well as scanning and calibration services and consistent execution of the well-operating way," he said. "Given the high level of location growth in 2021, the strong same-store sales growth during 2022, and the combination of same-store sales growth and location growth thus far in 2023, we remain confident the company is on track to achieve its long-term growth goals, including doubling the size of the business on a constant currency basis from 2021 to 2025 against 2019 sales."
Sales hit a record high during Q1 at record sales of $714.9 million, adjusted EBITDA of $84.7 million, and net earnings of $20.8 million. The sales increase was up 28.4% over Q1 2022. Nearly $24 million of that revenue came from 52 new locations. However, repair demand continues to be strong while understaffing and wage competitiveness carries on.
"Supply chain disruption continues to normalize. However, sustained levels of high demand continue to result in elevated levels of work in process inventory," O'Day said. "While the ability to service demand continues to be constrained by market conditions, new technician training and other initiatives are providing some improved capacity. However, the path to servicing the level of demand requires continuing increases in technician compensation to attract more labor into the industry and company, and this will require continued price increases from our customers."
As supply chain disruption "continues to normalize," parts are being bought from primary suppliers again with a mix of historical-level alternative parts, he added. Boyd is in the early stages of rollout across its network so a high percentage of calibrations are being done by third-party companies.
"Increased scan and calibration services also positively impacted gross margin," O'Day said. "Much of the calibration work today is done via mobile, although we are equipping stores with — where we have space for equipment — with targeting systems and mobile technicians can travel to our stores. We will move work around on a hub-and-spoke basis to provide some of that work. But I think we're going to continue to see a growth in revenue around scanning and calibration and we're going to internalize more of it."
Boyd also plans to invest in network technology upgrades to further strengthen its technology and security infrastructure and to prepare for future advanced technology needs. The investment slated for this year, beginning in the second half, is $5 million to $8 million followed by similar investments in 2024 and 2025.
O'Day said part of Boyd's long-term solution to demand is building up capacity to take on more business and offset increased costs already experienced over the past couple of years.
On the labor side of business, Boyd hasn't been able to reach a wage increase "sufficient to attract requisite talent into the industry," O'Day said.
One investor surmised that claims severity must've been up during Q1 but O'Day said that wasn't necessarily the case because the average repair now "has more labor hours on it and likely more calibration on it than an average repair did even two years ago."
"The industry is still not servicing automobile owners as effectively as we were prior to the pandemic," O'Day said during the call. "Length of rental is still very elevated. Customer satisfaction scores — in part because of high repair times, longer repair times, and still some supply chain disruption, and the labor issues — aren't where they should be. We are all working hard to get back to making sure we are taking great care of our customers."
The average length of rental (LOR) reached a record high of 18.7 days during Q1, according to Enterprise's newest LOR report.
When asked to comment on legislative efforts to fight insurance premium increases, O'Day said carriers "need quality repair capacity and they are competing for that repair capacity."
For the most part, states are approving rate hikes and regulators need to face the reality of why increases are necessary, he said.
"At some point, regulators have to provide an upgrade for insurance companies to make money. Cars are more complex and more expensive to repair… I think carriers will continue to get the rate they need to be profitable with their book of business because they can't survive long-term without that."
Images
Featured image credit: Nikola Stojadinovic/iStock
More information
CIC: 'Supplement challenge' should be solved, LOR at record high
Share This: