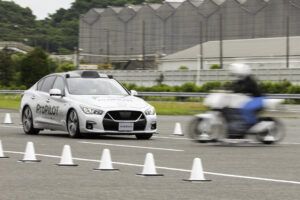 Nissan adds intersection crash avoidance to its ADAS
By on
Announcements
Nissan says its lidar-based advanced driver assistance systems (ADAS) now feature intersection collision avoidance.
The automaker demonstrated its new technologies last week during an event that showed how it can avoid crashes by performing certain maneuvers, including in "more complex environment of intersections."
A video Nissan posted last Friday shows a vehicle coming to a full stop to avoid a motorcyclist that unexpectedly crossed its path at an intersection.
Takao Asami, who leads Nissan's Research and Advanced Engineering Division, said the technology is being developed under Nissan Ambition 2030 — its vision to deliver more electrical vehicles and technological innovations by the end of the decade.
"We are on course to develop collision-avoidance technology utilizing next-generation LIDAR technology by the mid-2020s," Asami said. "Aiming to develop future autonomous driving technologies that customers can use with peace of mind, Nissan is working to fully understand the entire range of accident scenarios by analyzing complex accidents that occur in the real world.
"Our efforts are aimed to substantially improve accident avoidance."
According to Nissan, the technology it's trialing features a new control logic that helps its vehicles avoid intersection collisions through "ground-truth perception technology" using next-generation lidar.
"It can detect an object's speed, location, and potential risk of a collision from a lateral direction," Nissan said. "The system is designed to instantly respond to the changing situation through such steps as emergency application of the brakes or releasing the brakes when the potential risk has been avoided."
Nissan's glimpse into its new technological advances came about a week after the National Highway Traffic Safety Administration (NHTSA) proposed to adopt new federal standards that would require more effective automatic emergency braking (AEB) and forward collision warning (FCW) systems on new vehicles.
NHTSA said when announcing the proposed changes that requiring AEB and pedestrian AEB on passenger cars and light trucks would dramatically reduce the amount of rear-end and pedestrian crashes.
According to NHTSA, the new rules would build on existing crash imminent braking, dynamic brake support, and FCW systems but require higher speeds. It would require vehicles to be capable of braking at speeds up to 62 mph to avoid a crash when manual braking is applied and up to 50 mph when no manual braking is applied during testing.
"We've seen the benefits of the AEB system in some passenger vehicles already even at lower speeds, and we want to expand the use of the technology to save even more lives," said Ann Carlson, NHTSA chief counsel. "That's why our proposed rule would require all cars to be able to stop and avoid contact with a vehicle in front of them up to 62 miles per hour. And the proposal would require pedestrian AEB, including requiring that AEB recognize and avoid pedestrians at night."
Nissan did not respond to an RDN query about whether its new technology would also be capable of detecting and avoiding pedestrian crashes, or if its new features would align with those laid out in NHTSA's new proposal.
As modern vehicles incorporate more technical features to decrease the likelihood of crashes, the new systems are often adding to the complexity of repairs, especially when ADAS or ADS features are affected as the result of a crash or subsequent repair.
Earlier this year, the Insurance Institute for Highway Safety (IIHS) released a study showing that while new ADAS technology is helping make roads safer, it is also making auto repairs more complicated.
IIHS surveyed drivers whose vehicles are equipped with front crash prevention, blind spot detection, and other visibility-enhancing cameras. Among those who had the systems repaired, about half had issues with the features afterward, the study found.
Some diagnostics specialists pushed back against the study, saying it did not consider insurer resistance and failure to prioritize adherence to OEM procedures as contributing factors.
Images
Featured image: Courtesy of Nissan
Share This: