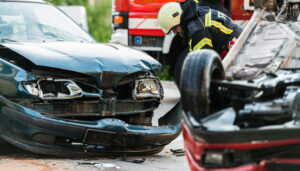 Traffic fatalities continued to drop in early 2023, NHTSA says
By on
Announcements
The National Highway Traffic Safety Administration (NHTSA) has shared new data indicating traffic fatalities dropped 3.3% during Q1 2023, representing the fourth consecutive quarterly decline.
The federal agency said its initial projections show that 9,330 people were killed on U.S. roadways during the first three months of 2023, fewer than the 9,645 people who died during the same period last year.
The projected decrease in deaths was despite more drivers hitting the road, it added.
U.S. Transportation Secretary Pete Buttigieg said more work must be done to reduce traffic fatalities.
"After spiking during the pandemic, traffic deaths have been on a slow but consistent decline for the past year," Buttigieg said. "This is an encouraging sign as we work to reverse the rise in roadway deaths, but there is much more work ahead to reinforce this downward trend and make it permanent."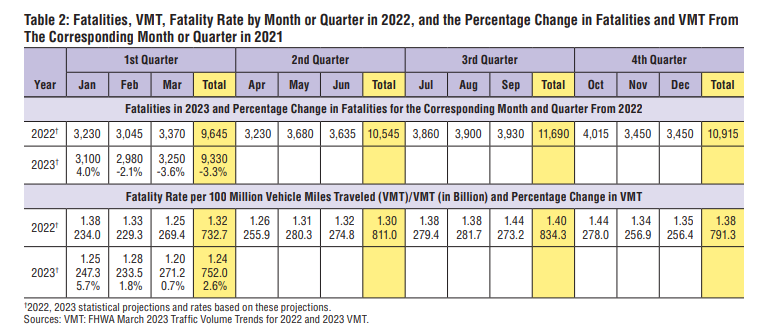 Last year, Buttigieg rolled out a National Roadway Safety Strategy to help reduce fatalities through a multi-tiered approach that involved the rollout of a Safe Streets and Roads for All grant program. 
As part of that program, the Department of Transportation issued more than $800 million in grant awards earlier this year throughout 500 communities to fund projects meant to address high-crash areas.
NHTSA said it is seeking to further reduce traffic fatalities through a number of initiatives, including a final ruling on rear impact guards and "significant progress" to advance pedestrian automatic emergency braking (AEB).
It is proposing to adopt new federal standards that would require more effective AEB and forward collision warning (FCW) systems on new vehicles. NHTSA said when announcing the proposed changes last month that requiring AEB and pedestrian AEB on passenger cars and light trucks would dramatically reduce the amount of rear-end and pedestrian crashes.
According to NHTSA, the new rules would build on existing crash imminent braking, dynamic brake support, and FCW systems but require higher speeds. It would require vehicles to be capable of braking at speeds up to 62 mph to avoid a crash when manual braking is applied and up to 50 mph when no manual braking is applied during testing.
Ann Carlson, NHTSA's chief counsel, said that although a reduction in traffic fatalities is good news, there are still "far too many people" being killed in preventable crashes.
"We are taking significant action to reduce traffic fatalities, including moving forward on new vehicle standards to make cars even safer, investing millions of dollars to improve infrastructure and roadway safety, and working with our state and local partners to help drivers make safe decisions on the road," she said.
Earlier this year, NHTSA released its latest traffic fatality projections for 2022, which showed a 0.3% year-over-year decrease in fatal collisions.
According to its figures, 42,795 people died in crashes last year, slightly less than the 42,939 fatalities reported in 2021. The decrease is despite more U.S. drivers hitting the road and traveling more than they did during the height of the pandemic, NHTSA said.
New TransUnion research released last week found that while traffic tickets have decreased nationwide since the beginning of the COVID-19 pandemic in 2020, traffic deaths are still up compared to pre-pandemic levels.
Compared to the 2019 average, citations have decreased by 13% and deaths have increased by 22%, according to the study.
TransUnion found that a decrease in traffic enforcement to slow the spread of COVID-19 and as a safety precaution following the death of George Floyd, as well as three primary behavioral factors, contributed to the rise in fatalities.
Since 2019, there has been a 21% increase in the number of fatal crashes involving unrestrained occupants, an 18% increase in alcohol-impaired fatal crashes, and a 17% increase in fatal crashes involving speeding.
"Among many important takeaways from this research is the plain fact that traffic enforcement plays a role in maintaining safety on the road," said Mark McElroy, TransUnion executive vice president and head of insurance business. "That said, insurers can play a vital role in reversing this trend by educating their customers and promoting safe driving practices.
"Younger drivers are often more prone to risky behaviors but it is especially concerning to see Millennials — who are predominantly in their 30s and 40s — express such a lax attitude toward safety," said McElroy. "It's important they understand that this behavior is contributing to 50,000 preventable deaths every year."
TransUnion conducted its research using traffic court record data between January 2019 and January 2023 from its TruVision Driving History solution and compared it against death rates calculated by the U.S. Department of Transportation and NHTSA during the same timeframe.
Images
Featured image credit: Tashi-Delek/iStock
Secondary image: JD Power
Share This: