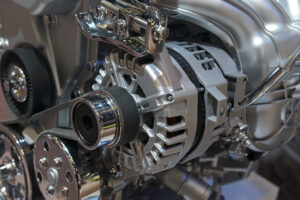 ICE vehicles not on the out? Likely to continue alongside EVs, alternative fuels
By on
Market Trends
The Specialty Equipment Market Association (SEMA) says while electric vehicle (EV) use is rising, there's still room in the market for internal combustion engine (ICE) vehicles in the years to come, and OEM plans seemingly back that notion up.
Some manufacturers have said they want to make ICE vehicles cleaner to match their zero-emissions EV counterparts.
General Motors (GM) said in 2021 it plans to launch 30 new EVs by 2025, but ICE vehicles will continue to be an essential part of the fleet for at least 20-30 years. The automaker has also said its Ultium platform will serve as the foundation for its all-electric lines in the future while still making large investments in its ICE manufacturing plants. Cadillac and Buick plan to go all-electric by 2030.
At least one automaker, Stellantis is looking at converting ICE light commercial vehicles to electric drivetrains. Others offer hybrid models of electric and ICE, or models in both EV and ICE. In fact, most OEMs have plans to be emissions-free by 2040.
Eventually, the way laws are shaking out, nearly 20 states will prohibit or are moving toward banning the sale of some or all new ICE vehicles within the next decade.
At the federal level, the Biden Administration is looking to vehicle electrification as a large part of its decarbonization plan. The goal is for 50% of light-duty vehicles and 30% of medium- and heavy-duty vehicles in the U.S. to be zero emissions by 2030.
Going electric is posing challenges from sourcing limited materials for battery cells to Ford's prediction that it will lose $3 billion by the end of the year on its EV business segment and coming out in the black next year.
Despite Toyota Motor Corp. President Akio Toyoda's sharing in December that a better carbon-neutral vehicle plan would be hybrids and hydrogen-powered, the OEM continues to work on an EV strategy. More on both EV and hydrogen plans was covered earlier this month during Toyota's Technical Workshop.
BMW has shared it is considering building future hydrogen-powered models. Porsche is producing and testing an alternative eFuel — a mix of hydrogen and carbon dioxide to create methanol — for use in ICE vehicles. The synthetic fuel is nearly carbon-neutral.
SEMA notes that many specialty-equipment manufacturers say their long-term plans call for continued investment in ICE applications.
"In fact, some futurists believe that by 2035 the total carbon footprint of an ICE vehicle may nearly match that of an EV — especially when you factor in the rare-earth mining, spent battery disposal, and other not-so-eco-friendly activities associated with electrification," SEMA wrote on its website.
"The automotive aftermarket, for as long as it's been around, has driven innovation — specifically towards efficiency around the internal combustion engine," said Ian Lehn, Boostane owner and former chair of the SEMA Emerging Trends and Technology Network (ETTN). "I look at vehicle technology as a spectrum, and no one technology is going to be the silver bullet for our transportation demands."
Toyota and Nissan have made recent announcements in the move toward EV and artificial intelligence (AI) ventures.
Last week, Toyota Research Institute (TRI) unveiled a generative AI technique that it says will amplify vehicle designers. With the new technique, designers can add initial design sketches and engineering constraints into the process, cutting down the iterations needed to reconcile design and engineering considerations, Toyota said.
TRI researchers released two papers — "Interpreting and Improving Diffusion Models Using the Euclidean Distance Function" and "Drag-guided diffusion models for vehicle image generation." The papers describe how the technique incorporates precise engineering constraints into the design process. Constraints like drag, which affects fuel efficiency, and chassis dimensions like ride height and cabin dimensions that affect handling, ergonomics, and safety, can now be implicitly incorporated into the generative AI process.
For example, a designer can request via text prompt a suite of designs based on an initial prototype sketch with specific stylistic properties like "sleek," "SUV-like," and "modern" while also optimizing a quantitative performance metric, Toyota said. In the research paper, the team focused specifically on aerodynamic drag. The approach can also optimize any other performance metrics or constraints inferred from a design image, according to the OEM.
One of the latest Nissan movements in Canada is a partnership with FLO, a North American EV charging company and smart charging solutions provider.
The companies are working together on two initiatives to make charging more convenient for EV drivers — complimentary FLO charging credits and greater access to FLO's residential EV chargers across Canada for new car buyers.
The programs will give $150 worth of charging credits to Nissan Canada customers who purchase or lease a new Nissan EV along with the Nissan EV Care protection package.
Nissan Canada chose the FLO Home charger as the home charging unit offered at its dealerships. The charger matches most maximum EV power acceptance rates to charge most vehicles in six to eight hours.
Images
Featured image credit: robertcicchetti/iStock
Share This: