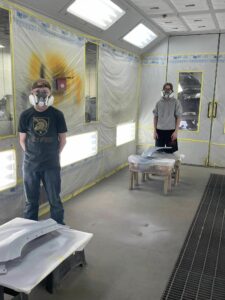 A West Virginia school has introduced middle school students to collision repair and other trades through a career and technical education summer program.
Marion County Technical Center's program, which ran last month, taught about 65 students through a four-day camp that allowed them to focus on two areas.
Jay Michael, the center's principal, told Repairer Driven News that the camp counted auto technician and collision repair among this year's offerings.
"Students in both programs seemed to really enjoy their time in the shops," Michael said. "The main reason for the success is the teachers' enthusiasm and personalities. They do a great job of connecting with the kids and that reputation is what brings kids back each year."
Michael said the auto tech program focused on basic maintenance and repair, oil changes, tire alignment and diagnosing programs. Those participating in the collision program worked with restoring and painting and used old donated fenders to practice on, he added.
"The main goal of the camp was to expose the students to our programs," Michael said. "We try to give them a good idea of what we do on a daily basis and also how this could lead to a career."
He said the center is hoping to increase its participation numbers going forward to strengthen its name recommendation and expose students to possible career choices.
"We want to make sure students can make a informed decision and have the opportunity to pursue a career with [career and technical education] training," Michael said.
Jeremy Sakacsi, a welding instructor, said giving students exposure to skilled trades is an important component to keeping the U.S. economy moving.
"As far as blue collar trades, in my opinion it's what drives America," Sakacsi told Times West Virginian. "It's what keeps America going and moving forward every day. Without the blue collar trades you don't have the individual to fix your car, build your house, electrical, you really don't have anything."
Other schools are offering similar summer offerings, with Universal Technical Institute (UTI) offering a three-week program to teach high school students how to service and repair vehicles.
Students who participate in the free program can receive course credit for their work if they go on to study at UTI or a partner school.
While Marion County Technical Center's summer program was a success, at least one other trade school is struggling with low enrolment.
New Castle News reported last month the Lawrence County Career and Technical Center in New Castle, Pennsylvania was pausing its collision repair program for the upcoming curricular year. Low enrolment and trouble retaining an instructor prompted it to do so, the outlet said.
The Lawrence County Career and Technical Center will not offer its auto collision repair program for 2023-24 due to low enrollment and struggles to keep an instructor.
A 2022 survey commissioned by the Collision Engineering Program (CEP) indicated that there is a lack of awareness about collision repair careers, although people are open to exploring them. It found just 17% of survey respondents were "very familiar" with collision repair or engineering. The survey revealed that those who were familiar with the industry were more likely to pursue a career within it.
It also found that respondents with less than 10 years of work experience are more likely to switch their careers to collision engineering when compared to others who've worked in a separate industry for more than a decade.
A Techforce study found that while 232,000 techs were needed in 2021 across automotive, diesel, and collision repair, schools were graduating only 42,000. In collision alone, the demand was 35,000 techs while only 4,500 graduated.
Automakers, colleges, and trade organizations have been working to combat low enrolment in recent years through programs aimed at incentivizing young talent to join the industry. For example:
The Alliance of Automotive Service Providers of Minnesota (AASP-MN) is helping train the next generation of collision repairers through 22 newly-awarded scholarships;
Hyundai is partnering with Savannah Technical College to develop a new electric vehicle training program to give students a shot at being hired on with the automaker;
Last year, about 120 people pursuing careers in collision repair and other segments of the automotive industry received help paying for their education through the SEMA Memorial Scholarship Fund; and
Enterprise Holdings, through the Enterprise Holdings Foundation, has partnered with the Ford Motor Company Fund to add a seventh college to the CEP.
Images
Featured photo credit: Courtesy of Marion County Technical Center
Share This: