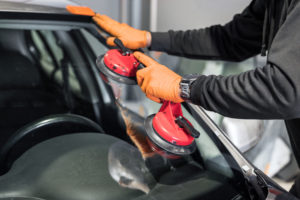 Outsourcing calibrations to third-party vendors can hurt a repair shop's cycle time, cash flow and critical success factors (CSIs), an I-CAR panel highlighted.
Mike Anderson, CEO of CollisionAdvice.com, and Bud Center, director of technical products and curriculum at I-CAR, shared insights on the benefits of in-house calibration while participating in an I-CAR calibration series.
Anderson said some shops have been outsourcing calibration because they lack the space or skills to carry out the technology-heavy work. However, he said sending vehicles elsewhere for the task can have a number of repercussions.
With a growing number of vehicles needing to be calibrated even after minor crashes, Anderson said the time has come for shops to educate themselves on how to carry out the job in-house.
"To sublet those calibrations out when only one out of every 10 vehicles needs it is one deal," he said. "But now that we've seen that seven out of 10 vehicles need calibration, that just becomes a lot that you're subletting out and it just has so many negative impacts on your business."
Outsourcing can slow a repair job's cycle time and as a result hurt CSIs as customers will be waiting longer to have their vehicle returned to them, Anderson said.
The process can be further slowed if the company a vehicle is outsourced to needs to return it to the shop for critical repairs before it can be calibrated. It might be returned to the shop for a number of reasons before it can be calibrated, Anderson added.
He noted that businesses can expect to face extra fees for having the vehicle towed back-and-forth, and could potentially face legal trouble if the job isn't done properly.
"When you look at doing it in house, you can control your destiny," Anderson said. "That's why we see more and more shops that have brought alignments in house. As we look at the [demand for] calibrations needed, it's just going to continue to grow."
Conversely, Center said shops can expect to see a number of benefits by completing calibrations in-house.
"Your cycle time improves [and] all the studies show that your CSI improves because that customer is getting that car back quickly," Center said. "Doing it in house gives you more control so you know what was done, you know it was done right, you know the vehicle is performing as designed."
Of course, completing calibrations in-shop can also help boost shop's profits.
"It's no secret collision repairs operate on a slim margin," Center said, noting scans and calibrations are sharply rising in frequency. "When it's a growing percentage of your estimate, and you're already working on a limited margin, how long can you give it away?"
Shops that are outsourcing calibration due to space shortage can think outside of the box to find ways to keep the work in-house, Anderson said.
"If your collision repair facility and you don't have space during the day, think about doing it at night," Anderson said. "Maybe you can get somebody that can do your calibration at night and you pull your cars outside. I have some shops who are doing that. Don't say, 'I can't do it.' Ask [yourself], 'How can I bring these calibrations in-house?'"
He added that training is available for calibration, and that shops shouldn't be afraid to learn more about how to complete the procedures.
Center said repair shops need to do their research ahead of making a decision.
"You need to make sure you understand the OEM procedures and requirements so that you have the right tooling and equipment," he said. "Then you analyze your business and make the best decision you can for your business. Think about it, don't just jump in."
I-CAR's previous panel, which featured the same experts, focused on scanning calibrations, and the difference between aftermarket scans and OEM scans.
Both Center and Anderson agreed that the tools are not created equally, with Anderson noting that while non-OEM scans can be useful for mechanics, they're less than ideal for collision repair shops.
"The problem is that the aftermarket scan tool does not have access to the build data," Anderson said. "The build data is from the vehicle manufacturer that says, 'This specific vehicle has this many computer modules or features.' The OEM scans have that, so they know which module to look for because it's based off of the VIN number of that vehicle and the OEM scan tool, because it's aligned with the OEM, knows these are all the computer modules on a vehicle."
Conversely, a non-OEM scanner might only be capable of reading a fraction of the modules on a car and will not alert a technician if it only scanned a portion of the equipment or is missing information, Anderson added.
"It doesn't know how many [modules] the car has," he said. "So it's really, I know this sounds like a pretty harsh statement, but it's just kind of like playing Russian roulette, hoping for the best."
Meanwhile, Center emphasized the importance of ensuring technicians are trained on how to properly scan vehicles and interpret results.
"We should never be just plugging in and clearing codes," Center said. "We need to plug in, get a report, understand what it is, and determine what we do from there. We need to have that diagnostic mindset  to understand what the codes are telling [you].
He added: "It's going to help you with your data analysis. We're gonna help you build your repair plan. You don't want to just go in and hit clear codes and start all over. You need to make sure that you're taking the time to look at the code to interpret codes through your diagnostics and move on from there before you clear anything."
Images
Featured image: An installer replaces  a windshield. (herraez/iStock)
Share This: