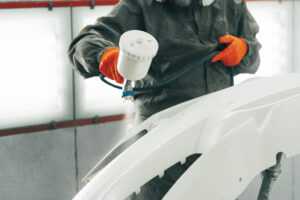 Changes to Audatex's blend formula were communicated as a part of an update presentation on the Society of Collision Repair Specialists (SCRS) Blend Study, committing to a shift away from previously defined formulas and resolving the time necessary to blend an adjacent panel for color match to estimate preparer judgment. 
Aaron Schulenburg, executive director of SCRS, said Tuesday that Audatex will allow estimate preparers to specify profile settings for blending, based on a user-defined percentage of the refinish labor in any value between 50% and 150%.  
Under its current version of the data reference manual, which Schulenburg indicated would be updated based on commitments from Audatex, blend refinish is calculated at 50% of Audatex refinish labor. 
"Going forward it will say, 'Audatex refinish labor is based on the use of new and undamaged panels,'" Schulenburg said Tuesday while speaking at a Collision Industry Conference in Indianapolis, Indiana. 
He shared Audatex's incoming language, intended to be included in a future update of the Database Reference Manual (DBRM).  
It says: "Audatex refinish labor is based on the use of new and undamaged panels.  Audatex Estimating does not provide a standard labor allowance for blended panels as this requires the estimate preparer's judgment, expertise, and consideration of the unique requirements for each repair.  Determination and assessment of labor and materials necessary in the blending process is best provided by the estimate preparer during the estimate preparation process.  To assist the user, profile settings allow for customization to enter a specified blend percentage, as necessary." 
Audatex will let shops specify the blend refinish percentage to be used when calculating blend refinish labor at the profile level, allowing insurers and shops to agree on a default blend refinish time. Shops can enter a value between 50% and 150% and this value is used to determine the blend refinish labor by multiplying it against the full panel refinish time. 
When generating an estimate, the blend refinish will be calculated using the value specified at the profile level. If no value is specified, a default value of 50% blend refinish percentage will be used. 
Audatex's decision to change its data reference manual was, in part, the result of SCRS research released last November. 
The weeklong research project concluded that blending a panel takes more than 30% more time than a full refinish of the same panel, on average, rather than the 50% less time allocated in the three estimating systems.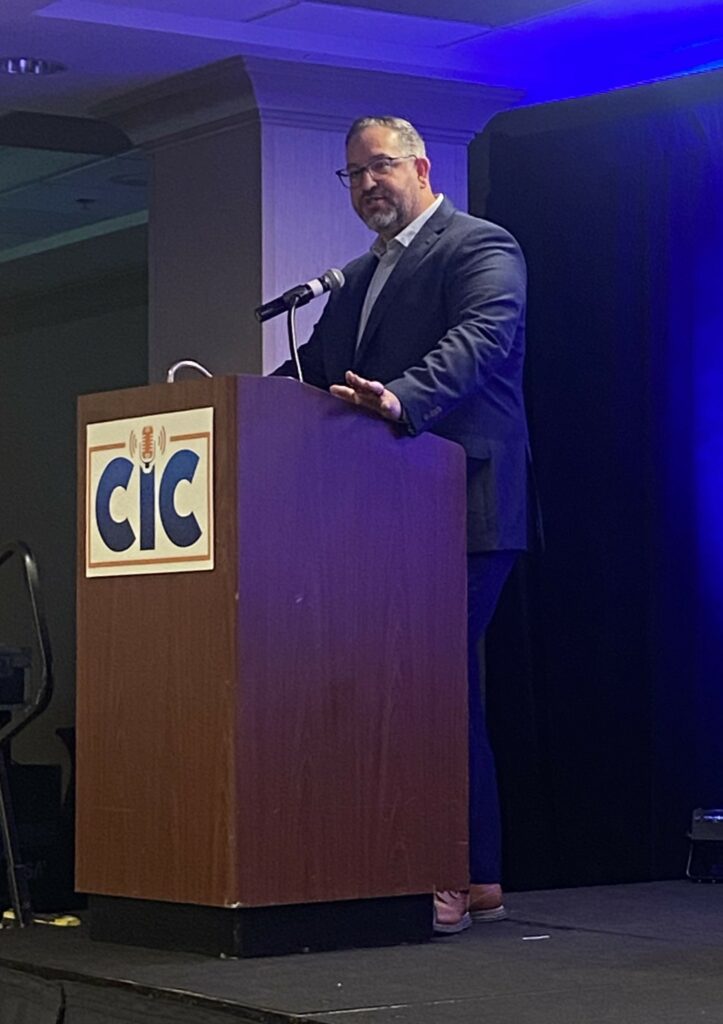 Solera, Audatex's solution provider, said it enhanced its estimating solution to addressing the "growing complexities of today's paint formulations," particularly on newer models.
"This enhancement will aid collision repair shops and insurers as they establish agreed upon blend refinish labor calculations based on their portfolio of repairs similar to other negotiable items like labor rates and material fees," Bill Brower, Solera's vice president of global industry relations and North America claims sales, told Repairer Driven News.
"Providing an option to set blend refinish calculation rates at the partnership level in the thresholds profile will simplify the blend refinish estimating process.  Additionally, to improve transparency every estimate will include a footnote to display the blend calculation rate utilized."
Brower said the change is scheduled for Q4 and that users will be notified once the update has been implemented.
Blending is defined as the application of color to a portion of an undamaged adjacent panel for the purpose of facilitating the appearance of color match into the area, followed by an application of clearcoat to the entire blended panel.  
Audatex is among three estimating databases to have established unique refinish values for collision.  All of them have identified a formula for blending outer surfaces as 50%, or 0.5 per refinish hour, of the unique full refinish operation value they have developed on panels using two-stage paint. 
In April MOTOR Information Systems (MOTOR) announced it would remove its previous blend percentages, making a change to the Estimated Worktime Development Methodology for color blend of adjacent panels within the MOTOR Guide to Estimating (GTE). Schulenburg recapped the commitment as part of the CIC presentation.  
Audatex is among three estimating databases to have established unique refinish values for collision.  All of them have identified a formula for blending outer surfaces as 50%, or 0.5 per refinish hour, of the unique full refinish operation value they have developed on panels using two-stage paint.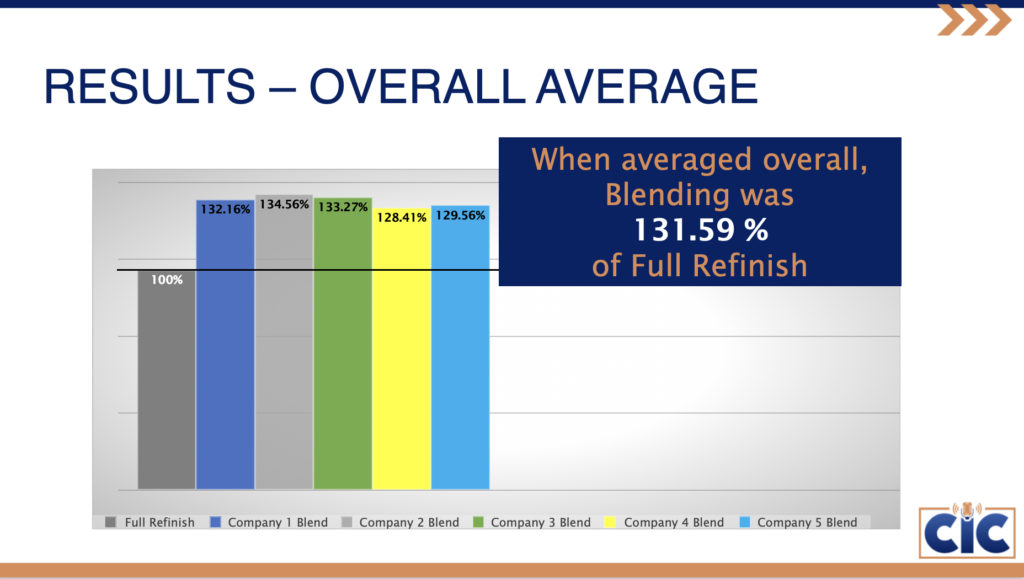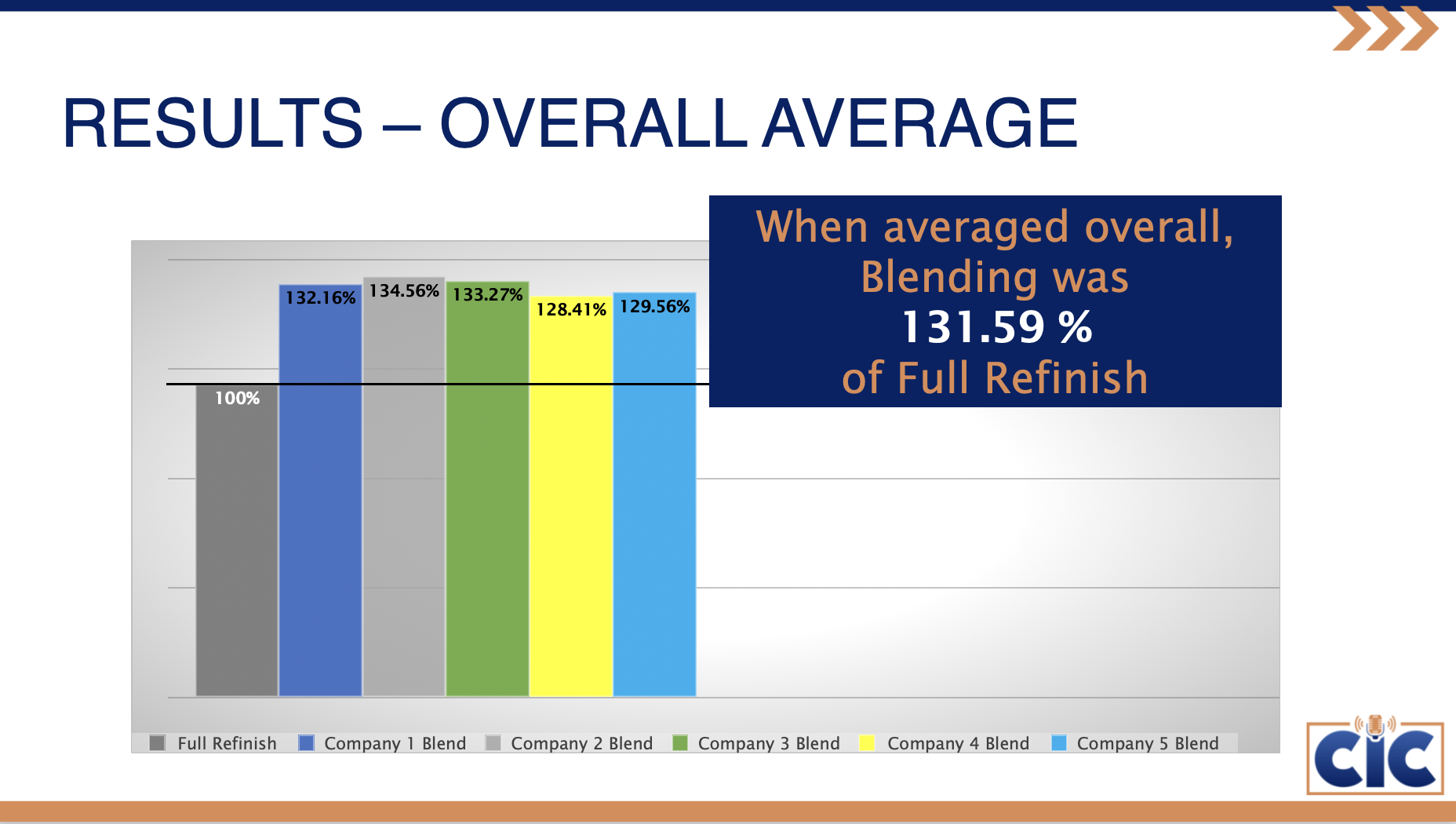 During the CIC conference, Schulenburg gave kudos to both companies for doing so. 
"I think it's important to acknowledge both companies took the information, engaged in dialogue, went through their processes and came back with a result knowing that it needed to be presented to this body," he said. "They respected the process and I appreciate [them] for doing that."
Schulenburg also gave an update on the third estimating platform, Mitchell, which had not provided any material to be included in the presentation at CIC, and according to SCRS, has not addressed changes to the labor formula for blending outer surfaces.
Schulenburg established that while the information provider has been invited to both join him onstage and supply slides. Without material from Mitchell, all he was able to provide was a candid accounting of the conversations.
He shared cautions the IP had issued to SCRS, before the study and following the initial release of information in November.
"Looking back now. It feels a lot – to me – like the decision was made before the research was collected," shared Schulenburg, who said SCRS's conversations with Mitchell "did not mirror" the same experience with Audatex and CCC.
He told conferencegoers details of conversations surrounding technologies and processes that are necessary today that Mitchell fundamentally pushed back against.
He described escalating conversations with labor editors becoming uncomfortable, and routine attempts to suggest that through manipulation of the data that the results could return to closer to 50%. Schulenburg said Mitchell defended 50% being the right answer, despite that figure being identified more than 30 years ago when cars and expectations were significantly different.
Schulenburg also accounted conversations that yielded a response from Mitchell that it already gives the industry enough.
"We were continually assured that they had observed that they give the industry enough, and that was the basis of most of the conversation," Schulenburg said. ".. I don't think that any of the guides established that 'enough' is a criteria."
Instead, the criteria was listed as 50% and since SCRS's research found that amount is not adequate, Schulenberg said Mitchell's responses don't reflect "a company that is looking to answer the question as to whether or not the data was accurate."
However, he said the other companies that did engage with SCRS about its research, and ultimately made changes to their formula approaches by coming to similar conclusions that the formulas did not reflect all the operational requirements in modern refinishing, "led to important outcomes for the industry."
Barry Dorn, of Dorn's Body and Paint in Richmond, Virginia, said during the meeting that he found Mitchell's response to the SCRS study concerning on several fronts.
"I have no position as a repairer but to believe that that we have a company that is not fair and impartial, because they had the opportunity to that they've had the opportunity for almost a year to be able to prove this wrong or to come back with statistically valid data," Dorn said. "And that hasn't happened."
Dorn questioned how repairers and insurers can trust products coming out of Mitchell as fair and impartial given its inaction following the study findings.
"I am I'm appalled by what I heard you say and what I've seen," Dorn told Schulenburg. "Absolutely appalled."
Michael Bradshaw of K&M Collision in Hickory, North Carolina said he was concerned with how Mitchell appeared to disregard paint manufacturers' guidance.
"To me why this is so important is [because of what Mitchell] was doing in in absolutely throwing what the refinish manufacturers say out the window," Bradshaw said. "The refinished manufacturers designed the product, they train the users on how to use the product. They are the experts on those processes and procedures, much like an OEM develops repair procedures for the vehicles. They know how the vehicles are designed. They know how they need to be repaired.
"If Mitchell started developing labor times, using a methodology to install quarter panels that was different than what General Motors or Audi Volkswagen, said we would have a huge problem with that. But that's exactly what they're doing with the refinish time and the blend premise."
Schulenburg said onstage he was told that Mitchell was "continuing to study" the issue, but questioned whether the actions represented fair and impartial approach to the issue; a question echoed by audience members in the Q&A.
Mitchell said in a brief statement to Repairer Driven News on Tuesday that it is "continuing to evaluate various options in this area and expect to have more information on it in time for the next CIC meetings at SEMA."
Images
Main image courtesy of FabrikaCr/iStock
Society of Collison Repair Specialists Executive Director Aaron Schulenburg
Blend study results slide provided by SCRS and CIC.
Share This: