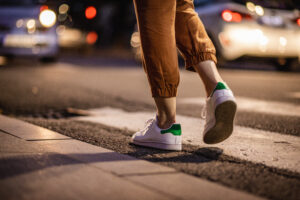 Thermal imaging next step in pedestrian-involved collision prevention?
By on
Technology
Owl Autonomous Imaging has shared in a recent whitepaper how next-gen automatic emergency braking (AEB) technology on new cars will allow for visibility in pitch darkness and crowded urban areas.
The goal is to walk engineers and developers through the development and implementation of effective pedestrian automatic emergency braking (PAEB) systems to reduce collisions with pedestrians, animals, bicyclists, and motorcyclists.
The whitepaper is also in response to newly proposed federal standards by the National Highway Traffic Safety Administration (NHTSA) that would require more effective automatic emergency braking (AEB), PAEB, and forward collision warning (FCW) systems on new vehicles.
The new rules would build on existing crash imminent braking, dynamic brake support, and FCW systems but require higher speeds. It would require vehicles to be capable of braking at speeds up to 62 mph to avoid a crash when manual braking is applied and up to 50 mph when no manual braking is applied during testing.
The rule would also require vehicles to avoid a crash with a pedestrian at speeds of up to 37 mph, including in darkness.
"This strong rule is desperately needed at a time when more than 100 people in the U.S. die in vehicle crashes every single day," said Consumer Reports Associate Director of Safety Policy William Wallace. "If finalized, this rule will save lives, prevent costly crashes, and dramatically raise the bar for safety on our roads."
Most new vehicles already have AEB, thanks in part to a 2016 voluntary agreement involving automakers, NHTSA, IIHS, and Consumer Reports but the voluntary agreement did not call for pedestrian detection, according to Consumer Reports.
Owl AI says it wants to share with the industry how thermal cameras and artificial intelligence can be combined to perform all of the steps needed to protect pedestrians:
Detect: Find people or animals on the road ahead;
Classify: Determine if it's a person or an animal that the car should avoid; and
Initiate Action: Send a message to the driver to stop or avoid the person or animal and if the danger is imminent, alert the car's automatic braking system to stop the car.
"When imaging pedestrians from a vehicle, two requirements contribute significantly to the likelihood of successful detection — sufficient detail to separate pedestrians from the background and a broad enough field of view to assure that all vulnerable pedestrians are seen," said Chuck Gershman, CEO & co-founder of Owl AI. "Combining these requirements defines the resolution required in the camera viewing the scene. This calculation is worth reviewing to facilitate the selection of suitable cameras and lenses appropriate to pedestrian detection."
Because of detailed imaging requirements for PAEB applications, Owl AI has developed an entirely new sensor specifically for this purpose. Combining the new sensor, thermal camera module, and AI software creates the Owl Thermal Ranger for curb-to-curb coverage and enough range to support NHTSA's 62 mph proposed rule. The Thermal Ranger recently won the Optical and Camera category in the 2023 Best of Sensors Awards.
Last February, the Insurance Institute for Highway Safety (IIHS) said that it had found crash rates involving pedestrians of all severities in all light conditions were 27% lower for vehicles equipped with PAEB compared to unequipped vehicles. Injury crash rates were 30% lower.
However, when the researchers looked only at pedestrian crashes that occurred at night on roads without streetlights, there was no difference in crash risk for vehicles with and without PAEB.
Then in August, IIHS reported that only four out of 23 vehicles aced the institute's first nighttime PAEB test. More than half earned a basic score or no credit.
The vehicles that performed the best were equipped with the latest systems of their OEMs, including higher-resolution cameras, radar and updated software, David Aylor, IIHS active safety testing vice president told Forbes.
The findings underscored IIHS's previous concerns about the performance of PAEB systems in low-light conditions and were thought at the time to likely lead to consumer and regulatory pressure to improve the systems' performance.
At the time, NHTSA had been directed by the Department of Transportation to initiate rulemaking on a requirement that new passenger vehicles be equipped with PAEB by 2024. IIHS and the Highway Loss Data Institute (HLDI) went a step beyond by petitioning NHTSA to require PAEB that is effective in all light conditions.
Owl AI states in its whitepaper that while New Car Assessment Programs (NCAPs) don't include safety mandates specific to vehicles, the results of testing against the requirements produces a safety rating that can impact each vehicle's success on the market.
"Automobile sales statistics show a strong customer bias towards purchase of models with the highest safety ratings," Owl AI wrote. "Thus, when a new requirement enters the test protocol, automobile manufacturers work diligently to assure that their vehicles will score high.
"Some vehicle modifications like curved hoods and collapsible ornaments intended to reduce the effects of impact have been mandated but those strategies have done little to reduce the likelihood of impact. Nor have they offset an increase in injuries and fatalities resulting from the growing trend toward the purchase of larger vehicles like light trucks and SUVs… Further, drivers are becoming more distracted by the use of cell phones and features on the screens in new cars. A new strategy is needed."
NHTSA plans to amend its NCAP to "provide valuable safety information to consumers about the ability of vehicles to protect pedestrians."
Doing so could incentivize automakers to produce vehicles built with safeguards that could prevent or minimize pedestrian injuries, NHTSA said. Testing methodology the administration wants to use would evaluate the potential risk of head, pelvis, leg, and knee injuries suffered by pedestrians struck by the front of a vehicle.
Owl AI says the solution is thermal radar into a neural network along with vehicle cameras and sensors already in use greatly improve PAEB at night. That's due, in part, to the extraction of distance information from a single image, Owl AI said.
"In this arrangement, the identification and distance data are automatically aligned so the system can immediately format the combined information for the car to use to make automated braking decisions," Owl AI wrote in its whitepaper.
The images below are a side-by-side comparison that gives an example of what current PAEB technologies see, according to Owl AI, compared to its Thermal Ranger system on the right: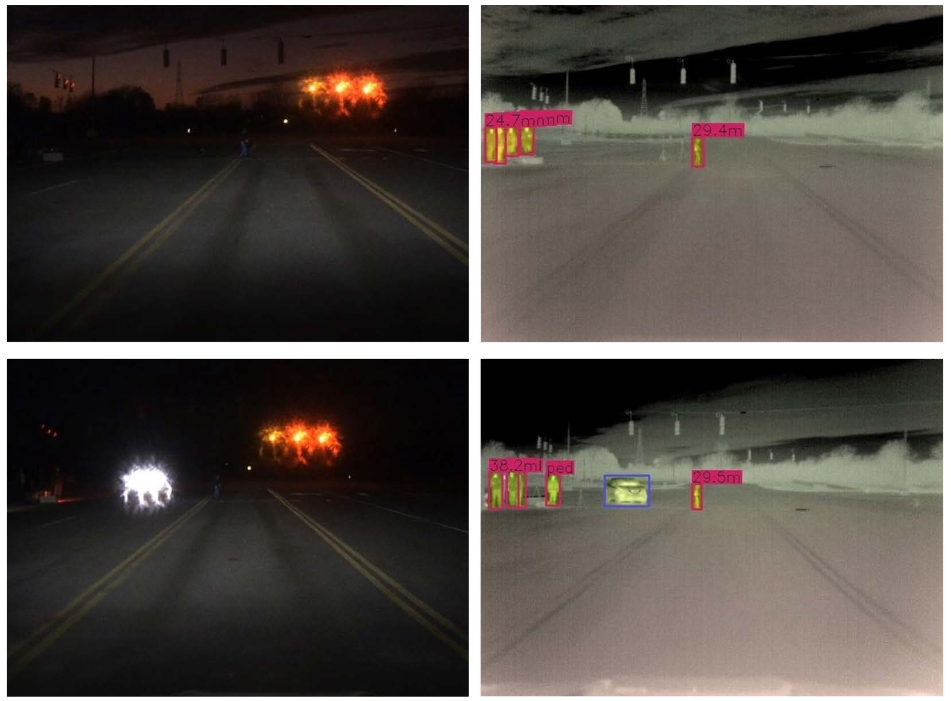 Chris Posch, director of engineering at Teledyne FLIR, told Forbes last October that the addition of his company's thermal imaging night vision technology would provide significantly more protection for pedestrians in low light.
"Beyond just night vision, now have the thermal camera actually work in conjunction with the other sensors on the vehicle to do things like AEB," Posch told Forbes. "So this high-contrast thermal image [could]… potentially use radar and lidar in conjunction. Now you have a really effective system."
Teledyne FLIR and VSI Labs worked together in 2019 to advance the use of thermal cameras to develop a visible-radar thermal-infused AEB system that they say would work better at night. 
Images
Featured image credit: Riska/iStock
Secondary image provided by Owl AI
Share This: