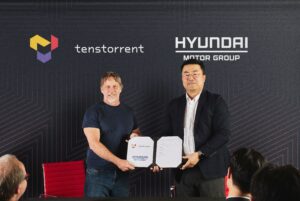 Hyundai, Kia to integrate AI into future models under new investment
By on
Technology
Hyundai and Kia will invest $50 million into a Canadian artificial intelligence (AI) semiconductor company in order to integrate AI into future models, the companies announced on Wednesday.
Hyundai said the investment in Tenstorrent will allow its vehicles, as well as Kia and Genesis models, to incorporate robotics and advanced air mobility (AAAM) into auto designs.
Hyundai's $30 million investment, coupled with Kia's $20 million contribution, will be used to accelerate Tenstorrent's design, developments and machine learning (ML) software roadmap, Hyundai said.
"The [Hyundai] Group expects to leverage Tenstorrent's high-performance technologies and experience to jointly develop optimized semiconductors while strengthening its own technological capabilities," a press release said. "The newly developed high-performance semiconductors will be applied to central processing units (CPU) and neural processing units (NPU) for future vehicles and mobility solutions."
Hyundai launched its Semiconductor Develop Group earlier this year to focus on customized semiconductor development, in part by collaborating with companies such as Tenstorrent.
Heung-soo Kim, Hyundai's executive vice president, said Tenstorrent's "high growth potential and high-performance AI semiconductors" will help the OEM develop a competitive edge.
"With this investment, the Group expects to develop optimized but differentiated semiconductor technology that will aid future mobilities and strengthen internal capabilities in AI technology development," Kim said.
This isn't Hyundai's first foray into AI, as noted by Tenstorrent's CEO Jim Keller.
"The trust in Tenstorrent shown by Hyundai Motor Group leading our round is truly humbling," Keller said. "It has been impressive watching Hyundai Motor Group become the third largest automaker in the world through their aggressive adoption of technology including their acquisition of Boston Dynamics, their joint venture with Aptiv, and now their investment in us."
A number of other OEMs are researching and developing AI-led vehicle components as competition intensifies in the increasingly tech-heavy automotive sector.
In June, Samsung announced that its semiconductor business was partnering with global software company Wind River to "accelerate the software designed vehicle. The companies are partnering to develop in-vehicle infotainment (IVI) solutions, cabin monitoring, and advanced driver assistance system (ADAS).
Earlier that month, chipmaker NVIDIA said it was partnering with MediaTek, a fabless semiconductor company, to create next-generation smart cabins.
Under the agreement, NVIDIA's new GPU chiplet will be integrated into the MediaTek Dimensity Auto platform, designed to provide automakers with technologies that support smart and connected vehicles.
The MediaTek platform was announced in April, featuring a cockpit designed to provide "a user-friendly and intuitive interface that gives the driver all the necessary information as intuitively as possible, without distracting them from the road, while also enhancing the overall driving experience."
Meantime, privacy concerns related to connected vehicles have caught the attention of the California Privacy Protection Agency (CPPA), which this week launched a review of connected vehicle (CV) OEM data privacy practices.
Noting that CVs are equipped with features like location sharing, web-based entertainment, smartphone integrations and cameras, CPPA said data privacy considerations are "critical" given the ability they have to collect information about occupants' personal lives.
Image
Jim Keller (left), CEO of Tenstorrent, and Heung-soo Kim (right), executive vice president and head of the global strategy office (GSO) at Hyundai. Courtesy of Hyundai
Share This: