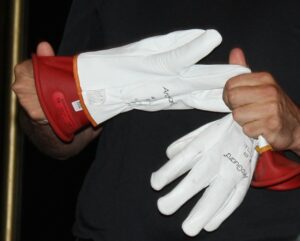 Two recently published resources highlight the importance of not only safe and proper use of gloves and other PPE but ensuring they're regularly inspected for potential replacement.
The first, a video made through a partnership between Autobody Source and YouTuber HumbleMechanic, is part of a long-running training series from the company, this time on gloves.
HumbleMechanic highlights three crucial reasons why glove-wearing should be standard in all repair shops — protection, hygiene, and cleanliness.
All vehicle repair technicians, whether collision or mechanical, come into contact with harsh chemicals, solvents, coolants, and other harmful fluids. When doing so, chemical-resistant gloves should be worn for skin protection.
KPA adds that while not all PPE expires, it's important to make sure they're still in good enough condition to provide the protection they're meant for. PPE should be inspected at least once a year.
To make the most of PPE, KPA recommends to always buy authentic; train workers on proper fit, use, and why it's important, and always properly store PPE out of the sun and away from chemicals or other hazards that can compromise integrity.
"For example, gloves with rips render them useless when working with chemicals. So inspect your PPE regularly and replace it when you find damage," KPA wrote. "PPE doesn't last forever. Wearing damaged, broken, or malfunctioning PPE could be as dangerous as not wearing any form of protection at all."
And of course, gloves aren't the only PPE repairers should be concerned with. There's also eye and respiratory protection. When beginning a job, take the time to assess what materials, chemicals, tools, and equipment you'll be using so you can grab the proper PPE. Keep in mind too that working in a facility near and on electric vehicles (EVs) requires specific safety training to learn how to handle high-voltage batteries and other components of the vehicles.
"There are many different kinds of PPE, with each piece designed for a specific job or working condition," KPA wrote.
And specific to employers, PPE is mandatory according to OSHA, and at no cost to your employees. "It may seem an additional expense but failing to provide adequate health and safety for employees ends up more expensive than replacing PPE," it wrote.
Signs that your PPE needs to be replaced, according to KPA:
The expiration date indicated by the supplier has expired or is nearing expiration;
Rips, tears, holes, or visible damage;
Discoloration or material degradation;
The number of owners the gear has had or how long it has been in use;
Missing components; and
Failing straps, locks, adapters, or security devices.
Some PPE, such as gloves, are also essential for protection from bacteria and germs found on high-touch surfaces, like door handles, steering wheels, keys, and gear shifts.
Studies have shown that a typical car plays host to around 700 different kinds of bacteria, according to Autobody Source. HumbleMechanic said he wears latex gloves when running diagnostics, or completing other tasks in which he would come into contact with high-touch surfaces.
It's also important to wear gloves to keep your customer's car clean of paints, oils, and other chemicals, HumbleMechanic noted. Doing so prevents upholstery damage and saves you time by eliminating additional cleanup.
Sometimes, however, it may make the job tougher to complete while wearing gloves such as trying to grasp onto small bolts or work with wiring. HumbleMechanic says in those situations, as long as it's safe, gloves aren't necessary.
"Your hands are essential to your job as a collision repair expert," an Autobody Source spokesperson said. "Luckily, protecting them can be as simple as putting on a pair of gloves. As HumbleMechanic, an experienced mechanic with a huge following shows, it's what real technicians ought to do."
Images
Featured image: High-voltage system gloves are shown during the July 2022 Collision Industry Conference (CIC) meeting. (Lurah Lowery/Repairer Driven News)
More information
I-CAR: Avoid glove substitutions, improper removals while fixing electric cars
Share This: