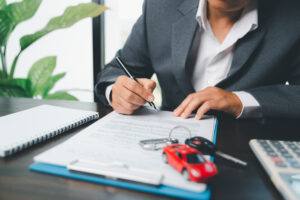 Kemper exits preferred home & auto market, specialty auto business not affected
By on
Announcements | Insurance
Kemper Corp. announced this week that it's exiting the preferred home and auto market to enhance its returns and "support profitable growth" in core businesses.
Its specialty business Kemper Auto will not be affected by the shakeup.
Joe Lacher, Kemper Corp. CEO, addressed its exit from the preferred property and casualty (P&C) segment Monday during a Q2 earnings call. Preferred insurance is a type of coverage offered to those with low risk, such as drivers who've never been in an accident.
"The industry continues to operate in, what I believe, is the most disrupted personal lines environment we've ever experienced," Lacher told investors. "Recent competitors' earnings reports underscore this. While our financial results through the first half of 2023 fell short of our targets, we believe the actions we've taken and continue to take had positioned us to succeed in this difficult environment."
Kemper believes that environment will continue for at least the next few years, he said, adding that it's being caused by a number of consumer behaviors that have strayed from the usual norm.
"A few examples include buying triggers, price elasticity and changes in driving patterns, propensities to file claims, seek medical treatments and repair vehicles and their willingness to litigate," Kemper said. "These pattern changes are exacerbated by subsequent broad swings in competitors' action.
"Correspondingly, it has created a hard market that will likely persist for an extended period of time."
Kemper said that preferred home and auto policies sold through its Kemper Personal Insurance brand will not be renewed or will be cancelled in accordance with state regulations.
Its P&C business encompasses eight underwriting companies with a combined written premium of about $500 million.
Kemper announced its preferred business was under strategic review last November. It later announced an "after-tax goodwill impairment charge" of $45.5 million related to its review.
"The decision to exit the business was made after thoughtful evaluation of our options and considered the most effective and efficient way to support our stakeholders," Kemper said in a press release. "It enables us to release capital and increase the resources available to support our core specialty auto and life businesses."
Matt Hunton, president of Kemper Auto, told investors that during Q2 profit restoration actions helped offset catastrophe losses of $21 million within the P&C segment.
"Both auto and home and other had sequential improvement in their underlying combined ratios," Hunton said. "Through the second quarter, our personal auto book had 10 points of rate earned that will increase to approximately 14 points in the third quarter. As previously discussed, our strategic review is complete. Going forward, the segment will be noncore."
Kemper did not respond to a Repairer Driven News query to indicate how many auto policyholders would be affected nationwide, and when its preferred home and insurance market will officially close.
Kemper is believed to be among the first insurers to exit a segment on a national level, although other companies have stopped doing business in states such as California and Florida.
Last month, Farmer's Insurance said it would stop writing auto, residential and umbrella policies in Florida, in a move that's expected to affect 100,000 policies.
Trevor Chapman, a Farmers spokesperson, said in a statement to RDN that its decision to leave Florida was necessary to "effectively manage risk exposure."
Images
Main: iStock/Jinda Noipho
Share This: