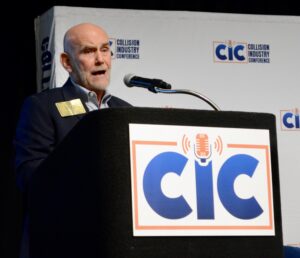 The Collision Industry Conference (CIC) will celebrate its 40th anniversary next week in Las Vegas during SEMA Week.
Following its daylong conference Tuesday, Oct. 31 at the Westgate Resort Las Vegas, the organization will mark the milestone during the Collision Industry Red Carpet Awards night and CIC reception.
The conference itself is "booked up with leading-edge meeting content, and then bookmarked with a splash of nostalgia," CIC said, adding that it will feature presentations from an array of subject matter experts and committees.
Topics range from repair planning and emerging technologies to industry relations and more.
That evening, the CIC reception begins at 6 p.m., followed by the Collision Industry Red Carpet Awards night beginning at 7:30 p.m.
CIC said the celebration will include some surprises for those in attendance. This year's Red Carpet Awards event will also feature a "historic presentation" from the CIC to reflect on its decades of contributions and conversations that impacted the industry.
"CIC at the SEMA Show this year will be the perfect place to acknowledge the deep history of volunteerism and industry leadership," Jordan Hendler, CIC organizer, told Repairer Driven News. "It will also be the place where new information will be shared, and connections will be made amongst segments of the industry.
"We are better together when it comes to issue resolutions. While CIC is about interaction and discussion, it is also the place where possible solutions are communicated. Every person involved in CIC is able to voice their concerns and that's what makes us different. It's from the industry, for the industry."
The CIC began in 1983 after Al Estorga, a California repair center owner, became upset after being told during an inter-industry event that it was not the right time to discuss an issue he raised.
He channeled that frustration into creating a forum, then called the Collision Repair Conference, where industry members were always encouraged to discuss collision industry issues.
Although early meetings were attended by just 10-20 people, the organization grew after the CRC scaled up to include other segments of the industry. As it grew, it was renamed CIC to reflect the collision industry's diversity.
Frank Terlep, CIC chairman and vice president of advanced driver assistance system (ADAS) solutions for Opus IVS, has been attending CIC since 1986 and said it's only gotten better with time.
"We're so excited to celebrate CIC turning 40, and as a special addition to the Red Carpet Awards events happening after our meeting during SEMA week," Terlep told RDN. "What makes CIC so special and unique is that it is attendee-driven… I'm so incredibly humbled to be the chairman of such an amazing industry forum."
This year's Red Carpet Awards ceremony is unique in that it's happening in the evening for the first time.
The event, which is free to attend, was established to take advantage of the energy and excitement surrounding the SEMA Show. Hosting it after hours will only add "to the gravitas," the Society of Collision Repair Specialists (SCRS), which is an event co-sponsor, said in a press release.
The reception is happening at Westgate Resort's Ballroom C and will be followed by the Red Carpet Awards ceremony in Westgate's Ballroom AB.
 Images
Featured image: Frank Terlep, CIC chairman and vice president of advanced driver assistance system solutions for Opus IVS, is pictured during a previous CIC event.  (Dave LaChance/Repairer Driven News)
Share This: