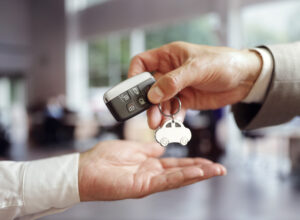 The overall length of rental (LOR) for collision-related claims was down slightly year-over-year in a "promising" development, according to new data from Enterprise.
During Q3, the LOR was 17.5 days, a 0.7 day decrease from Q3 2022's 18.2 LOR, it said, adding that this year's Q2 results were also down year-over-year.
"The growing trend of lowered LOR is promising, but it's important to note these are still 'new normal' figures, as LOR was 15.2 days in Q3 2021 and 12.3 days in Q3 2020," Enterprise said.
Its data found that:
Alaska had the highest overall LOR at 21.9 days, representing a 1.6 day year-over-year increase;
Other high-ranking states included Rhode Island (20.6 days), Oklahoma (20.4 days) and Colorado (20.2 days);
North Dakota (12.3 days) and Hawaii (12.5 days) were the lowest-ranking states with both experiencing year-over-year decreases;
Louisiana (20 days) experienced a 2.2 day year-over year decline; and
Just seven states (Alaska, New Mexico, Vermont, Wyoming, Montana Rhoda Island and Colorado) experienced increases.
Ryan Mandell, Mitchell's director of claims performance, told Enterprise that electric vehicles (EVs) continue to represent a greater portion of repair claims volume at 1.86% during Q3, compared with 1.59% during Q2 and 1.31% during Q3 2022.
"EVs have more than six additional labor hours on average per estimate than ICE vehicles," Mandell said. "The frequency of calibrations increased above 10% for the first time in Q3 2023, compared to 8.8% in Q2 2023 and 7.5% in Q3 2023."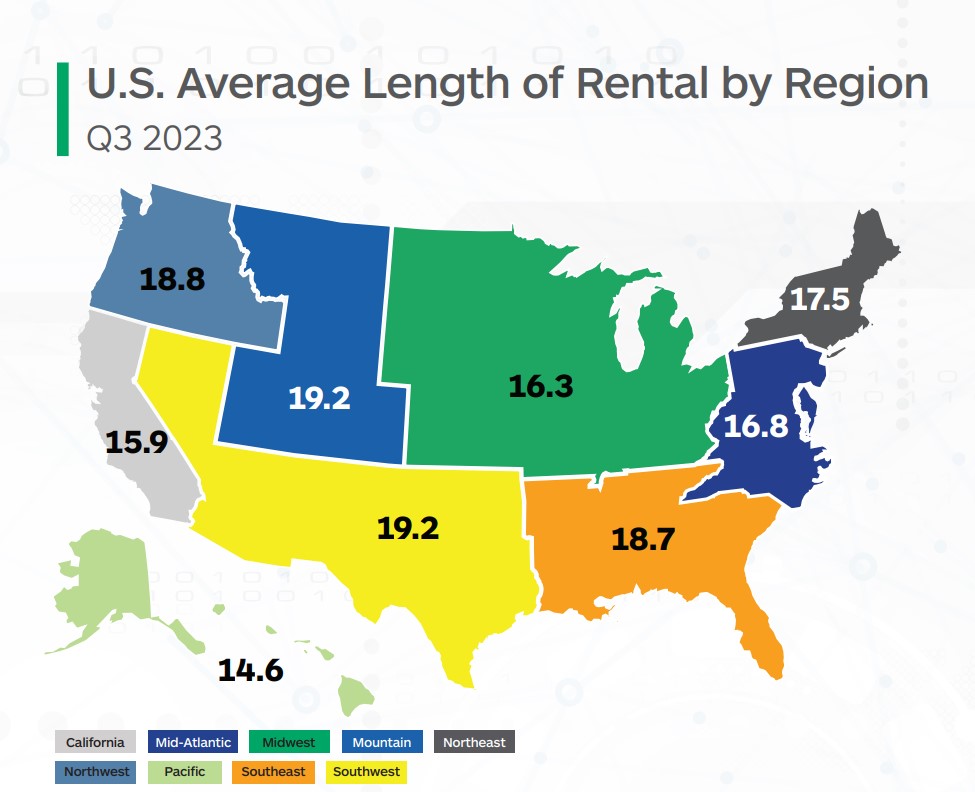 Drivable vs. non-drivable claims
Among drivable claims, the LOR was 15.7 days during Q3, which remained flat year-over-year, Enterprise said. Alaska again led the nation in LOR with 19.2 days, representing a 2.4 day year-over-year increase.  Other states with high drivable LORs included Rhode Island (18.7 days), Oklahoma (18.6 days), Georgia (18.4 days) and Colorado (18.2 days). North Dakota (10.3 days), Hawaii (11 days) and Washington (11.6 days) were among the states with the lowest drivable LORs.
"We have observed drivable LOR increases becoming smaller with each subsequent quarter for some time now, and this neutral result gives optimism that Q4 could potentially bring a decrease," Enterprise said.
Greg Horn, PartsTrader's chief innovation officer, said his company's average delivery days for all part types are "virtually unchanged" year-over-year, aligning with Enterprise's finding that LOR among drivable claims remained flat during the same period.
"We are also seeing that shops are sourcing parts when the vehicle is being scheduled for repairs," Horn told Enterprise. "This seems to indicate that repairers are scheduling more drivable vehicles to arrive when there is capacity, and therefore reducing repair cycle time."
Enterprise's data indicated that LOR associated with non-drivable claims was 25 days during Q3, a 2.2 day decrease from the same period last year. Once more, Alaska had the highest non-drivable LOR at 32.5 days followed by West Virginia (30.9 days), Montana (30.8 days), Colorado (30.5 days) and Washington (30 days).
All other states had a LOR that was less than 30 days. States with the fewest LORs included Washington, D.C. (21.1 days), Iowa (21.3 days), North Dakota (21.9 days) and Nebraska (21.9 days)
Just three states—Montana, South Dakota and Vermont—saw an increase in non-drivable LOR.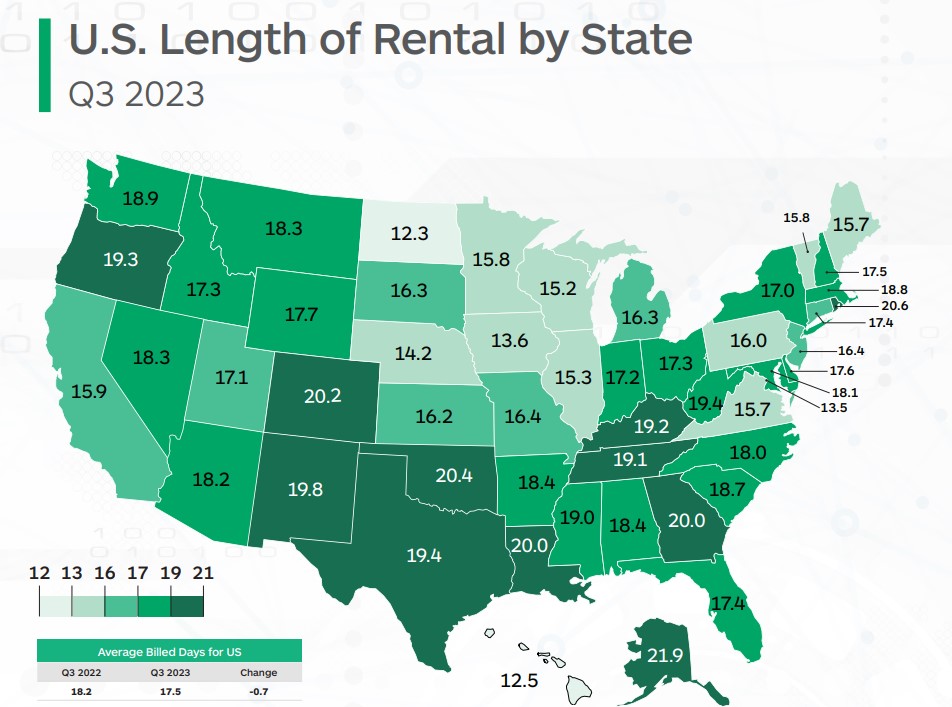 Rentals associated with total loss claims decreased by 1.2 days from Q3 2022 to reach 16.6 days, Enterprise said.
It said the latest figures indicated that while the LOR decrease is positive and "many repairers are finding ways to anticipate and operate in the new normal," challenging market conditions remain.
"Overall LOR remains significantly higher than it was pre-pandemic," Enterprise said, adding that parts disruptions from the United Auto Workers (UAW) strike remain unclear.
Horn added: "The impacted OEMs are deploying employees from other areas and hiring temp workers to minimize the impact to OE parts delivery, and though there has been an increase in
'unable to quote' parts, the combination of the parts distribution center temporary staff and the increase in alternate parts sales has reduced the impact of the strike efforts."
As of Monday, Stellantis, General Motors and Ford had reached tentative deals to end the strike.
The average LOR data shared by Enterprise differs from information shared last week in J.D. Power's 2023 U.S. Auto Claims Satisfaction Study, which indicated long repair center backlogs and lingering parts shortages have caused the average auto insurance repair cycle time to reach 23.1 days in 2023, up 6.2 days from 2022 and more than double the average repair time in 2021.
However, J.D. Power says the long delay hasn't adversely affected customer satisfaction, noting that satisfaction with the auto insurance claims process has "surprisingly" improved this year "thanks to concerted efforts by insurers to carefully manage customer expectations."
"It's really a testament to strong client management processes and improved digital communications," said Mark Garrett, director of global insurance intelligence at J.D. Power. "Insurers have been able to earn significantly higher auto claim satisfaction scores at a time when costs and rates are rising — even though it's never taken longer to get a vehicle repaired. Notable, too, is that insurers that have improved the most in overall satisfaction have done so in two key customer areas: showing concern for their situation at the beginning of the process and keeping them informed. Being empathetic toward the customer situation goes a long way in building trust with them."
An increasing percentage of customers have told J.D. Power their rental period isn't long enough or that they are incurring out-of-pocket expenses to keep their rental for the full length of time that their vehicle is being repaired. That's having an adverse effect on rental car satisfaction for repairable claims, which fell 32 points when the car is needed for 15 days or more.
Images
Featured image courtesy of BrianAJackson/iStock
Graphs courtesy of Enterprise
Share This: