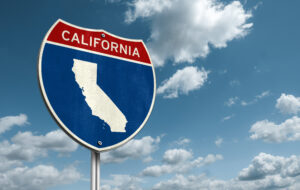 Another California insurer will stop issuing coverage in the state in a move affecting approximately 58,000 auto policies.
Farmers Direct Property and Casualty Insurance, a division of Farmers Insurance, stopped writing new policies in September.
Luis Sahagun, director of media relations at Farmers' companies, did not respond by deadline to a Repairer Driven News query asking for details on what prompted its exit and whether it planned to help customers transition to new policies. 
However, in an email to Patch, he said the measure was part of "an ongoing initiative to increase operational efficiency and mitigate risk exposure" and that policies will begin expiring Dec. 17. Affected customers will receive non-renewal notices in the mail.
"For the vast majority of affected customers, we will provide an offer to transition them to a different Farmers-related insurer," Sahagun wrote. He added that customers covered by Farmers' other umbrella companies like Bristol West, 21st Century, and Foremost won't be affected.
A filing with California's Department of Insurance to withdraw and surrender its Certificate of Authority in the state indicated the company's withdrawal will largely affect auto policies.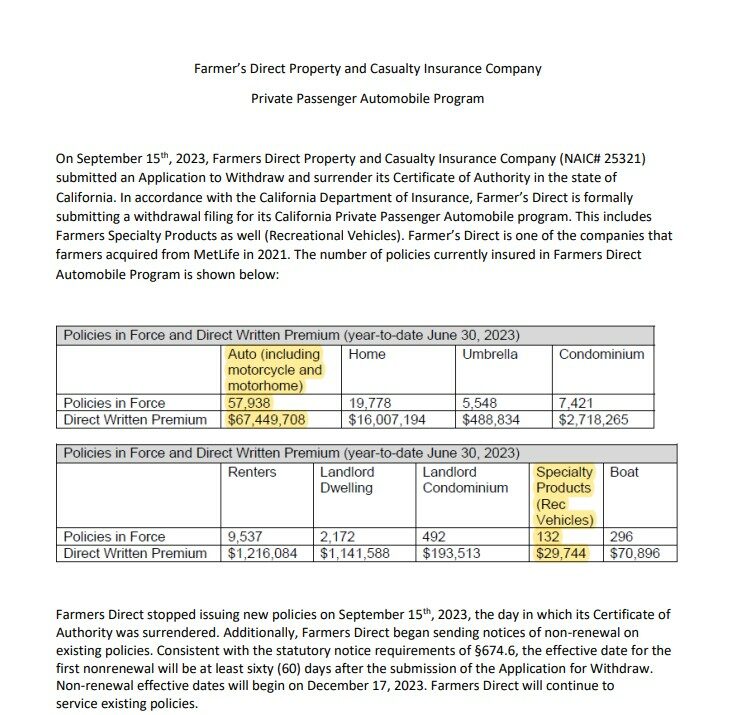 Of the nearly 100,000 policies in force, more than half were for vehicles, including motorhomes and motorcycles, representing more than $67 million in written premiums.
A number of insurers have already scaled back coverage, particularly in states they deemed unprofitable, in recent months. Kemper Corp. announced in August that it's exiting the preferred home and auto market to enhance its returns and "support profitable growth" in core businesses. Its specialty business Kemper Auto was not affected by the shakeup.
In July, Farmer's Insurance said it would stop writing auto, residential and umbrella policies in Florida, it confirmed this week in a move expected to affect 100,000 policies.
Liberty Mutual and Farmers Insurance have initiated layoffs to improve profitability.
The California Department of Insurance did not respond to an RDN query by deadline to indicate whether it planned to work with insurers in determining if measures should be taken to help their businesses become more sustainable in the state.
Earlier this month, Allstate executives said when announcing Q3 earnings that it was continuing to restrict growth in "profit-challenged states," including California.
"While the improvement was encouraging, loss cost trends remain elevated and require continued execution of auto insurance profit improvement plan, particularly in California, New York, and New Jersey," said Tom Wilson, Allstate's president and CEO, during an earnings call. "We will continue to pursue rate increases to restore auto insurance margins back to target levels."
Mario Rizzo, Allstate's president of property liability, told investors that the company might be forced to scale back its activity in those states if its pending rate increase requests are not approved.
He said Allstate has "significant" rate increases pending, including a 35% hike in California, a 29% increase in New Jersey, and an 18.3% bump in New York.
"Where we're at now is we need to action those filings in the fourth quarter," Rizzo said. "And if we can't, then we believe the right thing to do for the customers in the other 47 states, as well as for our shareholders, is to take additional action to get smaller across all three of those states. That's what we would do beginning next year if we can't get resolution on the rate filings that are currently pending."
Earlier this year, a Swiss Re study found that although a hard market is likely to continue, 2023 is expected to be a "transition year" globally for property and casualty (P&C) insurance.
"Our analysis shows that non-life insurers' profitability is set to improve strongly in the coming years as higher interest rates and rate hardening more than offset higher claims costs from persistent inflation," said Jérôme Jean Haegeli, Swiss Re's chief economist. "This will be vital to enable industry resources to grow at a rate that will match global demand for insurance protection."
Swiss Re added that despite the positive outlook, profitability within the P&C insurance sector is likely to remain lower than the rising cost of capital this year.
Turning the corner will require insurers to become more disciplined with their capital and use it more efficiently, the study found.
Images
Featured image courtesy of gguy44/iStock
Share This: