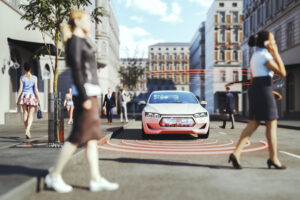 Vehicles with tall front ends are more deadly during pedestrian-involved collisions when compared with vehicles with shorter hoods, says the Insurance Institute for Highway Safety (IIHS).
The nonprofit shared data this week indicating that pickups, SUVs, and vans with hood heights greater than 40 inches and grilles sloped at an angle of 65 degrees are 45% more likely to cause a pedestrian fatality during a crash. It said it drew the conclusion after studying nearly 18,000 pedestrian crashes.
"Some of today's vehicles are pretty intimidating when you're passing in front of them in a crosswalk," said David Harkey, IIHS president. "These results tell us our instincts are correct — more aggressive-looking vehicles can indeed do more harm."
According to the IIHS, pedestrian deaths have increased by 80% since 2009, with more than 20 pedestrians per day losing their lives in 2021.
"While speeding and poorly designed infrastructure have helped fuel the increase, many safety advocates have also drawn a connection to the growing portion of the U.S. vehicle fleet made up of pickups and SUVs," IIHS said in a press release.
"Over the past 30 years, the average U.S. passenger vehicle has gotten about four inches wider, 10 inches longer, eight inches taller, and 1,000 pounds heavier. Many vehicles are more than 40 inches tall at the leading edge of the hood. On some large pickups, the hoods are almost at eye level for many adults."
IIHS' study analyzed crashes involving a single passenger vehicle and a single pedestrian. It said it used vehicle identification numbers to determine the type of vehicles involved in the crashes and calculated the measurements of nearly 3,000 vehicles based on photographs.
Researchers excluded vehicles with pedestrian automatic emergency braking systems from the study, and controlled factors that might have contributed to the likelihood of a fatality such as speed and the victim's age, IIHS said.
The findings prompted IIHS to call on OEMs to adjust their vehicle designs.
"Manufacturers can make vehicles less dangerous to pedestrians by lowering the front end of the hood and angling the grille and hood to create a sloped profile," said Wen Hu, IIHS senior research transportation engineer and lead author of the study. "There's no functional benefit to these massive, blocky fronts."
IIHS found that while sloping front ends did not reduce the risk among vehicles with the tallest hoods, they made pedestrian deaths 26% more likely for vehicles with hood heights between 30 and 40 inches. It also determined that, in general, vehicles taller than 35 inches are more dangerous to pedestrians given the risk of severe head injuries.
Tall vehicles with vertical front ends were more dangerous than those with sloped front ends, IIHS added.
"Unlike all other vehicle types, tall and blunt vehicles primarily inflicted torso injuries with their front ends rather than with the tops of their hoods," IIHS said. "They were more likely to injure pedestrians by throwing them forward, while tall and sloped vehicles usually rolled them onto the hood of the vehicle first."
Shorter pedestrians were more likely to sustain serious injuries, Harkey said.
"It's clear that the increasing size of the vehicles in the U.S. fleet is costing pedestrians their lives," he said. "We encourage automakers to consider these findings and take a hard look at the height and shape of their SUVs and pickups."
A number of efforts are underway to improve pedestrian safety.
Last month, four companies and university researchers shared details about sensors and systems they're using, or that are in development, to improve driver and pedestrian safety at night, detect objects and pedestrians on the road from further away, and slow vehicles down.
Improved developments in vehicle object recognition rates are also being explored by Koito Manufacturing Co. and Denso Corp. The companies are collaborating on the development of a system to improve the rate at which vehicle image sensors see objects and pedestrians by coordinating lamps and image sensors with the goal of improving driving safety at night.
"Each company is working to improve vehicle safety and realize a society with zero traffic accident fatalities, which is one of the largest challenges currently facing the automotive industry," a joint news release from the companies states. "In this work, improving driving safety at night is an important development theme."
Earlier this year, the National Highway Traffic Safety Administration said it wanted to change its vehicle safety consumer information program to better educate consumers on how well vehicles guard pedestrians against injury.
The federal agency is seeking to amend its New Car Assessment Program (NCAP) to "provide valuable safety information to consumers about the ability of vehicles to protect pedestrians."
NHTSA said doing so could incentivize automakers to produce vehicles built with safeguards that could prevent or minimize pedestrian injuries.
Images
Featured image courtesy of Gremlin/iStock
Share This: