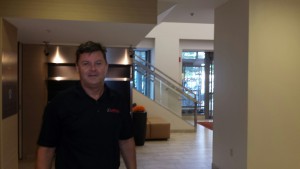 In what appears to be a surprise move, Driven Brands has ousted four-year CARSTAR CEO David Byers and made the company's insurance relations manager head of the collision repair chain.
Insurance relations Senior Vice President Dan Young was named CARSTAR brand president effective Friday, Driven Brands Group President Jose Costa announced in an email.
The ouster comes nearly a month to the day MAACO parent company Driven Brands announced it had acquired CARSTAR. Costa, the president of MAACO (and a 2015 "Undercover Boss"), was placed in charge of a new Driven Brands Paint & Collision division including MAACO, CARSTAR and Drive N Style.
"Driven Brands' acquisition of CARSTAR provides tremendous opportunities to grow the brand," Costa wrote Friday. "From increased purchasing power and resources to cross-promotion, and most importantly – boosting franchisee profitability. After rigorous assessment of the business, we have decided to make several key changes to CARSTAR's senior leadership team."
The move seems to have been a bit of a surprise. At the time, Byers assured us things would stay "business as usual" at CARSTAR, and as recently as SEMA, CARSTAR had offered us an interview with its leader.
"Nothing's changing," Byers said in October. "… We get to continue to operate as an independent brand."
FenderBender reported Friday that a source told the magazine  "that changes to the CARSTAR executive team had been anticipated in recent weeks—but few thought it included a shakeup of this level."
"David Byers is leaving the organization to pursue other opportunities," Costa wrote Friday. "David played a critical role in helping CARSTAR become the great company it is today and we are very thankful for all of his hard work and dedication."
The move was done to grow CARSTAR's insurance business even further than the 90-95 percent it is now, Costa told FenderBender, promising no more shakeups were coming.
"This is it, just once," he told FenderBender. "Now the plan is to double the size of the insurance team, and grow by at least 60 percent the operations team. So, it's putting more boots on the ground, more resources on the shop level, instead of a high overhead at the corporate office."
On Friday, Costa praised Young's having "exponentially grown" CARSTAR's insurance-related revenue.
"We are confident that Dan will continue to drive incremental profitability and growth for our franchisees, and that CARSTAR will continue with this great momentum under his leadership," Costa wrote.
Young spent about 20 years at Allstate before joining CARSTAR in 2003, working his way up from claims adjustor to property services manager — which puts him there during the infamous "McKinsey slides" days, based on a Bloomberg Businessweek report.
It'll be interesting to see how the increased emphasis on insurers affects and is received by CARSTAR franchisees, which still own their body shops. (A pride in ownership which sets CARSTAR apart from the other MSOs, Byers told us this summer.)
---
More CARSTAR coverage
---
Executive team
Other executives promoted or left standing Friday:
Vice President of Operations Dean Fisher will become CARSTAR's chief operations officer.
"Dean has been a tremendous force within CARSTAR as he developed the EDGE Performance Platform and will continue to spearhead the evolution of this industry leading operational platform," Costa wrote.
National operations Director Melissa Miller will become vice president of operations.
"Melissa has been with CARSTAR for more than 11 years and will play an important strategic role with system innovation," Costa wrote.
Training and development specialist Kim Carrington was promoted to training and development manager.
Development Vice President Scott Robertson will keep his job, and his "main focus will be to continue growing unit count as well as to pursue new markets and acquisitions," Costa wrote.
Controller Cacey Lavin will keep her job but instead report to Driven Brands accounting and finance Vice President Ed Moore — who will handle CARSTAR's finance and accounting.
Chief Financial Officer Brad Fountain, Chief Information Officer Travis Sill, purchasing Vice President Ernie Laky, marketing Vice President David James and Human Resources Vice President Willie Ramirez were not mentioned in Costa's email. We've been told that Laky, Sill, James and Fountain are among other executives who were laid off.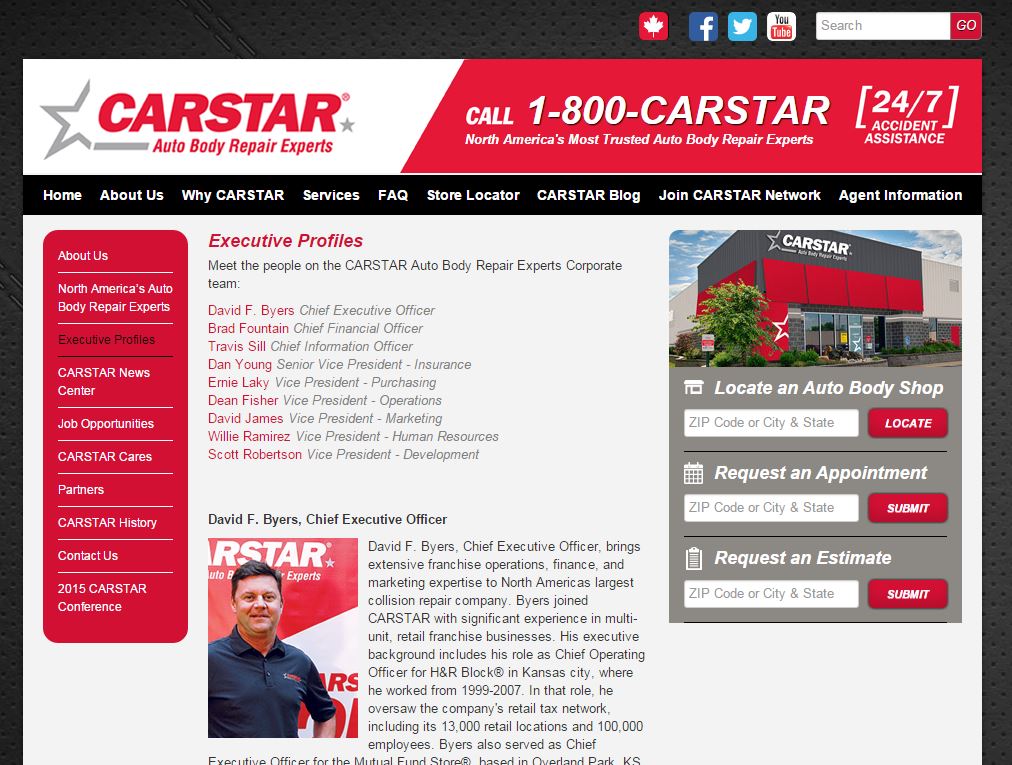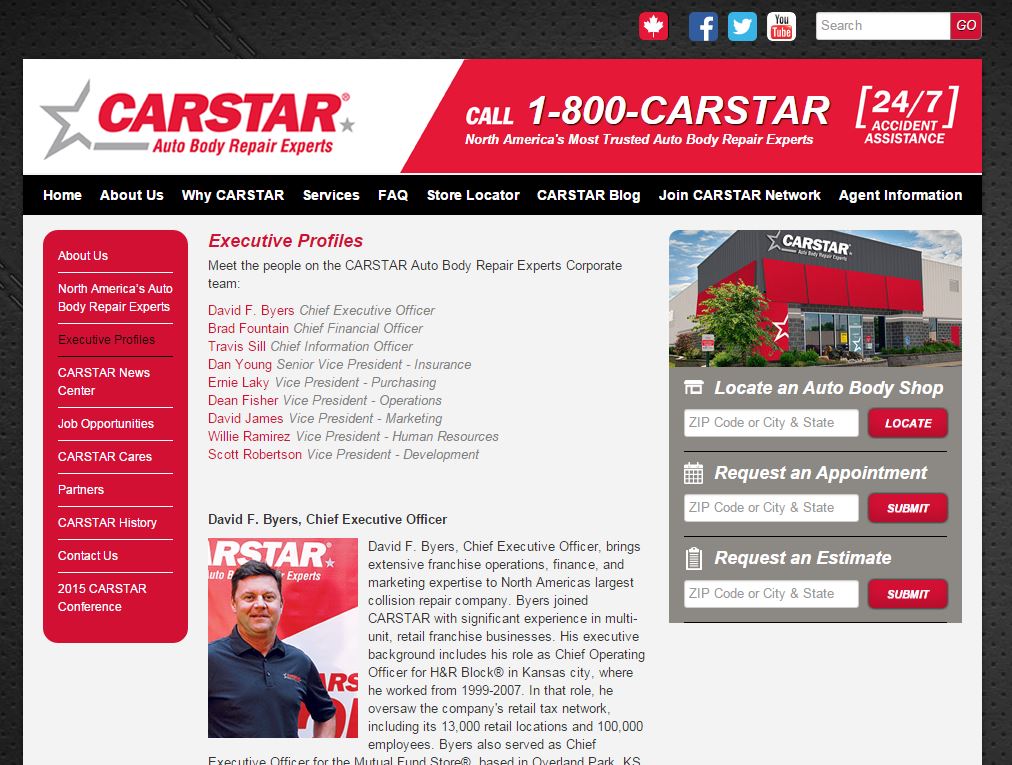 The old management team led by Byers remained on CARSTAR's website early Sunday afternoon. Here's a capture of the site in case CARSTAR takes them down by the time you read this.
"I understand that change isn't always easy but progress is impossible without it. I am confident that these adjustments will ultimately benefit the brand and position us for growth," Costa wrote.
Costa also wrote that Driven Brands wants to double in size by the end of the decade.
"We have an exciting road ahead fueled by growth," he wrote. "We are committed to doubling the size of our brands in the next three to five years and achieve our Dream Big agenda, which is to double system sales and increase franchisee profitability through better innovation and better purchasing. Growth is an important part of Driven's strategy and represents increased resources and opportunities for all Driven Brands partners. For our franchisees, this represents increased sales, profitability and unit growth, along with increased purchasing power.
"The team at Driven currently supports more than 2,000 centers nationwide across three different industries. This unique combination of industry experience, raw intelligence and unmatched diligence has sparked new ideas, spurred solid growth and franchisee profitability."
Correction: An earlier version of this article misstated the amount of time CARSTAR Brand President Dan Young spent at Allstate. He was there for about 20 years. The article has since been updated.
More information:
"BREAKING NEWS: Driven Brands Shakes Up CARSTAR Leadership Team"
FenderBender, Nov. 20, 2015
"CARSTAR Senior Leadership Changes"
CARSTAR, Nov. 20, 2015
Images:
CARSTAR CEO David Byers poses in the lobby of the Courtyard by Marriott in Grand Rapids, Mich., on June 24, 2015. (John Huetter/Repairer Driven News)
The old management team led by CEO David Byers remained on CARSTAR's website early afternoon Nov. 22, 2015. (Screenshot of www.carstar.com)
Share This: