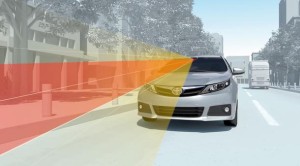 Believing that by 2020, 40 percent of the country's fleet will require calibration following a windshield replacement, Autoglass announced it has fully expanded what had been a pilot calibration program to all of its entire United Kingdom operations.
The company confirmed the full rollout Friday.
"Motorists are very familiar with the benefits of driving with well-established safety features like seat belts and airbags, helping to reduce the risk of injuries when accidents happen," Autoglass technical superiority head Chris Davies, who has an awesome job title, said in a statement. "But now the motoring industry has an important task to make drivers understand the importance of new and more technically complex features aimed at preventing collisions altogether, such as lane departure warnings and autonomous breaking. If the technologies that support these are working as they should, they will significantly reduce the likelihood of accidents.
"Driver assistance systems are the first of many innovations that will change the mandate of the automotive after care market and we've invested significantly in equipment and training to ensure we're at the fore-front of new developments. This makes it all the more satisfying to see this vital solution available to customers across the UK."
American body shops, auto glass installers and insurers should heed those words — fast. Because the same Advanced Driver Assistance Systems trends Autoglass sees happening across the Atlantic are coming here.
ADAS is an industry term for technologies such as autobraking or lane-departure warnings, which often depend on a camera behind the windshield to scan the road ahead.
"If the sensors and cameras that the systems use are misaligned by as little as one degree, the consequences can be devastating, particularly at higher speeds, as they will fail to detect and analyse driving conditions correctly in order to warn drivers about potential hazards or take corrective actions such as autonomous emergency braking," Autoglass wrote in a recent news release.
Unfortunately, Autoglass found customers customers don't know that — which unfortunately also means some shops and insurers probably don't either here and in the U.K.
Even though properly working ADAS technology could save 1,100 lives over the next decade and ward off 122,860 injuries, Autoglass reported what it called a "worrying lack of comprehension" among motorists it studied.
"Over two-thirds of drivers (68%) decided to go against their vehicle manufacturer's advice to calibrate following a windscreen replacement – many because they perceived everything was working correctly, something which cannot be determined without the necessary technical equipment," the company wrote. "Perhaps more worryingly, almost a third (31%) of those who contacted their car dealership for calibration found that their first point of contact was not aware of the need for calibration and 53% were given inaccurate advice in relation to their problem."
Yikes.
Perceiving not only this safety risk but probably also the liability reduction and revenue potential in mitigating it, Autoglass tried a regional calibration pilot first, followed by "extensive investment in research, development, and technician training" and the national rollout announced recently. The company now boasts it can calibrate "an unrivalled 96% of all vehicles on the road."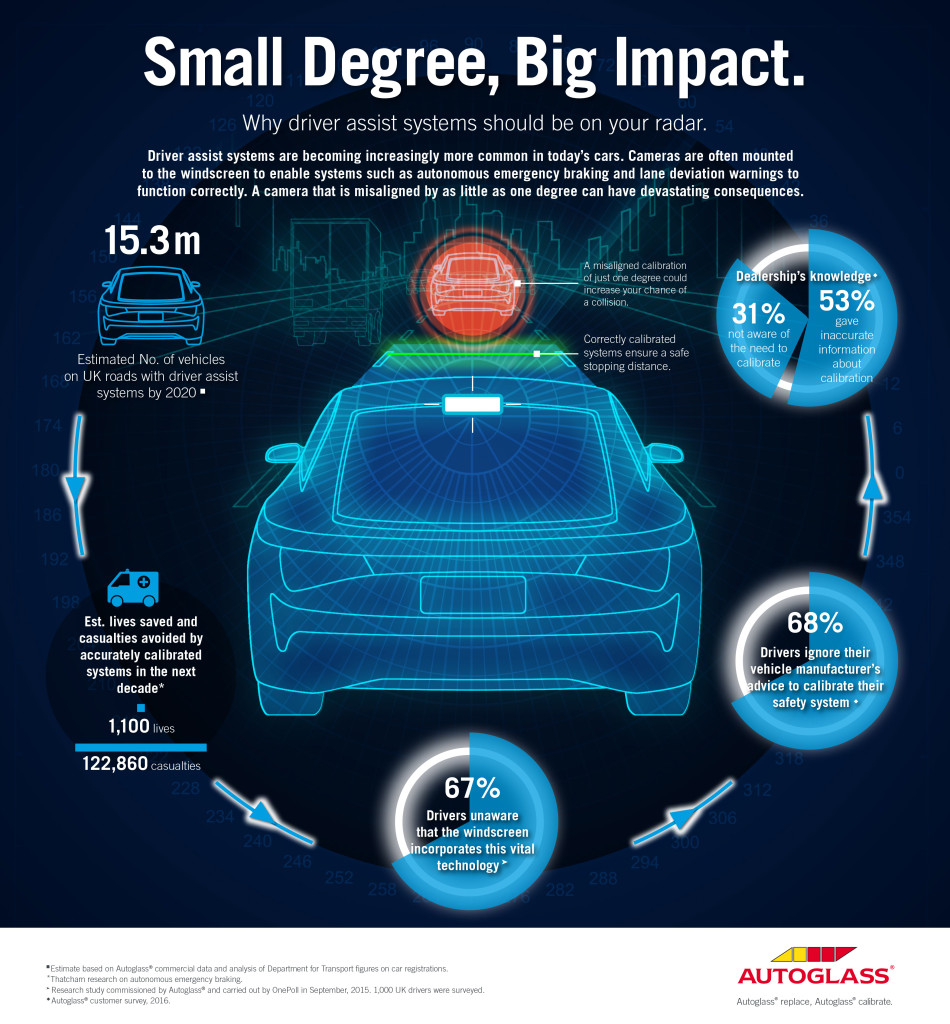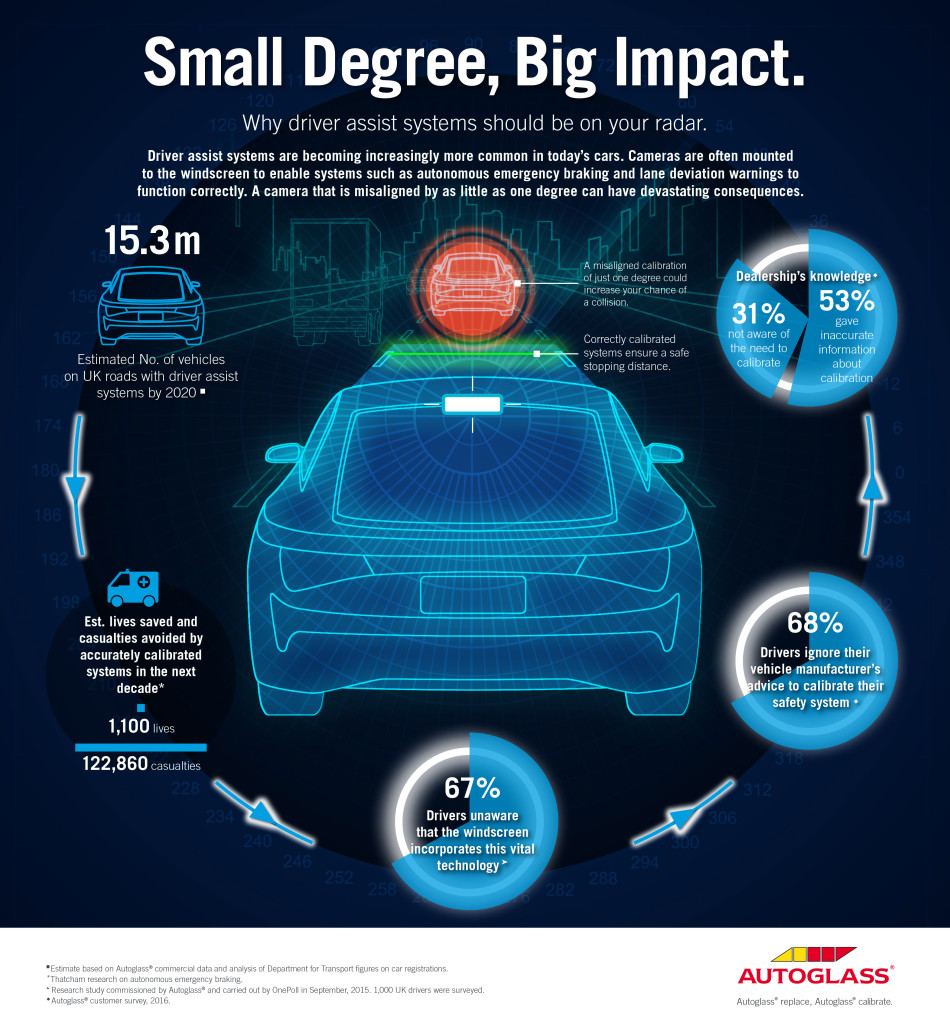 "The automotive after-market needs to evolve to keep pace with the speed of innovation that is happening to help bring down the number of injuries and deaths on UK roads," Autoglass sales and marketing director Neil Atherton said in a statement. "Even a minor margin of error can have serious consequences on the success or failure of the latest safety features. We are proud to play our part by working closely with our industry partners, rolling out our new calibration solution nationwide, and by being instrumental in efforts to create an industry code of practice, due for publication later this year."
Autoglass acknowledges that only 2 percent of its windshield replacements needed calibration in 2015, but predicts that amount will grow "dramatically" — and the rest of Europe already exceeds that rate. In 2015, the European NCAP reported that 95 percent of every model it tested in 2015 had autobraking.
Thatcham, the U.K. version of the IIHS, and NCAP, a consortium of European government and private entities sort of like the NHTSA, both want autobraking to be made standard, Autoglass also noted.
In the U.S., 20 automakers worth 99 percent of the U.S. market share vowed to make autobraking standard no later than Sep. 1, 2022. Had they not, the NHTSA hinted that it was poised to make them do it anyway. Three days later, Toyota announced it'd give consumers the technology standard for nearly all of its models by 2017. Acura just announced the 2017 MDX would offer the technology standard, and one can get it pretty cheap on the 2016 Honda Civic — and customers probably will, based on research showing demand for advanced safety features.
Prior to that, CCC lead analyst Susanna Gotsch had noted in January that 2015-16 model-year vehicles with advanced safety technology made up less than 2 percent of all CCC-recorded crashes through September of last year. But about a third of all 2015-16 cars, trucks, and SUVs recorded in CCC data already had crash-prevention systems aboard, she said.
"So the impact to the industry is surely going to grow over time," she said then. The gear might make a dent in crash frequency "perhaps beginning in 2020."
About 20 percent of the vehicles with collision avoidance had a glass-mounted form of the technology, according to Gotsch, though CCC predicted more OEMs would opt to stick the system into the bumpers going forward. (The need for calibration would still exist, though.)
More information:
"Autoglass® rolls out new calibration solution for Advanced Driver Assistance Systems"
Autoglass, date unknown
Featured image: Believing that by 2020, 40 percent of the country's fleet will require calibration following a windshield replacement, Autoglass has expanded a pilot calibration program across its entire United Kingdom operations. (Provided by Autoglass)
Share This: