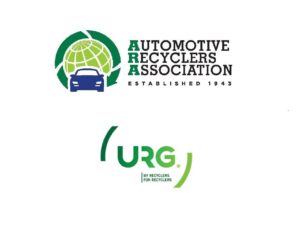 Leading auto recycler trade groups have issued a position statement challenging legislation requiring OEM procedures and opposing instructions that ban recycled parts.
"ARA and URG support that industry standards for automotive repairs should be well defined as to the process necessary to assure the vehicle is returned to pre-loss condition as closely as possible," the Automotive Recyclers Association and United Recyclers Group said in their position dated April 2019.
"ARA and URG do not support repair procedures that disallow the usage of OEM recycled parts or denies the consumer choice of what parts are used in the repair of their vehicles."
We asked URG CEO Don Porter to clarify if the first paragraph meant URG supported OEM procedures aside from parts recommendations or requirements. Porter on Tuesday agreed the other repair procedures "are OK."
We put the same question to ARA Executive Director Sandy Blalock.
"ARA believes that all vehicles should be safely repaired to pre-collision condition," she wrote in an email. "We fully support consumer choice in all matters relating to the repair of their vehicles.
"The position we have is that allowing the OEM's to dictate the repair procedures will deter the usage of recycled OEM parts as per their own position statements."
Automakers recommend against or outright ban recycled, remanufactured and aftermarket parts in position statements and procedures. Alternative parts industry representatives have argued that a slew of 2019 legislation mandating repair procedures would by default ban their companies' goods.
"ARA and URG have watched with growing concern as a proliferation of legislation requiring adherence to original equipment manufacturer (OEM) repair procedures has been introduced in state legislatures across the country," the trade groups wrote in the position statement. "Automobile manufacturers are becoming more aggressive in their efforts to force recycled OEM parts out of the market, releasing position statements, repair specifications and procedures that are both biased and based on weak or no apparent scientific research claiming that recycled OEM parts are inferior to new OEM parts.
"ARA and URG believe that if passed, this legislation would have serious negative anti-competitive consequences for consumers, professional automotive recyclers, and independent collision repair professionals."
However, some bills have sought to carve out an exception for parts.
"While Alliance members absolutely believe all consumers would be best served by using genuine OEM parts on their vehicle – parts which have been designed and tested in the same manner as the original parts on the vehicle – that is not our fight on this bill," Alliance of Global Automakers lobbyist Wayne Weikel stated in March written testimony for Connecticut House Bill 7266, for example. He proposed an amendment exempting parts:
"Notwithstanding any statements or recommendations contained in the original equipment manufacturer's repair specifications or procedures relative to the use of original equipment manufacturer parts, governance of the use of parts in the course of an insurer-funded repair shall be solely dictated by Chapter 700, Section 38a – 355 of the Connecticut state code."
However, LKQ central region government affairs manager Kevin Fisk told the Texas House Insurance Committee on April 9 that legislation in multiple states had not yet found "the fix" calling for OEM procedures without allowing OEM procedures to ban aftermarket parts. (The committee on Wednesday ultimately approved House Bill 1348 following an amendment similar to Weikel's.)

Asked if any of the OEM procedure bills had drafted parts exemptions sufficient to address his members' concerns, Porter said he'd have to review the language. He said the legislation would have to allow "consumer choice" of parts and recognize "OE recycled parts are OE parts."
"At this time we are not supporting any of the OEM repair procedure bills," Blalock wrote in response to the same question.
More information:
Automotive Recyclers Association and United Recyclers Group OEM procedure position statement
ARA, URG, April 2019
Featured image: The Automotive Recyclers Association and United Recyclers Group in April 2019 issued a position statement challenging legislation requiring OEM procedures and opposing instructions that ban recycled parts. (Provided by ARA, URG via ARA)
Share This: