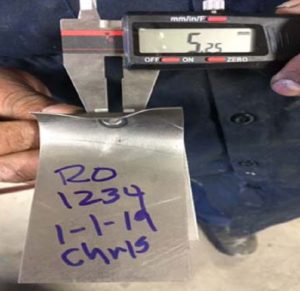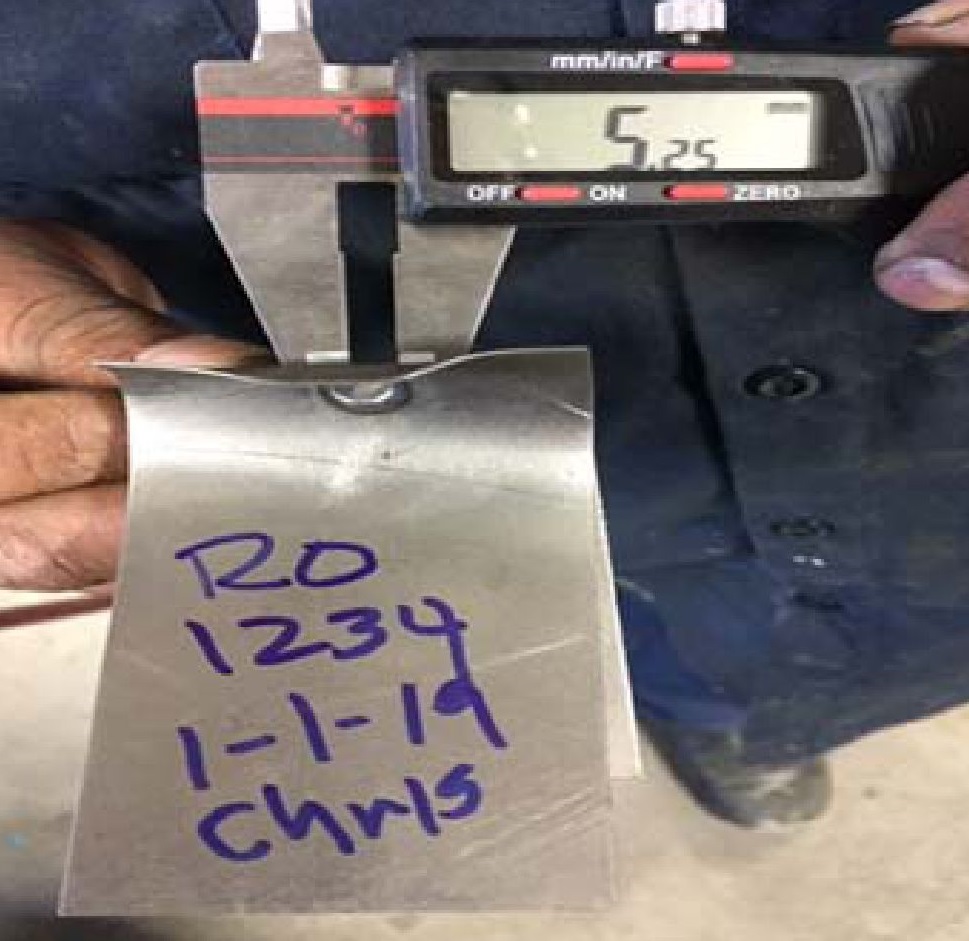 Destructive weld testing is a not-included procedure in all three estimating systems, which means repairers who don't account for it might be missing out on significant shop and technician revenue, a body shop manager suggested last month.
"It's super time-consuming," SCRS board member Michael Bradshaw (K&M Collision) said of weld testing at a Society of Collision Repair Specialists open board meeting April 16.
Certain repairs might require 3-4 welders to be tested and involve different metal thicknesses, Bradshaw said.
He said K&M Collision spent a great deal of time researching the average time required by a technician, something he said he thought was "really overlooked" within the industry.
Bradshaw said he felt many technicians might not perform test welds because they won't be compensated for it. "There's a disconnect," between the estimator and technician on what's necessary, he said.
Unfortunately, this could lead to technicians using the vehicle itself as their testing grounds — something which shouldn't be done.
"That happens," Bradshaw said. "You see that all the time."
Setting up the welder and performing the destructive testing are two separate processes, according to Bradshaw.
The setup process itself "can be super involved" as well, with operations like changing wires and liners, Bradshaw said.
Once you start researching the process, you'll realize "what a time sink it is" for a technician, according to Bradshaw.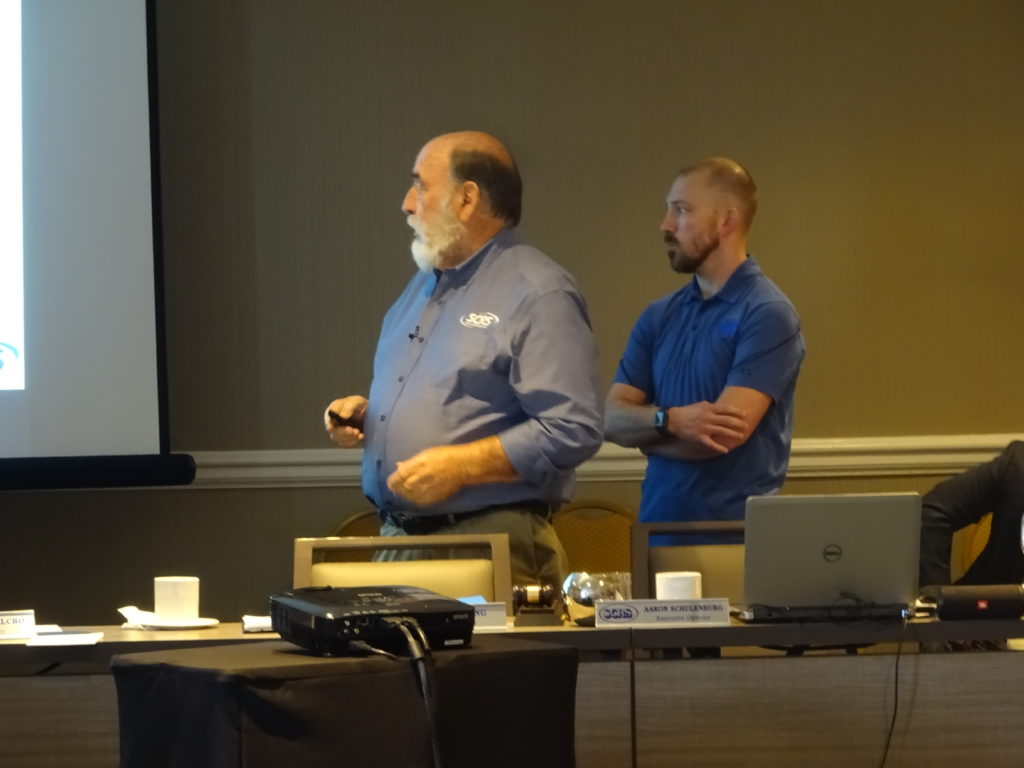 Audatex's list of "Labor Exclusions" in P-pages Section 4-2 identifies"Setup of welding equipment, welding materials and/or test welding."
Mitchell's welded panel time includes welder setup but doesn't include destructive weld testing, the Database Enhancement Gateway wrote in 2018.
CCC's P-pages state: "Due to the different types of welding equipment used in the collision repair industry, labor times for welded replaced parts do not include equipment manufacturer procedural steps for welder setup and/or welding tests and preparation. Each welding machine manufacturer may have its own unique configurations and setup processes. Additionally, there may be vehicle-specific variables that may increase or decrease the amount of welding machine set-up time and pre-weld preparation. MOTOR suggests using an on-the-spot evaluation to determine an appropriate set-up and preparation time."
CCC's 2018 estimate databases revealed fewer than 1 percent of all repairable vehicle appraisals contained a manual entry for a destructive test weld despite the procedure often being required.
CCC said its records revealed shops charging either an average flat fee of $35 or between 0.5-1.0 hours. The average body labor hour in CCC records was $50.27 in 2018, while the average frame hour cost $58.25, according to the 2019 "Crash Course."
Of course, CCC's "Crash Course" pointed out that more than 1 percent of the industry might be performing test welds — they just weren't including them on an estimate.
"That's the hope, right?" lead author Susanna Gotsch, a CCC analyst and director, said in an interview.

What could be involved
SCRS educator Toby Chess (Kent Automotive) demonstrated aspects of welder setup and destructive testing Thursday in a video on destructive testing posted to the SCRS YouTube channel.
Squeeze-type resistance spot welder setup could include checking the inlet pressure — typically 80 psi for X-tongs, 65-70 for the standard C-arm, Chess said. (Obviously, the automaker's specific instructions would supercede this and any of the other generalized advice presented here.) A repairer would also need to ensure the tips are in "proper working order," Chess said.
Tips should be cleaned and dressed properly, Chess said, but he called tips pared down with a grinder a "no-no." He also warned against technicians grabbing the electrodes with serrated vise-grip pliers, which "has a tendency to chew 'em up pretty good."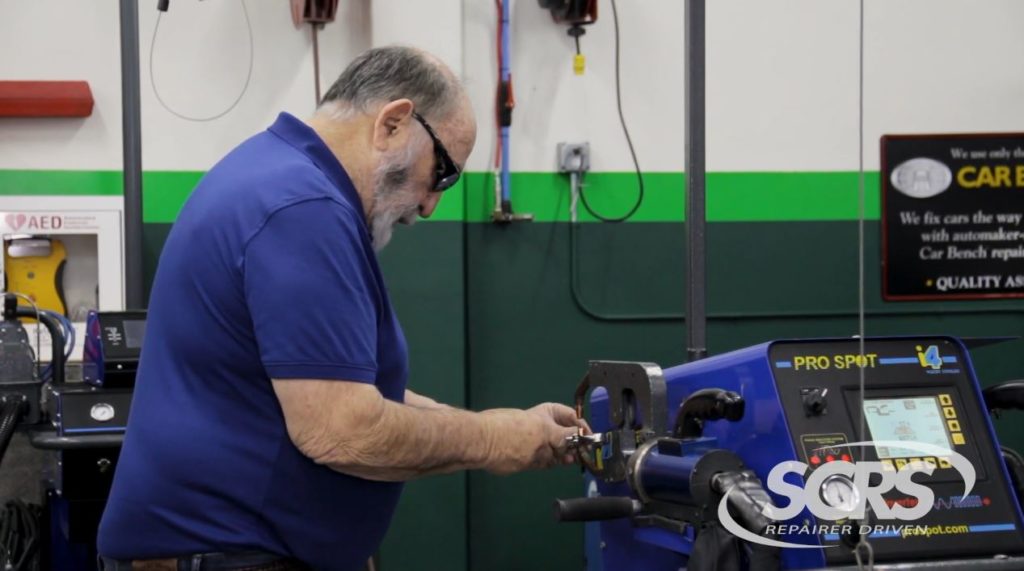 The tips must also be seated properly, Chess said. Repairers need "total alignment."
"Misaligned tips will cause a lot of sparks and a very poor weld," Chess said.

Destructive testing could be labor-extensive even on a bare-metal-to-bare-metal, mild steel weld. For example, the repairer might have to conduct more than one test to reach the required quality, something Chess demonstrated in the video.
Chess noted during the April 16 meeting that the repairer would need to perform a test weld mimicking the conditions of the actual weld. For example, if the OEM called for a weld-bond on the vehicle, the test weld would need to include adhesive as well.

More information:
"SCRS Education Committee Presents: STRSW – Welder Settings & Test Welds"
Society of Collision Repair Specialists YouTube channel, May 9, 2019
"Destructive testing on spot welds" worksheet
SCRS, April 2019
Images:
The Society of Collision Repair Specialists provided this image as an example of a photo documenting spot weld testing. (Provided by SCRS)
SCRS Education Committee members Toby Chess (Kent Automotive), left and Michael Bradshaw (K&M Collision), present April 16, 2019, on destructive weld testing. (John Huetter/Repairer Driven News)
SCRS educator Toby Chess (Kent Automotive) works on misaligned squeeze-type resistance spot welder tips. (Screenshot from SCRS video)
Share This: