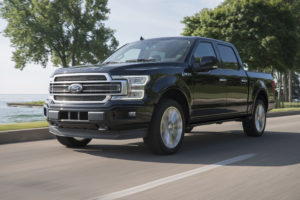 The Highway Loss Data Institute's recent surprising conclusion that the aluminum Ford F-150 saw 7 percent lower severity compared to steel trucks begs the question of whether the nation's body shops are charging a distinct aluminum labor rate on the truck — and what the absence of such a rate would say about those businesses.
The HLDI hypothesized Ford kept severity in check with reduced collision parts prices, a focus on modular repairability and by subsidizing part of what Torque News reported was $30,000-$50,000 in necessary equipment and training. HLDI didn't discuss labor rates in its December 2018 bulletin on the F-150 research.
We sought some ground-level perspective on aluminum F-150 severity Wednesday from Big Sky Collision owner Matthew McDonnell. His Montana shop is Ford-certified, extensively researches procedures prior to repairs and is located in what Business Insider and Kelly Blue Book suggest is a state partial to the F-Series.
Repair difficulty
Supporting the HLDI's conclusions, McDonnell said the F-150 repair procedures in his experience indeed weren't more complicated than those for steel vehicles.
"I don't think they're that tough to work on," he said of the truck.
McDonnell said "we're not afraid" of the F-150, and they hadn't been a "nightmare to fix."
He said his shop had an $20,000 F-150 repair and $20,000 GMC in progress right now, and there wasn't a noticeable difference between the two.
In fact, once you get used to it, "I think aluminum's a better metal" to work with, McDonnell said.

McDonnell also noted that Ford's instructions were easier to navigate thanks to the OEM's convenient hyperlinks leading one down the "rabbit trails" of a comprehensive repair plan.
"Easier to navigate can relate to cheaper," he said.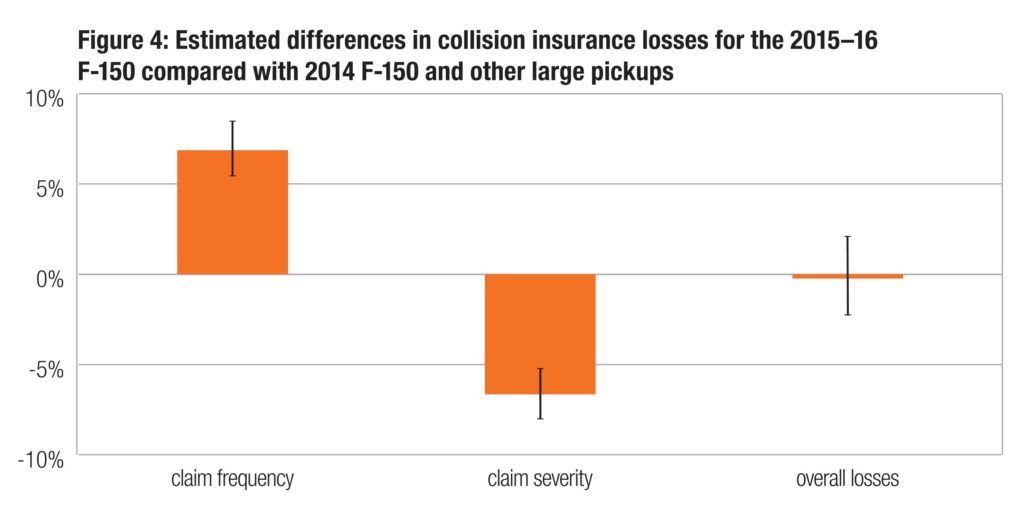 Automotive News in a Monday article about the HLDI data quoted Ford dealer Bob Tomes, who paid to prepare his facility for the F-150.
According to the newspaper:
Back-to-back Texas hailstorms in the spring of 2017 filled his eponymous dealership's service bays in McKinney with dented and damaged pickups. But the F-150's modular architecture and extensive training given to his nine certified technicians resulted in speedy repairs that cost as much as $2,000 less than similarly damaged steel-bodied vehicles, Tomes said.
"We were called upon to make that investment, and you have to step up," Tomes told Automotive News last week. "I think we're very pleased with how it turned out."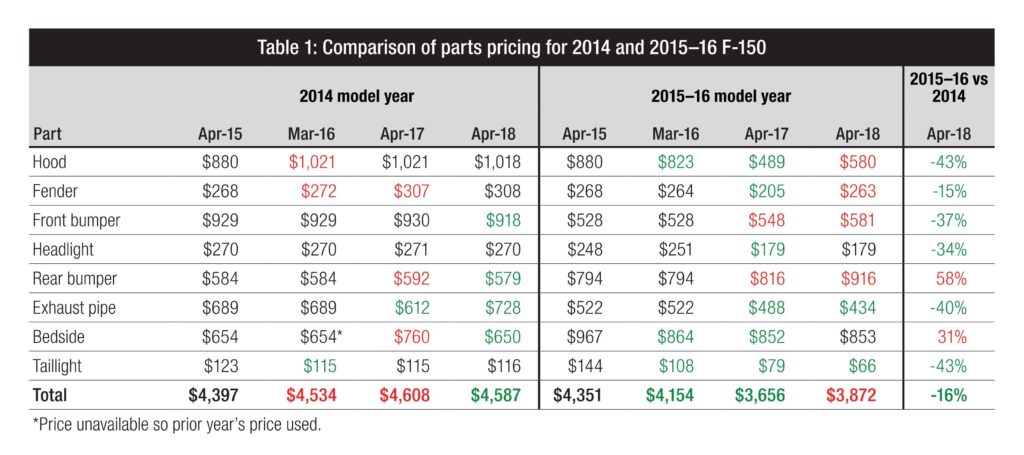 Labor rates and expenses
However, McDonnell said he was charging a higher aluminum labor rate than he would on a steel vehicle. But he doubted the vast majority of the collision repair market was doing so.
"I think that's the answer," McDonnell said of the HLDI's severity findings.
A body shop might not charge a higher labor rate because it hadn't spent tens of thousands of dollars on the necessary F-150 preparation, McDonnell said. There's no new costs that need to be recouped.
"They haven't done anything," he said, so "I don't think they should charge more."
Only about 1,200 dealership and independent auto body shops nationwide in April held Ford certification proving they were qualified to fix the aluminum F-150 and other vehicles from the OEM.
The collision repair industry spanned 33,950 shops as of 2016, the Census Bureau estimated in December 2018.
That's potentially only 3.5 percent of the nation's shops confirmed to have all the equipment and training necessary to fix the aluminum F-150. (The proportion might be even smaller; it's unclear if dealership body shops would have been reflected in the Census Bureau count.)
Of course, other repair facilities certainly might have the training and equipment to fix the F-150 but not bothered with certification. Multi-shop organizations can redirect the aluminum trucks received by their network to a single aluminum-qualified location within a market and not need to upgrade the other shops in the area.
But it's hard to ignore the possibility that a significant number of collision repair facilities might not be equipped for the F-150 but work on it anyway.
For example, Big Sky Collision is the only Ford-certified shop in Billings, according to Ford's locator. The next closest certified shops are more than 200 miles away in Butte, Mont.
Altogether, only a mere handful of shops in Montana are certified, but they're not going to be only ones fixing F-150s in the state

If the majority of shops didn't obtain that equipment and training foundation, their prices and severity might stay steady — but the F-150s might not be getting fixed correctly. Unlike luxury aluminum certification programs which restrict parts, nothing prevents unequipped shops from working on aluminum F-150s.
"What percentage of the market is fixing it correctly?" McDonnell asked.
He felt the shops that weren't certified, "they're guessing at fixing it right."
"I rework their stuff," he said earlier in the interview.
McDonnell didn't see the errors as deliberate. "They don't know they're doing it incorrect," he said.
No one goes in trying to do it wrong, but "it's the uneducated piece that hurts us more" and is "just as dangerous," he said.
Still other repairers might have invested in the equipment but have grown weary of fighting insurers for an aluminum rate and given up charging it, McDonnell said. They did the work correctly but just ate the expense of the infrastructure.
McDonnell said he commended the shops but wondered how long their companies could afford to do so.
"I want to be able to afford" to fix it correctly, McDonnell said.
It's either "you didn't do it right" or you "did it for free," he said.
Asked about these two scenarios, Ford North American vehicle communications manager Mike Levin wrote in an email Wednesday:
As we said four years ago, real-world repair costs for our F-150 customers would be comparable to or less than other full-size pickups and more affordable to repair than the previous steel-body F-150 – not the higher numbers released after crash stunts orchestrated  by others. Insurance premiums also remain comparable to the previous F-150.
Here's some napkin math to consider on recouping an aluminum investment.
CCC has said the average shop does around 1,000 repairs a year. The Ford F-Series represented 5.26 percent of all cars sold in the U.S. in 2018, based on Ford and MarkLines numbers. So let's say 52.6 F-Series trucks annually. (Super Duty trucks are also aluminum) annually.
We rounded CCC's 2018 repair cost breakdown data to a generous 75 percent of the repair's labor hours being non-paint-related. The average repair had 23.3 labor hours in 2018, according to the IP; 75 percent of that works out to 17.475 non-paint hours per vehicle.
An extra $10 an hour applied to all 17.475 non-paint hours on each of 52.6 F-Series trucks means a shop makes $9,191.85 more a year. That means the new aluminum investment described by HLDI still wouldn't be paid off for between 3-5 years even if the shop did charge a $10 higher aluminum rate.
"Who Pays for What?" data from than 100 responding Ford-certified shops in 2016, 2017 and 2018 found the median Ford nonstructural aluminum rate declining slightly, from $80 in 2016 to $77 in 2017 and $75 in 2018. That rate represented the 50th percentile, in which half of all surveyed shops charge more and half charge less than the amount.
More information:
"Aluminum F-150 proves less costly to repair"
Automotive News, May 20, 2019
"Collision insurance losses for the 2015–16 Ford F-150: an update"
Highway Loss Data Institute, December 2018
Ford certified body shop requirements
Ford Rotunda aluminum collision repair equipment
Images:
The 2019 Ford F-150 Limited is shown. (Provided by Ford)
After compensating for industry trends, the Highway Loss Data Institute in December 2018 calculated aluminum 2015-16 F-150s posted 7 percent higher claim frequency than the steel 2014 F-150 and other trucks — but severity came in 7 percent lower. These items evened each other out and kept the overall expense constant, according to the study. (Provided by Highway Loss Data Institute)
The Highway Loss Data Institute studied eight of the parts damaged in a 2015 IIHS crash test and found the 2015-16 model year's versions were on the whole cheaper and even fell in price compared to the components for the 2014 steel F-150. However, 2018 did see many of the 2015-16 parts increase in price while prices fell for their 2014 counterparts. (Provided by Highway Loss Data Institute)
Share This: