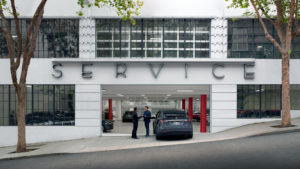 Tesla Motors CEO Elon Musk last week said Tesla was adding options like bumper repair and "collision repair" to its mobile service fleets.
"We just did our first bumper replacement" from a mobile van, Musk told shareholders at their annual meeting June 11. Typically, "collision repair can take weeks or months. In this case, it took less than an hour," he said. (See Musk's comments around 56:20 in the video replay of the shareholder meeting.)
He told the audience that the "things that most trouble customers" include items like "collision repair taking an eternity" — or a "third-party body shop charging an arm and a leg" after taking that long.
"So we're moving a lot of the body repair in-house at Tesla," including to the mobile service fleet, he said.
We've reached out to Tesla early Tuesday evening to ask how the OEM handles painting a bumper fascia (presumably, that's what Musk was referring to replacing) and if there's any need to recalibrate items beneath the fascia.
We also asked if the comments about third-party shops were meant to refer to independent Tesla Approved Body Shops, for those facilities are required by Tesla to average 11 days of cycle time keys to keys. The OEM also requires "Competitive rates."
Shops also have complained that Tesla cycle times are instead prolonged by Tesla being slow with parts, not because of a deficiency on the repairer's part.
Tesla has also tested out mobile tire repair, swapping out a wheel in a half-hour "and you're on your way," Musk said. The service started in the San Francisco Bay Area and is expanding, he said.
Musk made a comment about sending a note to Tesla to request mobile service, and it was unclear from the video if he was referring to the vehicle itself contacting the OEM in a telematics system.
A June 12 Roadshow video indicated Teslas do have the capability to alert the OEM to an issue, with Tesla then reaching out to the owner. Or a consumer can just contact Tesla about a problem using the company's app, reviews editor Antuan Goodwin said on the video.
The Roadshow video offers an interesting look in the configuration of mobile service Model Ss — including the tool storage in the back and frunk. It also shows Tesla mobile technicians installing a carbon-fiber spoiler, rotating a tire — and performing an airbag replacement.
Goodwin said 30 percent of Tesla's Takata airbag replacements were handled by the mobile service fleet.
More information:
"Tesla Annual Shareholders Meeting" (See body repair comments around 56:20)
Tesla YouTube channel, June 11, 2019
"We ride along in Tesla Mobile Service's customized Model S"
Roadshow, June 12, 2019
Tesla OEM repair procedures website
Featured image: A traditional brick-and-mortar Tesla service location is shown. The OEM is expanding its mobile service to include bumper repair and collision repair, CEO Elon Musk said June 11, 2019. (Provided by Tesla)
Share This: