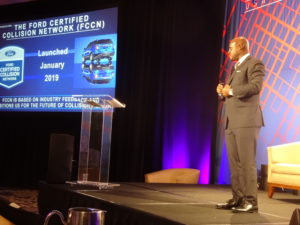 Ford research in 2017 revealed nearly a quarter of customers think that using an uncertified auto body shop would result in a lower vehicle value, one of a few interesting certification tidbits in this month's On Target.
The "Ford Collision Journey Experience Mapping, MORPACE" study revealed 86 percent of respondents who used an OEM-certified auto body shop "said they would likely use one for a future repair," Ford wrote in the latest issue of the collision industry newsletter.
The OEM has previously reported data that 52 percent of customers felt choosing a body shop certified by a manufacturer was more important than one conveniently located (7 percent), recommended by the insurance company (20 percent) or recommended by a friend or family member (21 percent). Ford global collision marketing Rob Johnston in April said the OEM found those results led to Ford deciding it needed a better relationship with customers in collision, for "it's part of the ownership experience."
Johnston also in April shared findings that 27 percent of customers who got rid of their vehicles within a year and a half of an accident did so because of damage from the repair. Another 21 percent did so because of the quality of the repair.
"Ford and Lincoln customers have said they would like to hear directly from Ford after being involved in a collision," Ford wrote in the new On Target. "As a result, Ford is investing its resources to educate owners and ultimately drive traffic through several media channels, including and especially Collision.Ford.com."
Ford said visits to its Find-A-Collision-Shop locator on Collision.Ford.com rose more than 500 percent last year. It also cited owner-facing resources like Ford Roadside Assistance and the FordPass and LincolnWay as means to "guide customers to FCCN-registered facilities."
"Developing a strong relationship with its vehicle owners allows Ford to continue to educate them on what to do after getting into an accident, the importance of OEM parts, and, ultimately guide them to a certified collision center," Ford wrote. "Ford is committed to growing its FCCN to meet the capacity and capability needs for complete and safe repairs for its customers."
Ford discussed its plans to manage the collision process at the U.S. International Bodyshop Industry Symposium in February; read more here and here. It also did so again at the IBIS Global Summit this month in Italy, according to Collision Repair Magazine, our Canadian media partner: 
Jennifer Boyer, global collision business and strategy manager of Ford Motor Company, alongside Jim Azzouz, marketing director for aftersales of Ford Europe took the stage to discuss the collision repair strategy the OEM has prepared for the future on a global scale.
They shared Ford's vision, which involves their smart vehicles to be connected to the cloud. With this new technology, OE's will be able to be more active in the collision repair process. They want to ensure customers get the experience they deserve and receive the right OE repair process plus parts. The OE also plans on growing its Certified Collision Repair network, which they had just opened up this year, while also preparing for an autonomous future. Ford wants to be heavily involved in the claims and repair industry to make sure that customers interests are met.
Read more IBIS coverage in the original June 12 Collision Repair Magazine article here.
More information:
"NEW FORD NETWORK GUIDES CUSTOMERS TO CERTIFIED COLLISION CENTERS"
Ford On Target, 2019 Volume 2
"Day one of IBIS Global Summit"
Collision Repair Magazine, June 12, 2019
Ford certification program webpage for shops
Ford minimum certification requirements
Ford, April 16, 2019
Customer-facing Ford certified shop webpage
Featured image: Global Ford customer service division Frederiek Toney discussed the new in-house Ford certification program Feb. 14, 2019, at IBIS. (John Huetter/Reparier Driven News)
Share This: