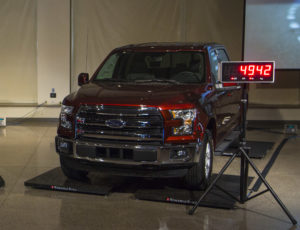 A new Coalition for Automotive Lightweighting Materials study presenting three lightweight roof designs highlighted 2016 research showing OEMs would convert a steel roof to aluminum or even carbon fiber if they needed 10 percent overall mass savings.
The prior research by the Center for Automotive Research seems to take on additional significance for collision repair in light of OEMs rapidly adding technology into their vehicles and pledging significant electrification in the three years since.
More safety or comfort technology means more weight, which in turn requires OEMs to cut mass or improve the powertrain just to preserve the gas mileage and performance of a traditional internal combustion engine vehicle. Switching to a hybrid, plug-in hybrid or fully electric vehicle might save on gas mileage but add significant weight.
As CAR wrote in 2016:
Weight add-back estimates (from 2015 to 2025) were provided separately for cars and light-duty trucks, with separate estimates for performance and safety. Mass for safety may be added for crashworthiness and electronics devices such as cameras, sensors, computers, etc. Performance mass might be added for attributes such as improvements in: stiffness, quietness of ride, lowering the center of gravity, equalizing the load distribution, reduction of unsprung mass, etc. According to a Massachusetts Institute of Technology report, required safety and emissions equipment were the source of approximately 62 kg (3.9%) and 24.6 kg (1.5%), respectively in a 2010 vehicle. By comparison, 1975 vehicles, on average, incorporated 31.2 kg (1.7%) of safety equipment, 6.35 kg (0.3%) emissions equipment, and 71 kg (3.9%) of optional features.
The results of the survey indicate that the total mass add-back expected for cars today averaged 4.9% for cars and 4.6% for light-duty trucks. (Emphasis added.)
Since 2010, more safety technology has become either mandatory (government-required electronic stability control and backup cameras, for example) or de facto mandatory (anything the OEM offers standard or optional for IIHS Top Safety Pick metrics) in the years since.
CAR's 2016 study also debuted the same year virtually every OEM pledged to make autobraking standard by 2022 — meaning even more technology would be coming.
Meanwhile, major and potentially weight-adding changes are coming to vehicle powertrains.
For example, Volvo and JLR in 2017 said no new vehicles launched after 2019 and 2020 respectively would be at a minimum a hybrid. No more purely internal combustion engines. General Motors in January announced it planned to turn Cadillac into "GM's lead electric vehicle brand" and give it the first version of the company's next-generation full-electric architecture. In 2017, GM also said it would produce 20 new, completely electric vehicles by 2023.
The Insurance Institute for Highway Safety in 2011 said hybrids are typically 10 percent heavier than their counterparts. A BMW lightweighting expert presented similar concerns with plug-in hybrid and fully electric vehicles at the 2017 CAR Management Briefing Seminars.
"We see … really tremendous weight coming to the cars," BMW head of lightweight design and vehicle weight Florian Schek said in 2017 at the Center for Automotive Research's Management Briefing Seminars.
Schek presented data demonstrating the issue. A BMW 530i weighs 3,395 pounds, and its internal combustion engine powertrain makes up 930 of those pounds. But a plug-in hybrid BMW 530e iPerformance's powertrain weighs 1,320 pounds. Future battery electric vehicles could have powertrains weighing between 1,320-1,980 depending on what kind of range is desired, according to Schek's presentation.
CALM demonstrated how a 2011 Honda Accord roof assembly could see a 22-40 percent weight reduction by switching parts to materials like higher-strength steels, composites and aluminum. A significant contributor to the mass savings involved lightweighting the roof panel itself, either with dual-phase 490 MPa steel, 6022 aluminum, or carbon fiber. The base Accord panel was interstitial-free 140-270 MPa.
According to CALM, the 2016 survey of nine OEMs about 42 vehicles found most present-day roofs mild steel, and a few either bake-hardened 320-350 MPa or high-strength low-alloy 590 MPa steel.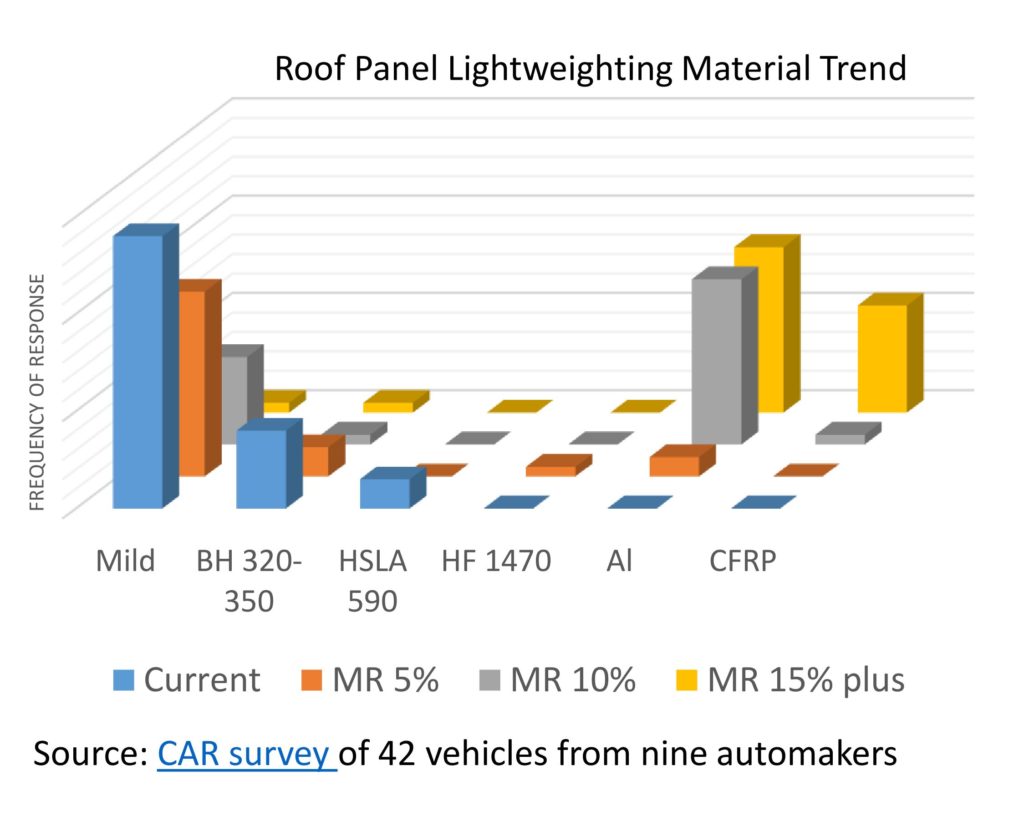 If OEMs had to cut 5 percent of mass out of the entire vehicle, some would switch from mild or bake-hardened steel to either hot-formed 1,470 steel or aluminum roof panels.
Given a mandate to cut 10 percent of the vehicle's weight, some mild steel and bake hardened steel would remain, but the vast majority of roof panels would be aluminum.
At a requirement to cut 15 percent of vehicle weight, nearly every roof panel becomes aluminum or carbon-fiber.
"To achieve (lightweighting) automakers are most likely to use aluminum for up to 15% curb weight reduction and polymer composites beyond 15% curb weight reduction," CALM wrote. One wonders if that could change, given the gains in the steel industry and what CALM demonstrated could be accomplished with a low-cost, low-difficulty higher-strength steel roof.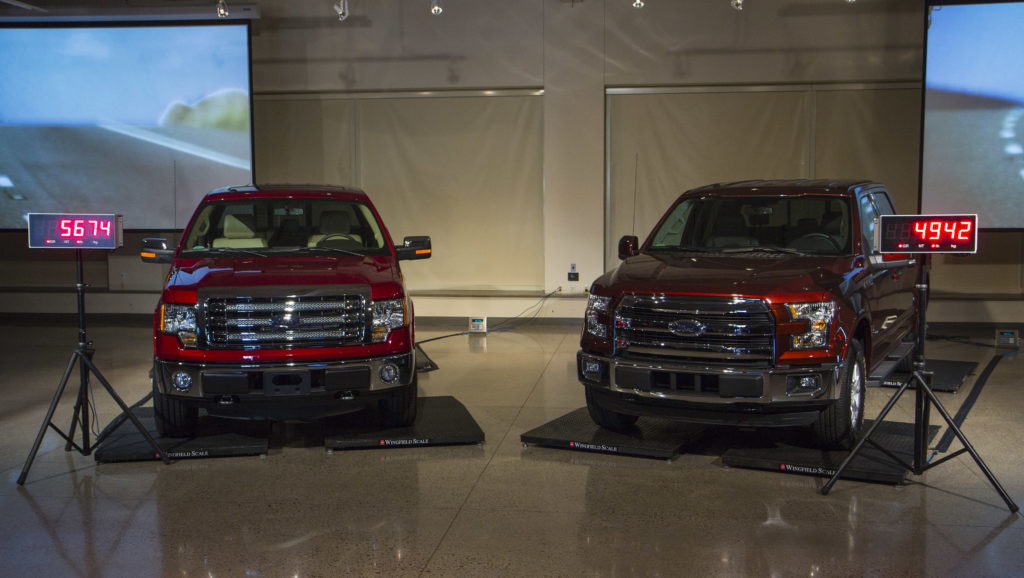 The 2016 CAR study also examined what automakers would change on their closures and body-in-white at the three mass reduction targets for the overall vehicle mass of the 42 vehicles.
Most closures become aluminum at a mere 5 percent weight cut, based on CAR's data.
"The data shows that, while 90% of the current closures are made from steel, with as little as a 5% objective to lightweight a vehicle will result in an 85% transition from steel to aluminum," CAR wrote. "Additional efforts to lightweight the vehicle beyond 5% will begin to introduce magnesium and composites, with slightly greater growth in composites."
Body-in-whites use a variety of techniques to cut mass at the 5-15 percent levels. Other composites besides carbon fiber start looking pretty good at the 15 percent mass target.
CAR concluded that a typical 2015 model-year vehicle was "an advanced high strength steel body-in-white with mixed steel & aluminum closures." The next step was an advanced or ultra high-strength steel body in white with aluminum closures, it said in 2016.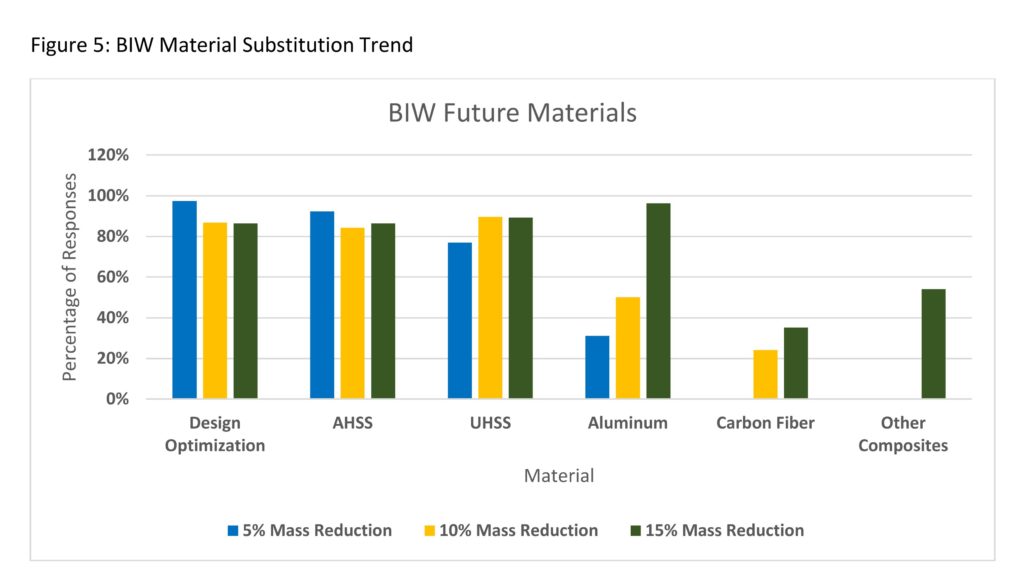 More information:
Coalition for Lightweight Materials, 2019
DEP, Coalition for Automotive Lightweighting Materials, 2019
"Assessing the Fleet-wide Material Technology and Costs to Lightweight Vehicles"
Center for Automotive Research, September 2016
Images:
The aluminum 2015 Ford F-150 was 732 pounds lighter than the 2014 steel F-150. (Provided by Ford)
This chart based upon 2016 Center for Automotive Research research describes what OEMs would do to the roof at certain overall mass reduction targets. (Provided by Coalition for Automotive Lightweighting Materials)
A 2016 Center for Automotive Research study examined what automakers would change on their closures and body-in-white at three mass reduction targets for the overall vehicle mass of the 42 vehicles. (Provided by Center for Automotive Research)
Share This: