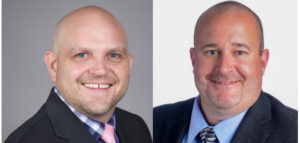 Two prominent collision industry companies have snapped up former I-CAR executives Jason Bartanen and Josh McFarlin.
Bartanen, a longtime industry technical relations director, and McFarlin, the six-year director of curriculum and product development, announced their departures from I-CAR on social media within days of each other about two months ago.
The men were arguably two of the most familiar I-CAR personnel to an average shop, and I-CAR in a news release reassured the industry both left a "deep bench" behind.
Bartanen's last day was June 12; McFarlin's was July 19.
Collision Hub revealed shortly after Bartanen's last day that it had hired him as director of collision industry relations. "Working closely with all industry stakeholders, Jason will bring an exciting line up of new products and services to market, with a primary focus on technicians," the company wrote in a news release.
Bartanen in a June 12 I-CAR video prior to the Collision Hub announcement said he received the opportunity to "do something a little bit different" with a small organization he thought would be an up-and-comer. He said he was looking forward to the greater daily interaction with technicians offered by the new post.
"I'm excited to be joining the Collision Hub team," Bartanen said in a statement. "I'm most excited about the opportunity to reconnect with collision repair technicians from across the country, building products and services designed to help them excel. With all of the turmoil in the industry, both technical and business focused, I feel like the technicians have been a bit alienated and I want to see that change; and I feel that Collision Hub is the perfect mechanism to lead that change. I believe there are opportunities to enhance OEM and other network programs, with greater focus on the technicians repairing collision damaged vehicles."
AirPro announced Tuesday it had tapped McFarlin as strategic business operations vice president. "In his new position McFarlin will be responsible for daily service operations including multiple technician service centers and all field personnel," AirPro wrote.
McFarlin in the June 12 I-CAR video had said he was moving back to his native Florida to also work for a smaller organization with "real potential in front of it."
"As vehicle electronic and computer systems become more and more complex it is clear collision repairers need OEM-level diagnostics, programming and calibration services in-house to meet their daily operating needs," McFarlin said in a news release. "AirPro's remote service delivers safe repairs and reduces shop cycle time and sublet expenses. I am proud to be a part of the AirPro Diagnostics Team and look forward to our accelerated growth ahead."
"Our entire team is excited to have Josh on board," AirPro CEO Lonnie Margol said in a statement. "As our business grows, we must identify and secure key leaders to assist in the growth and development of our company. We are confident Josh will play a key role in meeting our growth objectives and delivering quality, timely service to our valued customers."
Collision Hub also said July 17 it had hired insurance industry veteran and two-time Allstate Distinguished Performance Award recipient Holly Goodwin as director of operations. "Her primary responsibilities will be in building and supporting the infrastructures required for ongoing research, client services, product development and video training projects," Collision Hub wrote.
"After completing a two-year collision industry research project, it was clear there were needs that I could not deliver in the way the industry stakeholders and consumers deserved and are demanding," Collision Hub CEO Kristen Felder said in a statement.
"We've accomplished many things over the last 10 years, but there is much more to be done. Holly and Jason bring unique skills and experiences to the company and will ensure we continue to meet the industry's needs with unique products, services and training."
Featured images: Former I-CAR executives Jason Bartanen, left, now at Collision Hub, and Josh McFarlin, now at AirPro, are shown. (Provided by Collision Hub and AirPro)
Share This: