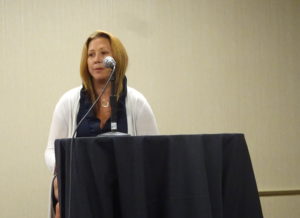 The Collision Repair Education Foundation seeks mentor-mentee teams to participate in a unique automotive aftermarket competition and round out a competitor pool beyond large national MSOs, a representative said Wednesday.
Christen Battaglia, CREF director of strategic partnerships and one of the minds behind the inaugural Top Tech Competition, gave an update on the program during a CIC Talent Pool Committee session. She said it was the only such program among the automotive aftermarket.
"It's been scary, but we're moving forward," Battaglia said. She said the goals include developing the next generation of mentors, recognizing mentors and supporting industry relationships.
Hopefully, a good mentoring program for the industry will "bubble up," she said.
Between 12-15 teams of mentors and mentees are sought for a competition on competencies deemed vital for collision repair industry entry-level technicians on Sept. 28 at Rankin Technical College in Saint Louis, Mo., according to Battaglia.
Companies have already signed on as founding sponsors for $25,000, she said. A May CREF news release indicates sponsorships ranging from $2,500-$25,000 are available.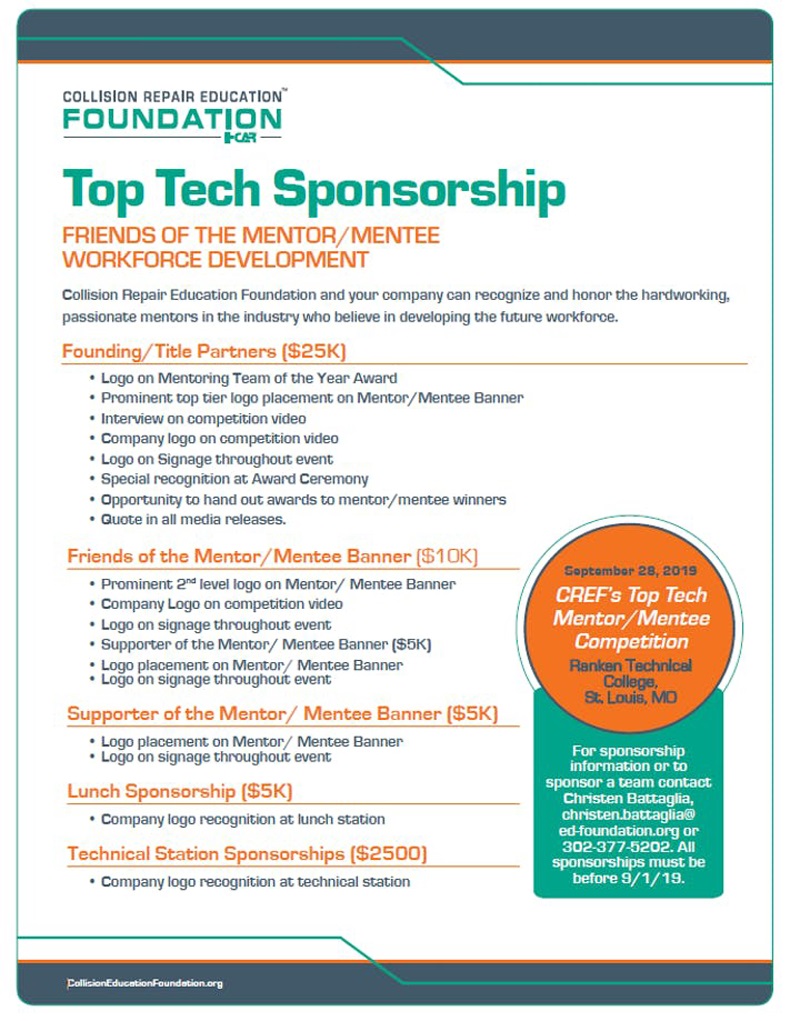 First-place team members will win $2,500 each; silver medalists will take home $1,000, and third-place team competitors will win $500, Battaglia said.
Battaglia said about half the team slots are already spoken for, and leading MSOs Caliber, Gerber and Service King are already represented. CREF is hoping "to really diversify that," she said.
Teams must pay a $200 entry fee, and the mentee must be at least 18 years old and enrolled in or a former student of a technical college or high school.
Teams must be proficient in numerous skills, according to CREF:
• Moving and staging vehicles
• Shop organization and clean up
• Safety and how to use personal equipment
• Placement of keys/work orders during repairs …
• Damage analysis
• Supplement writing ,ability to read and understand the manufacturer's guidelines (AllData)
• Disassembly and reassembly, part/hardware organization
• Nut, bolt and clip recognition
• Ability to inspect work and QC
• Checking lights, sensors and functions
• Final vehicle checks
• How to identify and remedy wind, water and air leaks
• Electrical testing of circuits and wiring repair
• Corrosion protection
• Removing spot welds
• Draining radiators and discharging ac systems; Vacuum filling radiators and charging ac systems
• Set up and measure on frame rack and floor pull set up
• Tram measuring and reading/following manufacturers measurement specifications
• Repairing bumpers
• Sheet metal adjustment and fit
• Small dings and dents
• Medium sized metal and filler work, metal shrinking
• Weld on panel mapping, removal and preparation
• Resistance welding
• Plastic welding
• Plastic repair with epoxy
• Introduction to mocking up and fitting weld on outer panels
• Demonstrate the ability to replace bedsides and door skins from start to finish (resistance welding only)
• Basic knowledge of outer weld on panel joints (Minor formatting edits.)

Anyone interested in competing, sponsoring or donating equipment, parts or supplies should contact Battaglia at 302-377-5202 or Christen.Battaglia@ed-foundation.org.
If you think mentoring costs your collision repair facility money by taking a staffer away from their regular duties to teach some snot-nosed kid, consider this: The government's registered apprenticeship program finds employers making $1.55 for every dollar they spend, Roxann Griffith of the U.S. Department of Labor told the CIC on Wednesday. The apprentice is bringing in revenue through their work, even if they're not up to the level of a traditional employee, she said. (It's unclear if this ratio is padded by the funding contributed by the government, but you get the idea.)
In addition, CREF in the past has reported hearing that filling a technician slot can mean $30,000-$50,000 per month in additional revenue for a collision repairer. What you spend up front training that snot-nosed kid might be recouped and start paying dividends quickly.
Those who are interested in judging, watching or volunteering for the Top Tech competition can do so for free, CREF said in a May news release. Hotel deals are also available, according to the release.
More information:
"Join the Collision Repair Education Foundation for the Inaugural Top Tech Competition!"
Collision Repair Education Foundation, May 21, 2019
Images:
Christen Battaglia, CREF director of strategic partnerships and one of the minds behind the inaugural Top Tech Competition, gave an update on the program during a CIC Talent Pool Committee session on July 24, 2019. (John Huetter/Repairer Driven News)
Sponsorship levels for the Collision Repair Education Foundation Top Tech mentor/mentee competition as of May 2019 are shown. (Provided by CREF)
The logo for the Collision Repair Education Foundation Top Tech mentor/mentee competition is shown. (Provided by CREF)
Share This: