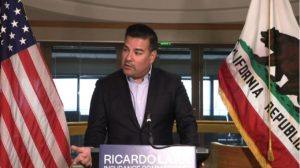 Democratic California Insurance Commissioner Ricardo Lara on Tuesday apologized to the state for his campaign breaking a pledge to "refuse contributions from the insurance industry."
He also apologized for unspecified meetings and pledged reforms related to both actions.
"I believe effective public service demands constant adherence to the highest ethical standards," Lara wrote in an open letter to Californians. "But during my campaign and first six months in office, my campaign operation scheduled meetings and solicited campaign contributions that did not fall in line with commitments I made to refuse contributions from the insurance industry. I take full responsibility for that and am deeply sorry."
The San Diego Union-Tribune reported in July that Lara's re-election campaign accepted more than $54,000 from insurance executives and spouses.
"Last year, he reported $50,000 in donations from medical-malpractice and other insurers — and pledged to give the money back after the contributions were criticized by consumer advocates and others, saying it was improper to accept campaign funds from people regulated by the insurance commissioner," the Union-Tribune reported.
The Union-Tribune reported Tuesday that Lara's office has intervened in cases on behalf of Applied Underwriters, an executive and spouse of which donated $31,000 to Lara 2022. Lara has personally recused himself from decisions related to Applied Underwriters, KQED reported in July.
"I did reverse the ruling from the law judge because I wanted it to be consistent with my predecessor's rulings," Lara told KQED regarding one case. The news station also reported him "adding his move was aimed at protecting consumers and stopping injured workers from losing their coverage."
KQED reported July 25 Lara has met with Applied Underwriters CEO Steven Menzies and was asked to review cases involving the company, but he said he wasn't asked to intervene.
"I met with him. It was a casual meeting, and nothing in that meeting that came out changed the course of my decision," Lara told KQED. "I have always had an open-door policy to meet with everyone."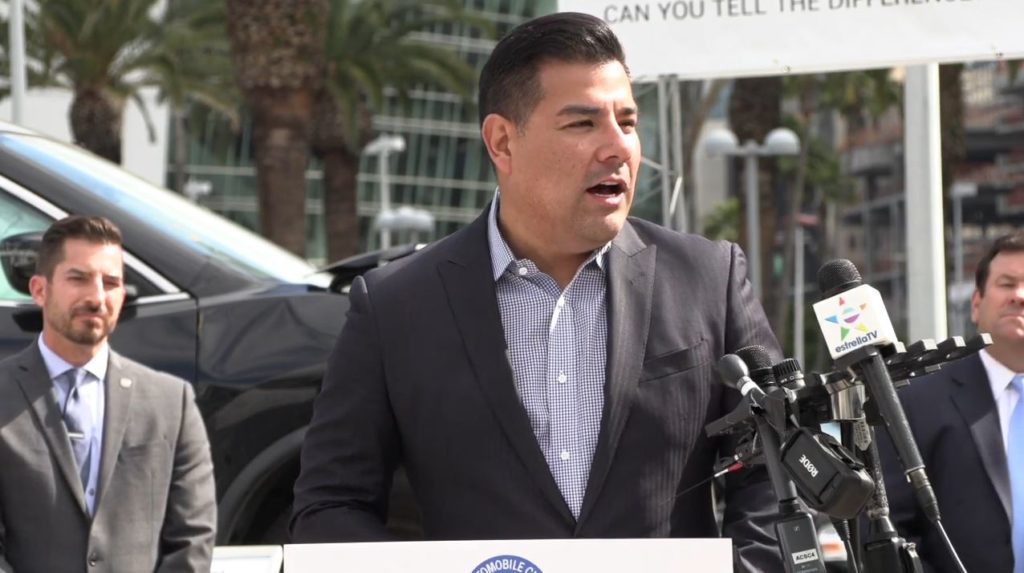 Oceanside Laundry, RDR Builders and RDR Production Builders in August petitioned for judicial review in two cases in which Lara allegedly "violated their rights" in disputes with Applied Underwriters subsidiary California Insurance Company. The lawsuit names Lara as a defendant and Applied Underwriters and CIC are named as "in interest."
The plaintiffs accused Lara of exceeding his authority with orders coming after a regulatory time limit and actions outside of his jurisdiction after the California Department of Insurance stayed and then overturned administrative law judge decisions against the insurer.
"On information and belief, Petitioners allege that on or about April 17, 2019, the Commissioner received campaign contributions totaling $53,000 from associates of Respondents intended to influence his decisions in matters effecting Respondents ongoing litigation before the Commissioner," the petitioners wrote in the Aug. 5 litigation. "On information and belief, Petitioners are also informed and believe that at or about May 6, 2019 the Commissioner met with Steve Menzies, the President of Applied Underwriters, Inc, AUCRA and CIC. Mr. Menzies has a dual reason to attempt to influence the Commissioner in that Mr. Menzies is attempting to influence the Commissioner's actions in these administrative appeals but also is in the process of buying the Applied Underwriters' family of companies back from Berkshire-Hathaway so he can move them to the Cayman Islands and needs the approval of the Commissioner to do that. It is feared that approval of such a move will result in Petitioners here, and many others, will be left with a judgment proof debtor if the Commissioner approves that deal."
Lara's campaign, the CDI, and Applied Underwriters were looking into our requests for comment on Friday.
Deputy Insurance Commissioner Michael Soller told the Union-Tribune that CDI doesn't comment on pending litigation, but "We look forward to an impartial review of the facts by a superior court."
Lara in his open letter said none of his campaign's interactions with insurers affected his judgment.
"Upon learning of these issues, I ordered an immediate return of insurance industry-connected contributions and an internal review of our vetting procedures," Lara wrote." I also terminated my longtime contractual relationship with the fundraising personnel involved.
"Even though no laws or rules were broken – and these interactions did not affect nor influence my official actions in any way – I must hold myself to a higher standard. I can and will do better. These failures are not consistent with my personal values nor my long career in public service."
Lara outlined four reforms "effective immediately":
• I am implementing rigorous vetting protocols and am retaining experts to develop new processes for the screening and reporting of all outside political activity – to ensure greater transparency and no direct connection to the insurance industry or Department-regulated entities – consistent with best practices.
• I am placing a strict moratorium on all fundraising activity for my re-election campaign until at least the end of this calendar year, while these new processes are being implemented.
• I am requesting that Department attorneys develop new publicly-available protocols for scheduling and conducting meetings with external stakeholders, especially Department-regulated entities.
• I am ordering regular public release of my official calendar of meetings with external stakeholders.
While the recent scandal might lead to cynicism among repairers about the agency, we should in fairness mention that the CDI has in recent years seemed one of the more receptive to auto body industry concerns.
Lara's predecessor Democratic Insurance Commissioner Dave Jones took action in 2016 on labor rates and steering on behalf of consumers and collision repairers.
In 2018, Jones' CDI confirmed that there's no place for "Opt-OE" type parts on insurer estimates and said insurers who refuse to pay more for a part than the price offered by their preferred vendor are undercutting shop choice and committing an unlawful practice.
Following interactions with various state insurance departments, National Association of Insurance Commissioners consumer liaison Erica Eversman described the agency under Lara as seeming to be one of the more receptive nationwide to industry issues.
During an April Society of Collision Repair Specialists "Repairer Roundtable," she shared anecdotes from her conversations with some of the leaders of "States of Immediate Opportunity," a list which incldued California.
Lara after a presentation on insurers refusing to pay for OEM repair procedures said he wanted to work with her. "'I will be in touch with you,'" he said, according to Eversman.
In April, she called Lara "very, very focused" on protecting consumers, but he also was sympathetic to underpaid small businesses.
She said Lara mentioned to her that Los Angeles County has some of the highest insurance rates in the country, and she noted it had some of the lowest body labor rates nationally.
Lara's office last month also celebrated the California Supreme Court's decision to deny review to Mercury Insurance over a "historic" $27.6 million CDI fine over alleged illegal fees.
"Since Proposition 103 was enacted, Mercury has looked for ways to evade the Insurance Commissioner's regulation of its rates," Lara said in a statement. "The Department repeatedly told Mercury to stop this scheme, where Mercury implied its agents were brokers working for the consumers, but Mercury refused to do so. This is a victory for consumers that sends a message to insurers that they cannot circumvent Proposition 103's consumer protection laws in an effort to increase their profits and that the Department will stay the course–even if it takes twenty years–to penalize insurers for illegal conduct."
More information:
"State Insurance Commissioner Defends Intervening in Cases Involving His Donors"'
KQED, July 25, 2019
"Insurance commissioner halts campaign fundraising to rein in contributions from firms he regulates"
San Diego Union-Tribune, Sept. 3, 2019
"Insurance commissioner will return funds from companies with ties to industry he regulates"
San Diego Union-Tribune, Sept. 3, 2019
Ricardo Lara letter to Californians
Ricardo Lara campaign, Sept. 3, 2019
Featured images: Democratic California Insurance Commissioner Ricardo Lara. (Screenshot from CDI video)
Share This: